3 Mindfulness Practices To Try With Your Teen Every Morning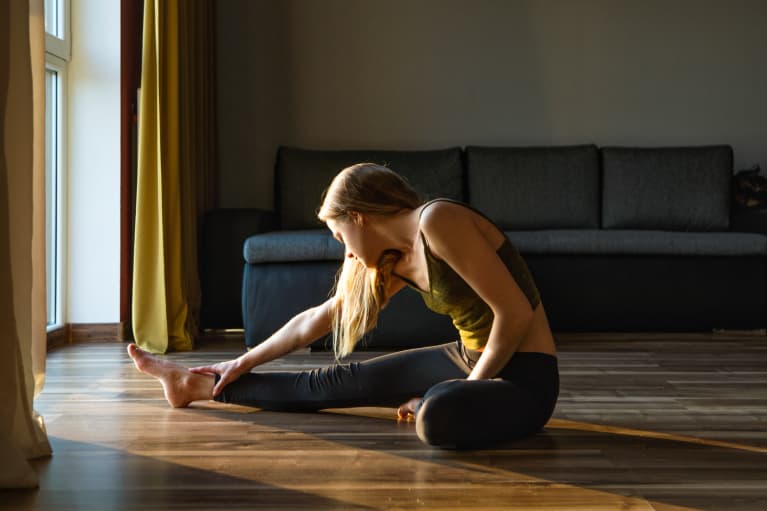 Our editors have independently chosen the products listed on this page. If you purchase something mentioned in this article, we may
earn a small commission
.
What are your mornings like? Do you wake up feeling like a ray of sunlight, ready to shine on all who cross your path? Or do you just feel tired and irritable? Take a moment when you wake up to note how you feel. Observe your emotions without letting them overwhelm you. Pause and call up some reasons for gratitude as you greet the day. Focus on the day's potential, nothing that you're strong enough to handle challenges and uncover moments of contentment.
Remember to start your day with self-compassion rather than harsh words. For example, if you overslept, rather than getting upset at yourself, use a self-compassion statement like, "Wow, I listened to my body and gave myself a little rest. Now, I need to get dressed and dive into the new day."
Starting your day with mindfulness can help clear your mind and create the opportunity to accept the day as it comes. Now, let's go over some exercises to help you create some mindful mornings.
Exercise 1: Superhero stance
Time to do: 8 minutes
Social psychologists have identified the concept of power posing. They note that how we hold our bodies and our posture influence how we think and feel about ourselves. Combining the power pose with a positive statement is a great way to connect to your internal strength and set powerful intentions for your day. Do this on days when you have a big project or need to have a tough conversation with someone. Let the superhero stance help you draw on your inner strength.
Stand in front of a mirror, with your feet shoulder-width apart and your hands on your hips. Look yourself in the eyes while taking five deep breaths.
Say to yourself or out loud, "I seek strength, wisdom, and courage." Stand for 1 minute in this pose; look at yourself and hold these world to be true.
Say to yourself or out loud, "I find strength, wisdom, and courage." Stand for 1 minute in this pose; look at yourself and hold these words to be true.
Say to yourself or out loud, "I have strength, wisdom, and courage." Close your eyes and imagine yourself conquering the task of the day. Repeat this step again.
To finish, take five deep breaths.
Go deeper: At the end of each day, write in your journal about your accomplishments. After you finish, note the moments you showed strength, wisdom, or courage.
Exercise 2: Butterfly hug
Time to do: 7 minutes
The first words you speak to yourself will set the tone for the day. The butterfly hug exercise is a way to help calm your mind, connect to your inner strength, and experience lovingkindness toward yourself. You can either do this exercise while lying in your bed, sitting on the edge of your bed, or sitting comfortably in a chair.
With your body in a comfortable position while in a quiet, private place, interlock your thumbs to create a butterfly shape, and rest your palms on your chest, just below your collarbone.
With your right hand, gently tap across your collarbone. Do the same with your left hand. Continue alternating between your left and right hands for one minute.
Keep your hands on your chest, take three deep breaths while saying to yourself or out loud, "May I be happy, healthy, and at ease."
Repeat your butterfly tap, hug, and phrase three times.
Finish this exercise by taking three deep breaths.
Go deeper: How did you feel? Did you notice how your mind shifted? Do you sense the inner strength to help you today? A great way to go deeper is to develop your own positive affirmation to use with the butterfly hug. Keep track of how your day goes with each positive affirmation you use.
Exercise 3: Mind the mouth
Time to do: 7 minutes
Mindful eating is an easy way to practice your new skills—after all, you'll have at least three opportunities each day. There's no single way to eat mindfully. This exercise is about being aware of what you are eating and focusing on enjoying the moment. Eliminate other distractions, such as scrolling through social media, watching TV, or finishing homework. Rather, take a moment to look at, think about, smell, and savor your food.
Take three deep breaths. Place your food on your plate or bowl and look at it.
While taking three more deep breaths, think about the source of your food—the fields, farms, or ocean it came from.
Take three more deep breaths while thinking about the delicious smell.
Take three more deep breaths. Take a bite and notice the temperature, flavor, and texture of the food. As you chew, notice the sensations and the release of flavors in your mouth. As you swallow your food, note the sensations and the remaining flavors in your mouth.
After you finish the first bite, place your utensils down and take three deep breaths. Repeat the exercise until you are full.
Finish by taking three deep breaths.
Go deeper: Mindful eating is one of the easier habits to add to our day. I encourage you to extend the practice to include lunch and dinner. At the end of the day, reflect for a moment: Did you notice improved focus for your day?
Excerpt from Mindfulness for Teens by Jennie Marie Battistin, published by Rockridge Press. Copyright © 2019 by Callisto Media Inc. All rights reserved.