Why Putting Yourself First Is Actually The Key To Being Irresistibly Attractive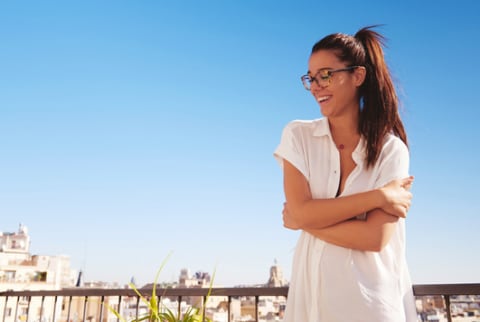 August 16, 2017
Ask yourself: How valuable is your life? Do you wish to live it fully or are you content to live circumscribed by the roles assigned to you by those around you? Is living by others' definitions and expectations really living—or is it a slow death by obligation and self-negation?
You were born with unique talents, abilities, and contributions to make. The world will only receive these gifts if you are willing to show up as "you" and share them. What gifts, capacities, and talents might you have that you have never acknowledged or shared? How would your world change if you were willing to share them?
It starts with an honest appraisal and acknowledgment that you may have given yourself up in your relationship and put the needs of others first.
As a relationship coach, I ask my students:
How often are the wishes, desires, and expressions of the unique being that is you expressed in your relationships?
Do your preferences get equal weight with your partner's (or parents' or friend's), or is it their way or the highway most of the time?
When you don't allow yourself to show up fully in your relationship, you are depriving your partner of the greater you they fell in love with in the first place.
To redirect people who are denying themselves, I try to help them tune into the energy of how it feels when their choices or desires are ignored or overruled.
What did it feel like the last time this happened? Does the energy feel light or does it feel expansive or contracted, dense, heavy, or dreadful?
You may not typically pay attention to your energy, but it's actually our first language. Energy tells a much more accurate story than words and is harder to make excuses for.
If the energy does not generate a positive feeling, ask yourself what else is possible. If you made a different choice, would that energy change?
What if one of the most potent and dynamic choices you could make would be to show up in your own life, fully being yourself, with your wonderful gifts, quirks, imperfections, and all?
If you'd like to change what's happening in your relationship, minimize judgment of yourself and your partner.
When you eliminate judgment, you have different choices. You can look at actions and choices that you've made and understand that they were not necessarily either "right" or "wrong" but the best choice available to you at the time.
It's not about comparing yourself to anyone else or evaluating your performance in any way. It's truly about celebrating the magnificence that you are when you make the choice to show up and express who you really are.
Making the choice to fully show up in your own life tends to create changes in a number of areas that might well surprise you. Who knows what magic will manifest itself if you chose to really show up in your life? Now is the time.

Dr. Kacie Crisp
Dr Kacie Crisp is a chiropractor, licensed marriage, family, and child counselor and an Access Consciousness Facilitator. She has worked as a family therapist and now combines these skills with the tools of Access Consciousness to facilitate others in creating relationships that are easy and fun. She has been married to her husband, David, for 30 years and written a book called The Little Black Book on Relationships.