I Kept An 'Intuition Journal' Every Day For A Month. Here's How It Changed My Life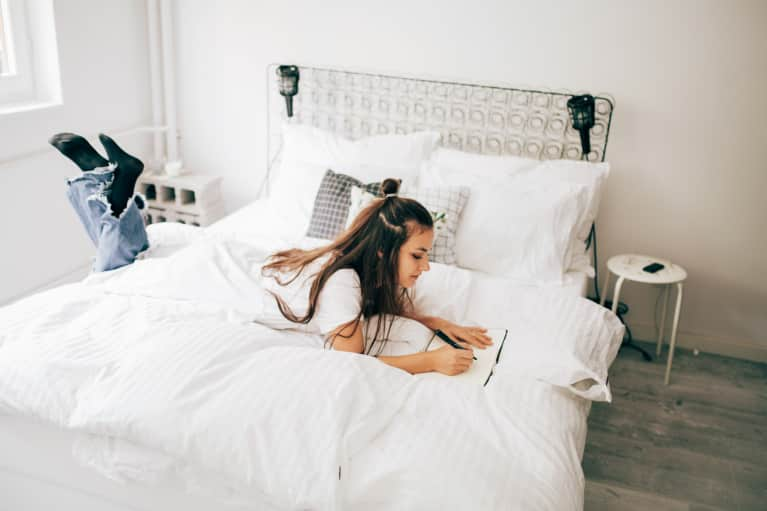 We all have patterns that we follow in our lives and situations that repeatedly present themselves that make us wonder, "Why does this keep happening to me?" Our intuition may be screaming no, but we don't listen. You may be smiling to yourself right now, thinking about how you always go for the same kind of guy knowing you will get hurt, or you keep accepting jobs that don't take you further in life.
Even though I am blessed and grateful to have some wonderful, long-standing friendships in my life, I admittedly have a pattern of jumping into other friendships too quickly and not listening to my intuition when I am getting to know a new friend and it doesn't feel like an energetic match. Unfortunately, the same situation will keep coming back to haunt us unless we finally change our behavior, and I speak from experience. A few years ago, I reached the final straw with myself.
I became friends with someone even though my intuition was not only telling me no but showing me red flags in my head. I ignored the blaring warning signs, and of course it didn't end well. Having a falling out with a friend is never fun, and this was no exception. However, the lesson surrounding this situation was something I desperately needed, and I decided I owed it to myself to take my relationship with my intuition more seriously.
So I thought it would be fun to do a little experiment. I decided to keep an "intuition journal" every day for a month, which meant I kept track of every signal my intuition gave me, whether it was a feeling in my gut or a thought that popped into my head. I wrote down what happened when I listened and what happened when I didn't. This exercise completely changed my life.
Every single time that I didn't listen, I had regrets. Here are just a few examples:
My kids were playing soccer in the living room, and I had a strong feeling I should tell them to stop, but I got distracted. One of them kicked the ball into my favorite table and broke the leg.
Getting ready for a party, I had a feeling in my gut that I should change. I blew it off and regretted it when I entered the party and realized I was dressed inappropriately.
I had a nudge to check my son's backpack and told myself I would do it later but forgot. My dog found his lunch, ate it, and got sick.
I had a hunch during a workout that the weights I was using were too heavy, but I didn't listen to my body, and I pulled out my back.
I quickly realized that almost all of my entries were about times that I didn't listen to my intuition, and it was an amazing visual to help me see that this needed to change. I was super smart, if I would just pay attention to myself!
This experiment was a turning point in my life. I gained so much awareness around my habit of second-guessing myself, which led me to learn to trust myself more and understand that the signals that I get from my higher self, or the Universe, or whatever you like to call it, are not random. Now whenever I get a feeling, a hunch, or an idea pops into my head, I never doubt it.
The rare occasions these days when I don't listen to my inner wisdom, and should have, are reminders that I cannot ever stop trusting the guidance that I get from my higher self and the Universe. I feel grateful every day and consider them gifts.
I invite you to experiment yourself and keep an intuition journal for 30 days. Want to start an intuition journal of your own? Feel free to download this journal that I made as a gift for each and every reader.
Want to get better at listening to your intuition? Here are the beliefs that are screwing it up.