How I Finally Found The Courage To Quit My Job & Move To Hawaii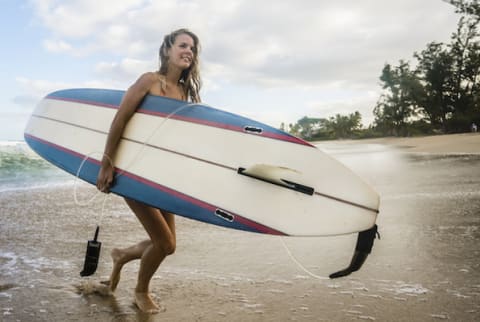 March 3, 2015
In 2010, my wife and I took a belated honeymoon to Maui, Hawaii. My mom agreed to watch our children so we could enjoy what others called "paradise." We were excited for the trip but little did we know how our lives would be changed.
As soon as we got off the plane, we felt something. I can't put it into words, but the air and land had a mystical hold on us. We got our rental car and drove throughout the island sensing something shifting inside of us. Seeing the greenery everywhere, smelling the fresh ocean breezes, and getting fresh coconut on the side of the road was surreal.
Maybe it was the break from our kids, but we had a blast during the trip. Getting on the flight to head back to Wisconsin was downright depressing. On the flight home we joked about retiring in Hawaii some day. I was born and raised in Milwaukee, Wisconsin and couldn't picture living anywhere else. Milwaukee was home in my heart, but we talked about how nice it would be to call Maui home.
We got home and the chaos of life took over. We completely forgot about Hawaii, retirement and that feeling. We talked about it from time to time, but nothing serious. The dream was buried for two years.
In April 2012, my father died unexpectedly at 54. We weren't close, but the one thing he said over and over again before he died was not to live a life of regret. Sitting at his funeral, it hit me that we would never get a chance to reconnect. I understood vividly how quickly life can pass you by.
Two days after his funeral I began a journey to change my life, and the lives of my family. I quit a job I hated to write full-time, I lost 170 pounds and we started planning our move. It took two more years, but on April 8, 2014, we made the moved to Maui, Hawaii.
The journey to call Maui home was bumpy. Finding a place to live was hard; inventory here is low. Getting to meet and become friends with locals took months; they're not too fond of mainlanders. The flak we got and are still getting from family has taken a toll on us. Making sure we make enough money to support the high cost of Maui hasn't been easy.
Despite what we've gone through, we wouldn't trade this experience for anything. Moving to Hawaii has been our biggest dream come true and a decision we would regret not doing something about.
Here, we've learned to live a simple lifestyle. Before moving here we sold all of our stuff and only came with our checked bags. Going through our stuff was eye opening. You never realize how much stuff you accumulate until you move! The truth was we hadn't touched that stuff in years. We collected material possessions at the cost of embracing life's experiences.
I hate writing those words, because "life is short" has become a cliché. We say it, but can't fully appreciate what it means. I thought I knew and lived life that way until my father died and shook reality into my brain. It was cemented even more in my mind when I lost my grandfather last month.
None of us is guaranteed a tomorrow, and we only get one life to live. We put off our big goals and dreams for another day. Too often that day never comes. We listen to our self-limiting beliefs or the voices of negative people. We let our doubt and fear hold us back from an amazing life.
We collect cars, houses, electronics, and a wealth of stuff to entertain and fulfill us instead of embracing the life we really want. Moving to Hawaii taught me to let go and be fully present, and notice the special little things about life.
Hawaii may not be your dream, but you do have dreams. Whatever they are, you should do something about them. Not doing so leads to a life of regret later. I'm not telling you to fulfill your dreams right now, but this can be the start.
It only takes one small ripple to create waves in your life. The key is to put your toe in the water. You have to. Each moment we have on this earth is precious. Make it count.

Kimanzi Constable
I used to deliver bread for a living, now I write. You can see my words in cool places such as the Huffington Post, Entrepreneur Magazine, Mind Body Green, the Good Men Project, Fox News, and many more. My books have sold over 100,000 copies and my new book, Stop Chasing Influencers, drops later this year. In the last three years, I've lost 170 pounds and moved our family to Maui, Hawaii. My goal is to help you create freedom in your work, health, and relationships, and live your dream life. Join me at KimanziConstable.com and KimanziConstable on Facebook.