What Each Sign Should Know About The Upcoming Full Moon In Aquarius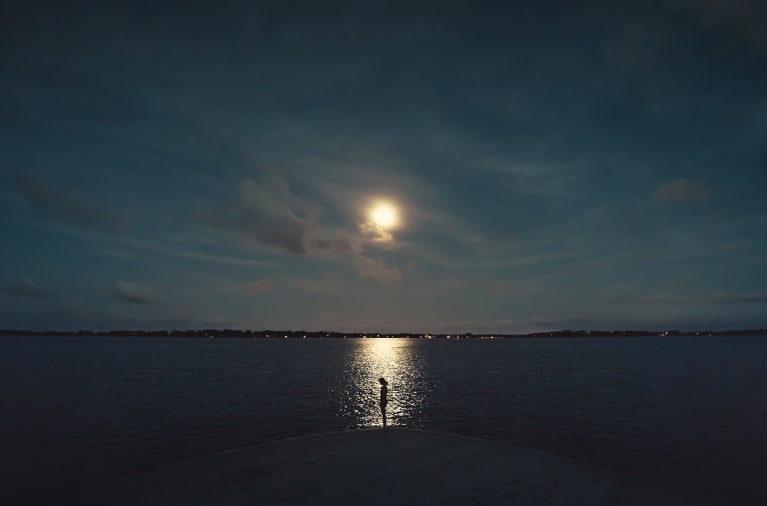 July's full moon in Aquarius is hitting the sky this Friday night at 10:37 p.m. EDT, and that means something a bit different for each of the 12 zodiac signs. To find out how each sign should approach this full moon, we got the AstroTwins' take. Here's what they had to say.
For Aries, this full moon is all about teamwork and collaboration, according to the twins, as it lands in your 11th house of networking and large groups. "There's strength in numbers, especially in the days leading up to the sequel full moon [in Aquarius] on August 22," they explain.
Is there a group effort underway in your life, or a team you've wanted to work with? Now's the time to take the steps toward making it happen.
Prepare to shine, Taurus, as this full moon lights up your professional 10th house. Your hard work and accomplishments won't go unnoticed for the next few weeks, so think about prepping your highlight reel—and know you can toot your own horn a bit, the twins say.
"If you've had your eye on a leadership position, let your desires be known," they say, adding that the second Aquarius full moon four weeks from now could spur similar (or even better) results.
Gemini, use this full moon to help you get out of your comfort zone and take some healthy risks. With the moon in Aquarius (and your expansive ninth house), now is your chance to shoot for the stars.
What have you been dreaming up lately? "Start there and see if you can get qualified feedback from someone with experience in this field," the twins say, and look out for further developments during next month's sequel full moon in Aquarius on the 22nd.
Feeling deep, Cancer? This full moon in Aquarius falls in your mysterious and transformative eighth house. The twins note it's the perfect time for you to "flex those flirty, seductive muscles," as the moon might have you feeling intimate—and a bit erotic. "Regardless of your relationship status," they add, "your power to charm and attract people to you will be magnetic." Home in on what you truly want, and go for it.
With the full moon in Aquarius falling in your seventh house of relationships, things could be heating up in the love department for you, Leo. If you're single, put yourself out there, let yourself flirt and have fun, and go into dates with an open mind. And if you've been seeing someone, the twins add you could very well be approaching a new chapter in your relationship.
You might be feeling inspired to revamp your health around this full moon, Virgo, as it lands in your sixth house of well-being and fitness.
The good news is, this is a great time to reassess what's working and what's not, according to the twins. "Target two or three goals or things you'll start (or stop) doing," the twins suggest, adding that the sequel full moon in Aquarius four weeks from now will help you keep the momentum going.
Libra, the full moon in your romantic and expressive fifth house could have you feeling even more lovey-dovey than usual. According to the twins, this gives you "an almost unfair advantage in the sex appeal department."
Work with this energy by planning a super romantic or sexy surprise for your significant other. Or if you're single, don't be shy and put yourself out there for these next few weeks. Between this full moon and next month's sequel full moon in Aquarius, you could be extra lucky in love.
With the full moon lighting up your foundational fourth house, Scorpio, your home and family life may feel like a top priority these next few weeks. Whether it's a home renovation, or a family matter that needs addressing, now's a great time to do it.
"Give priority to your inner circle, who may be feeling shortchanged of your attention," the twins suggest, adding to "make it your mission to fortify at least one family bond by the second full moon in Aquarius on August 22."
Independence is your battle cry, Sag—but perhaps not during this full moon in Aquarius, which lights up your third house of communication and community.
The energy of this lunar event "can help take a budding connection to the next level over the coming four weeks," the twins say. Just take some time to think things through before you make any big deals. "If you're feeling good about it, go for it—or kick off phase one before the sequel full moon on August 22," they add.
You've always been a hard worker Capricorn, and with the full moon in Aquarius falling in your second house of stability (and money), your hard work is about to pay off. "Even if you don't hit pay dirt this very day, watch what comes around over the next four weeks—especially since there's a rare second full moon in this sign on August 22," the twins say. Keep your eye out for any deals or offers that have been brewing, and make the most of it while you can.
Aquarius, this full moon is all about you—and so is next month's sequel full moon in Aquarius on August 22. This is an incredibly powerful time for you to reflect on your self and your identity. "Shuffle your initiatives to the top of the pile, and rearrange your schedule to allow enough time to pursue them," the twins say, adding to really put your heart in it. This is also a good time to think about your "brand" or image and make any adjustments as you see fit, to truly reflect who you are.
This month's full moon in Aquarius lands in your 12th house of endings and surrender, Pisces. Hang in there and ask for the support you need, the twins recommend. "There's no reason to struggle or suffer alone—and that's exactly the lesson you can glean from this full moon," they add. And since the theme for this moon is all about letting go for you, it's important to really take the time to release anything that's not working for you anymore. Again, don't be afraid to ask for help as you do!