The Hidden Benefit Of Drinking More Water That Every Woman Needs To Know About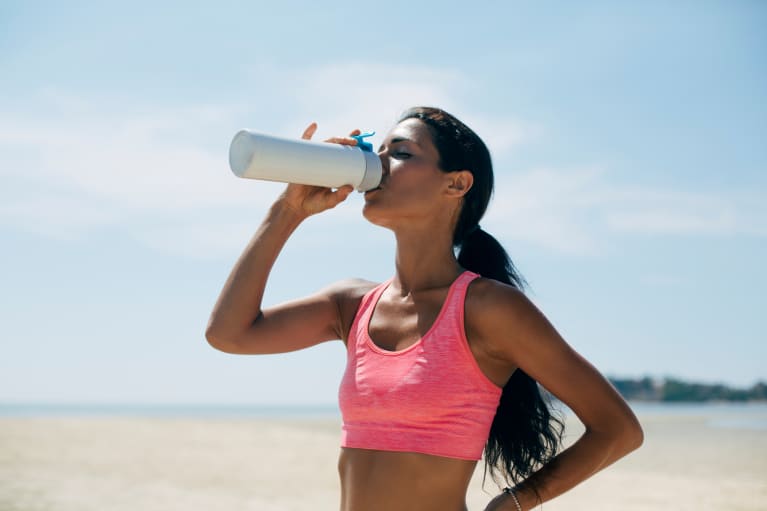 Ever feel like health news is too overwhelming, fast-paced, or hard to decipher? Us too. Here, we filter through the latest in integrative health, wellness trends, and nutrition advice, reporting on the most exciting and meaningful breakthroughs. We'll tell you exactly what you need to know—and how it might help you become a healthier and happier human.
In case you needed another reason to drink water, here's one for any urinary-tract-infection-prone women out there: According to new research, increasing your water intake could be the key to lowering your risk of developing UTIs.
This conclusion comes out of a new study presented at IDWeek 2017, which had 140 women under 45 who were prone to UTIs—meaning they'd had three in the past year—either increase their water intake by six 8-ounce glasses per day or keep it the same. The women who drank more water cut their UTI risk in half, getting 1.5 UTIs on average rather than three.
"If a woman has recurrent UTIs and is looking for a way to reduce her risk, the evidence suggests that if she increases the amount of water she drinks and stays with it, she'll likely benefit," says lead study author Thomas Hooton, M.D., of the findings.
If drinking more water doesn't do the trick for you, there are other natural UTI treatments you can start implementing today. Make sure to pee after having sex, change clothes after a workout, take probiotics, and avoid spermicides. You'll be UTI-free in no time.
Want more breaking health and wellness news? Read up on why black tea could have a huge impact on weight loss.