What A Health Coach Does To Make Lasting Changes In The New Year
Assistant Managing Editor
By Abby Moore
Assistant Managing Editor
Abby Moore is an assistant managing editor at mindbodygreen. She earned a B.A. in Journalism from The University of Texas at Austin and has previously written for Tribeza magazine.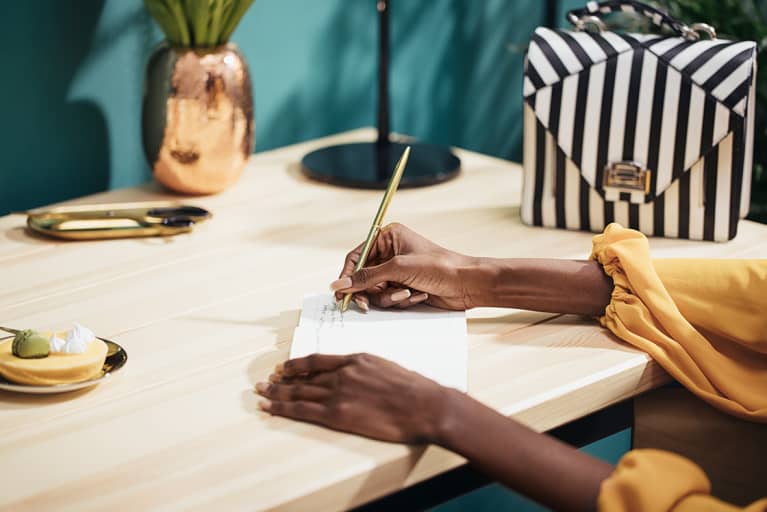 New Year's resolutions have a reputation for being overwhelming and unsustainable. Whether it's because our expectations are unrealistic or our motivations are misaligned, we often forget our resolutions by the end of the year. To break that pattern, mbg consulted meditation instructor and certified health coach Pilin Anice.
While Anice is giving herself space to stay connected to her existing practices, like daily meditation and yoga, she's not setting any new resolutions for herself just yet. "I'm really just flowing," she tells mbg. As many of us learned from 2020, plans can change, and we have to be willing to go with the flow.
"Last year was a lot, and just because the year changed doesn't necessarily mean we have completely healed from the trauma of 2020," Anice says. "It's going to take some time, so continuing to be with ourselves in a loving, compassionate, and gentle way—without feeling like there's pressure to activate these new resolutions—is important."
Acknowledging that this is her own perspective, Anice says, "If you have the space to set a new intention or goal, definitely do so." To embark on that journey, she recommends sticking to this three-step formula, which has helped her create lasting changes in the past:
Plenty of people set out to form new habits out of motivation, but according to Anice, inspiration should come first. It doesn't take a silent retreat, a surreal vacation, or even hitting rock-bottom for inspiration to strike. Those aha moments can occur in the ordinary—it just takes reflection.
Unplugging from external distractions can nurture the space to find your purpose, she explains. Journal, create vision boards, or simply sit quietly with yourself and see what comes to mind.
In these moments of stillness, "Ask yourself: What inspires me? What brings me joy? What elicits a response of excitement in me?" she suggests. "Your deep wisdom already knows. You just have to get still enough to listen."
After finding your inspiration, determine how often you want to engage in that practice: daily, weekly, biweekly, etc., then schedule it in. "If you don't schedule something, you're not going to do it," she says. These moments are not just about sticking to goals, they're about creating joy for yourself, so don't limit your capabilities from the get-go.
Daily practices may seem daunting, but it's OK to start small. Some days may warrant 50-minute practices, while others may be limited to five. "Celebrate those small victories once you get going," she says.
3.
Be compassionate with yourself.
Some days may require rest, stillness, and even a bit of indulgence. If you lose track of your goals, be gentle with yourself first. "That's going to happen. It takes time to build new habits," Anice assures us.
If you find yourself regressing constantly or struggling to stick to your goals, accountability can make a huge difference. Seek help from a health coach, a friend, or a like-minded group who can support you on your journey.
"Understand that we all have those moments when we fall down. If you miss a day, it's OK. Pick it up the next day," she says. "This is a season for self-compassion, grace for yourself, and love for yourself. No self-sabotage for 2021."