The Anti-Inflammatory Fruit You're Not Putting In Your Smoothie (But Should)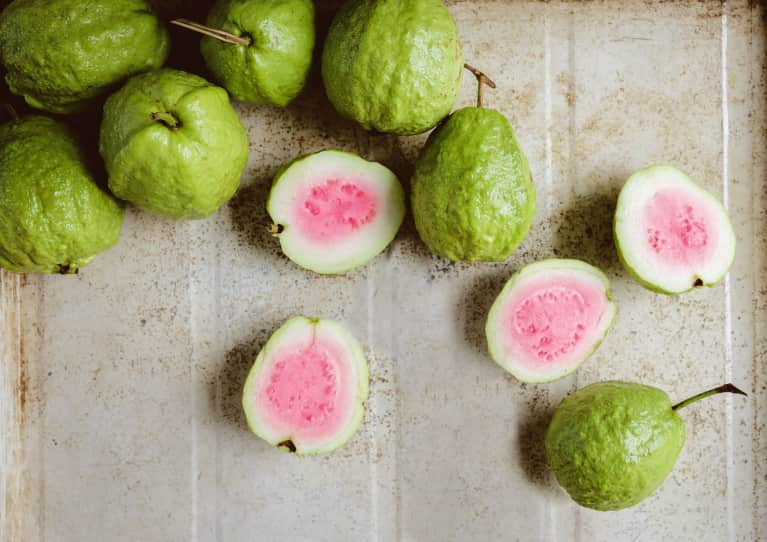 Our editors have independently chosen the products listed on this page. If you purchase something mentioned in this article, we may
earn a small commission
.
Sweet and tart guavas are a key flavor in Latin America, where they're known as guayaba. Celebrated for their bright-pink color and distinctive fresh aroma, they play a starring role in just about everything including juice, traditional baked specialties, marmalade, ice cream, and even herbal tea.
It's the fruit of a little evergreen tree native to the Caribbean and Central and South America. They have since circled the globe and have grown in various tropical zones. In traditional Chinese medicine and folk medicine in the Americas, guava has been valued for its healing properties.
Here in Havana, where I'm reporting from, we have guavas growing in the garden and have been enjoying them every day. In Cuba, where use of medicinal plants is a part of traditional healing practices that have been researched with great interest, guava was included in the country's Natural Medicine Program.
For starters, guava is a source of inflammation-fighting nutrients and antioxidants. This fruit has fiber and flavonoids, along with beta-carotene, lutein, vitamin C, and magnesium.
Peering into the nutritional power of this fruit, science has even discovered a special flavonoid and named it guaijaverin, which is related to quercetin.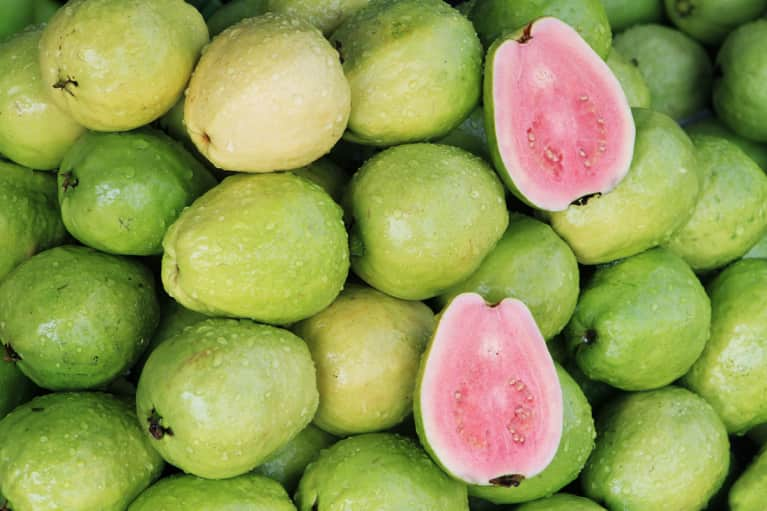 Here are highlights of the exciting research sprouting up around the world on this remarkable fruit:
Eating the ripe fruit without the peel could help with lowering blood sugar, notes a study from the All India Institute of Medical Sciences. The authors believe this benefit is due to the fiber content of guava, which slows the absorption of sugar in the intestines, which brings us to the next benefit.
A Mexican study from the Lab to Investigate Parasites found guava to be helpful in fighting the very common infection giardia. The researchers concluded that guava extract had a medicinal anti-giardia effect in the lab.
An analysis explained that, due to its anti-inflammatory effect, guava could help reduce the inflammation in periodontitis. The high amount of vitamin C and flavonoids in guava could foster healing of the gums, the researchers believe, while the special flavonoid guaijaverin has plaque-fighting potential.
Seeds of the fruit contain antimicrobial properties to help fight infections. Concerned about the big rise in bacteria that are resistant to drugs, researchers are looking at alternatives. In one experiment, guava seeds helped reduce growth in two pathogens implicated in urinary and GI infections.
A review article from Mexico and Jamaica on the use of guava in folk medicine highlights its fame for fighting diarrhea due to its antimicrobial abilities.
7. Acts as an anti-inflammatory.
A multicenter investigation found that guava significantly reduced inflammation and oxidative stress of mice who had diabetes. They explain that in traditional Chinese medicine, which places great importance on fighting inflammation, guava was used as a remedy for inflammation of the GI tract.