A Crystal For Every Life Event

mbg Sustainability + Health Director
By Emma Loewe
mbg Sustainability + Health Director
Emma Loewe is the Senior Sustainability Editor at mindbodygreen and the author of "Return to Nature: The New Science of How Natural Landscapes Restore Us."
Healing crystals are having a moment. It seems like everyone — from Katy Perry to Miranda Kerr— has recently started dishing on their collections. We reached out to a few experts to get their advice on which stones to turn to during major life events. So find one that speaks to you and stick it on a necklace, carry it in your purse, or use it as a focal piece in your home to get the good vibes flowing.
If you just had a baby...
I'd recommend keeping a large piece of selenite in a baby's room to help create a calm atmosphere. Selenite is a high-vibration stone that holds a large stream of light. Babies respond to the energy of the selenite because they're pure and hold that same high-vibe energy.
If you want to start taking more risks...
If someone was looking to take more risks in their life, I would recommend crazy lace agate. This stone looks psychedelic and has so many beautiful patterns — it just brings inspiration to have fun and seek adventure.
Green aventurine
Photo by Shutterstock
If you're in the middle of a career change...
I feel that the best crystal for someone in the middle of a career change is green aventurine. Green aventurine is said to help with creativity, focus, and mental clarity. It's a stone that brings forward potential alternatives in all situations, thus allowing you to step away from the noise and see things from outside of the box.
If you're moving to a new city...
If you're on the move, be it traveling or shifting houses, I would recommend tiger's eye. It's an earth stone to help keep you grounded at times when you may feel unsettled. It works with your root chakra to help keep you feeling like you have your feet on the ground.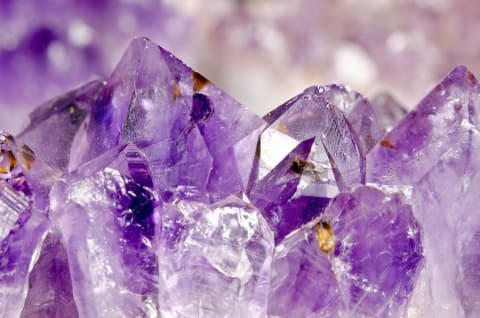 Amethyst
Photo by Shutterstock
If you're stuck in a rut at work...
A top crystal when you need to shift out of a "stuck zone" is amethyst for your third eye! The best way to get clarity around next steps and the path of truth is working with a crystal that allows you to access your own higher self and connection to the divine. Lie down with an amethyst on your third eye, take some deep breaths, and ask, "What next step should I take at work for my highest greatest good and the highest greatest good of all?" Listen for that instant internal answer then get moving!
If you're having health issues...
For healing, shungite is good because it forces us to examine exactly where we've become out of balance and neutralize the issue. Studies have also shown it to have a detoxifying effect on the body.
If you're looking to calm your anxiety...
There are many stones for anxiety, but I would recommend black tourmaline. It's a calming stone that is inexpensive and easy to find.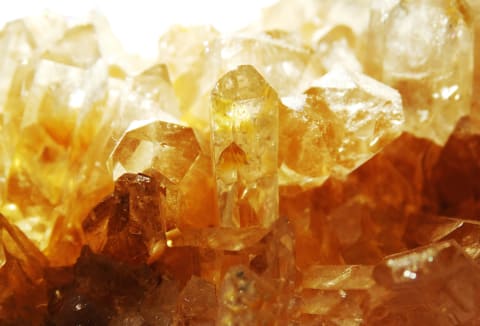 Citrine
Photo by Shutterstock
If you're constantly running out of energy...
The best stone for a positive energy blast is citrine! It's also known as the "sunshine stone," so just looking at its lovely color brings high vibes. Citrine is a crystal I carry with me on the regular — it connects me to my joy, authentic power in my solar plexus chakra, and angelic, sparkly thoughts! Citrine works whether you need energy for your mind, body, or soul!
If you're stumped on a difficult decision...
For someone who has to face a difficult decision, I would recommend apophyllite — a fabulous stalactite that lights up any dark place. This mineral allows you to call into your higher self for spiritual guidance. It'll help you make a hard decision with faith and love while still remaining rational and clear.
If you're going through a breakup...
Get some rose quartz in your life asap! Rose quartz helps to balance all things heart and love. Consider it a Band-Aid for your heart chakra.