This Zodiac Sign Will Have A Fresh Start Under 2021's Final Full Moon
mbg Spirituality & Relationships Editor
By Sarah Regan
mbg Spirituality & Relationships Editor
Sarah Regan is a Spirituality & Relationships Editor, and a registered yoga instructor. She received her bachelor's in broadcasting and mass communication from SUNY Oswego, and lives in Buffalo, New York.
Expert review by
The AstroTwins
Astrologers
Ophira and Tali Edut, known as the AstroTwins, are professional astrologers based out of New York and Seattle. Their work has been featured in The New York Times, Elle Magazine, Vogue and Good Morning America and they are the authors AstroStyle, Love Zodiac, Shoestrology, and Momstrology.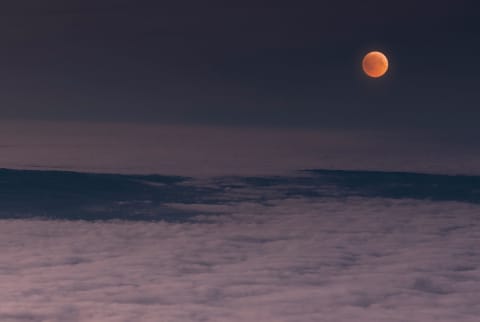 Image by BEATRIX BOROS / Stocksy
December 16, 2021
We're coming up on a full moon this Saturday, December 18, at 11:36 p.m. EST, and it just so happens to be the final full moon of 2021. Depending on your zodiac sign, this astrological event may affect you differently—with one sign in particular poised to have a major moment in the spotlight. (Or should we say moonlight?) Here's what to know, according to mbg's resident astrologers the AstroTwins.
Why Gemini is the sign to watch this full moon.
This full moon marks the one and only Gemini full moon of the year, falling in Gemini's first house of beginnings, identity, and self. With the moon in this sign, it's all about Gemini, the twins explain, noting that while they may not typically be "me-first" kind of people, this lunar light pulls them into the spotlight.
"Don't even think about playing small," the twins say, adding that Geminis can lean into this energy by standing up and accepting their well-deserved accolades. "You've got cosmic permission to shamelessly self-promote to your heart's delight," they add.
Here's what the other signs have in store.
Aries
This full moon in Gemini falls in your third house of communication and community, Aries. Sure, you may have an independent streak, but under this moon, there's an opportunity to form a positive partnership. "You will see the benefit in buddying up with competent people who've done what you're looking to do," the twins explain, adding that this isn't about forging a love connection but rather something on the professional or creative front.
Taurus
With the full moon falling in your second house of money, Taurus, it's time to make some money moves and potentially even hit a significant financial milestone. "Security is important to your fiscally conservative sign, and you're about to be rewarded for your efforts in those areas," the twins say, noting that all your work from the past six months is about to pay off. "Under the glow of this moon, you'll discover the most direct path to your dream job before the year is through. Increase your chances by strategically socializing at every opportunity," they add.
Cancer
This full moon could feel a bit weighty for you, Cancer, as it lands in your 12th house of closure, endings, and release. That's what full moons are all about, after all, so it's time to really let it go—whether "it" is a person, situation, or habit that's holding you back. "Your nostalgic sign tends to hang on well past the point of diminishing returns, but under this healing moon, you can slide into sweet surrender," the twins say.
Leo
Feeling collaborative, Leo? Saturday's full moon in Gemini falls in your 11th house of groups and networking, and according to the twins, it could bring good news, too. They note this isn't a time for hogging any glory but rather a moment for giving credit where it's due. Over the next two weeks, stay open to opportunities for making connections. "Dip your toes into different scenes and drop any preconceived notions. Dream Team Leo is closer than you realize," the twins add.
Virgo
Things are looking good for you on the career front, Virgo, as the Gemini full moon lights up your career and status-oriented 10th house. According to the twins, your professional mojo is about to go viral, and if you've been working toward an important career goal for the past six months, you could see it pay off now. "You don't need to slowly and methodically crawl up the ladder of success anymore: You have cosmic clearance to bound your way to the top," the twins add.
Libra
You could be feeling candid and adventurous under this lunar light, Libra, with the full moon landing in your ninth house of expansive thinking and growth. According to the twins, you may be confronted with some truth, or dish out truth of your own—but just make sure you're nice about it. "You won't have any trouble serving shots of truth serum, but can you stand the taste of your own medicine?" they say. If not, try softening your blows and remembering to be compassionate.
Scorpio
Is there a decision that's been weighing on you, Scorpio? The full moon lands in your mysterious and transformative eighth house, and according to the twins, it can help you make up your mind about something that's been leaving you stumped. "Start by checking in with your gut," the twins suggest, and ask yourself how your body responds when you think about taking a certain action. Whatever you do, "release what doesn't serve you to make space for a more appealing option to manifest," the twins add.
Sagittarius
Feeling lovey-dovey, Sagittarius? Two's the magic number for you this Saturday under the Gemini full moon, which falls in your seventh house of partnership. The twins suggest making sure you do something sweet on this day, coupled or not! If you're in a partnership, things may have heated up between you recently, which is something to celebrate. And if you're single, the twins say you can still go shine your love light wherever your heart leads you—and stay open to all the possibilities.
Capricorn
Take care of yourself, Capricorn. Under the Gemini full moon in your sixth house of well-being, the twins say your new mantra is "extreme moderation," with the challenge being resisting all that holiday hedonism. "You can enjoy the party season without going overboard," the twins say, noting to indulge just enough of your cravings to keep your eating and exercising in balance. If you get any new professional opportunities, they add, "only consider something that will advance your career and preserve your much-needed vacation time."
Aquarius
Romance is in the air for you under this full moon, Aquarius, as it lights up your fifth house of fertility, passion, and love. If you're a "hard-to-get" type, the twins say playing that game will become a thing of the past, with your passion levels hitting new heights. "You don't typically wear your heart on your sleeve, but that may be your new fashion statement," the twins add.
Pisces
Time for a little "home for the holidays" action, Pisces, as the full moon lands in your fourth house of home and roots. According to the twins, this lunation could shed light on a domestic issue that's been going on in the background. "It's never pleasant facing facts about relatives or close friends in crisis, but you may discover a situation that can't be ignored any longer," they note, adding to always take the high road, even if it disrupts your regularly scheduled programming.
Sarah Regan
mbg Spirituality & Relationships Editor
Sarah Regan is a Spirituality & Relationships Editor, a registered yoga instructor, and an avid astrologer and tarot reader. She received her bachelor's in broadcasting and mass communication from State University of New York at Oswego, and lives in Buffalo, New York.