These Easy 5-Minute Rituals Will Give You An Instant Happiness Boost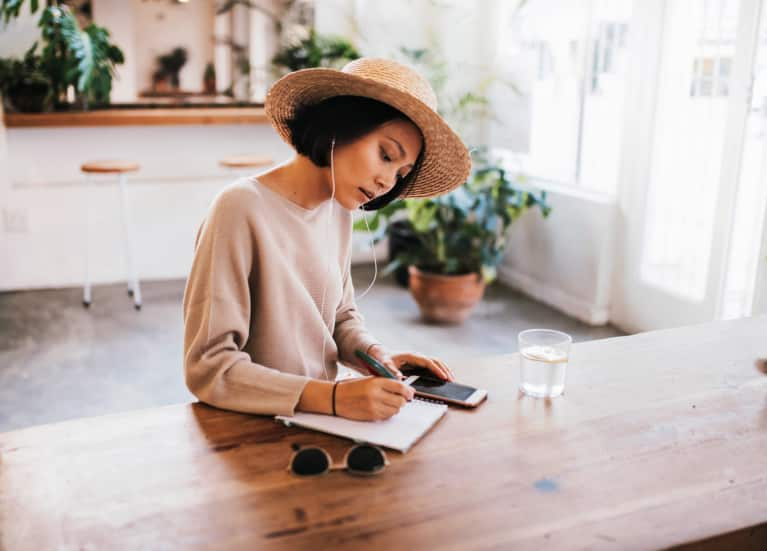 Our editors have independently chosen the products listed on this page. If you purchase something mentioned in this article, we may
earn a small commission
.
If you're dealing with stress and anxiety, here's my advice to you: Take a moment to allow yourself to feel OK about feeling stressed. Give yourself permission to feel what you feel, without judgment or a need to fix anything. Have a chat with yourself or even write it down. Acceptance of our situation and feelings, especially when they're difficult, allows us the clarity to make better decisions about how to move through them.
Research shows that acknowledging a difficult feeling immediately reduces the intensity with which we feel it. It allows us to shift from the fight-or-flight part of our brain to the thinking, rational, planning part of our brain.
Zoom in on the good with a "gratitude minute."
Every morning, write down three specific things you're grateful for at that moment before you check email or social media. The research on this is so overwhelming that this needs to be a nonnegotiable ritual on your to-do list. Intentionally infusing yourself with this dose of gratitude before the energy of work and the world or negative thoughts take over significantly affects how your day goes, including how you feel and your productivity.
Thousands of research studies have shown that a gratitude mindset makes you happier, helps to regulate your mood, stimulates the brain's reward and pleasure centers, and increases your ability to cope with everyday stresses and traumatic life events.
Blast stress with an "intentional kindness minute."
Schedule one small act of kindness every day. This ritual can be as simple as a check-in text to a friend, writing a thank-you sticky note for a colleague, or putting "do something small and kind" on your to-do list as a reminder for yourself. Even the tiniest act of kindness, such as uninterrupted listening, makes you feel really good—and it will brighten the day of someone you care about.
There's research to back this up: Every act of kindness causes your brain to release oxytocin, which makes you feel better—and these small positive interactions help you feel more supported and connected to others and improve your long-term well-being.
Make over your to-do list by finding a bigger "why."
Make it a daily ritual to scan your to-do list and note how each item might help someone else: a colleague, customer, friend, family member. Our sense of meaning comes from using our skills, something we're good at, in service of others or a cause we care about. Just the act of considering how your to-do's help others will help them feel like purposeful acts rather than overwhelming to-do's.
Research shows that having a sense of meaning increases your motivation to get stuff done, boosts your resilience, and helps you get through challenges with less stress.
Reset your happiness with a self-care minute.
Schedule a regular 10-minute break during your day, perhaps in the afternoon when our energy usually slumps. Pause, close your laptop, silence your phone, and take a moment to do one thing that helps you clear your mind and catch your breath. It can be anything at all, from closing your eyes and just focusing on your breath for a minute to grabbing a cup of tea or taking a walk, even if it's around your office. If you can, five minutes is even better.
Just closing your eyes to breathe or daydream for one minute can help clear your mind and leave you feeling a little more energetic and ready to tackle the next part of your day. Regular breaks have been shown to dramatically increase focus and productivity while doubling our sense of health and well-being.