This Emotional Intelligence Test Might Soon Be Used During Hiring. Would You Pass?
mbg Contributing Writer
By Georgina Berbari
mbg Contributing Writer
Georgina Berbari is a multidisciplinary artist, Yoga Alliance RYT-200 yoga and meditation instructor, and a Master's graduate of the creative writing program at Columbia University. Her work has been featured at the Hecksher Museum of Art on Long Island, Women's Health, SHAPE, Bustle, and elsewhere.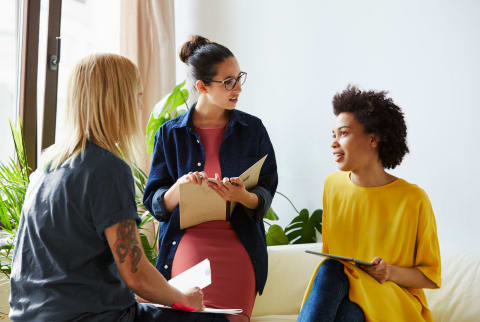 Photo by ALTO IMAGES / Stocksy
November 20, 2018
As a yoga and meditation teacher, I'm constantly practicing self-awareness. This means that, over the years, I've become highly tuned into my emotions and how to healthfully sit with and cope with the more difficult feelings. Of course, by no means am I saying that I'm perfectly self-aware or even emotionally intelligent—but I do believe that I've cultivated a good foundation for myself in terms of overall consciousness of being thus far.
While teaching yoga and meditation isn't my full-time job, the emotional intelligence I've honed from these practices certainly helps me in any kind of workplace I'm in. I can't quite put my finger on exactly why being self-aware played such a big role in my career success, but a new study published in the Journal of Applied Psychology asserts that emotional intelligence (EQ) really can be a highly effective criterion for hiring and measuring employment qualifications. Most importantly, it introduces a brand-new EQ test for employers to use while hiring.
Researchers at the Universities of Geneva and Berne, Switzerland, believe that the usual sunny disposition, intellect, experience, and competence many candidates exhibit at job interviews aren't quite enough to determine if they'll be the best person for the job, they explained in a news release. The scientists are convinced that the individual's level of emotional intelligence must be factored in to their eligibility for the position. Emotional intelligence (EQ) here refers to their ability to regulate, understand, manage, and recognize emotions, specifically in a work environment. In one recent survey, some 71 percent of hiring managers said they valued an employee's EQ over their IQ, 75 percent revealed that they would be more likely to promote an employee with high emotional intelligence, and about 59 percent said they wouldn't consider hiring a candidate with a high IQ and low EQ.
But despite the importance of EQ, there's never been an actual test to measure emotional intelligence—until now. The research team decided to collaborate to create the Geneva Emotional Competence Test (GECO), which is a test that consists of four areas of evaluating a person's emotional intelligence: recognizing emotions, understanding emotions, the ability to emotionally regulate, and managing other people's emotions. The test is conducted using video clips featuring actors in work-related situations and accompanying questions.
To develop a well-rounded and in-depth test, the researchers interviewed over 40 managers of Swiss-based firms so that they could create the questions within GECO. The managers were interrogated on times they were faced with anger, sadness, fear, or inappropriate happiness in the workplace and what they did in these diverse situations. Afterward, the scientists consulted with emotion experts, other managers, and representatives of the general public to round out GECO.
Before concluding their research and being satisfied with the test, the researchers tested it on just under 900 participants between the ages of 20 and 60. Through this process, they discovered a few interesting facts about workplace EQ: People with a better ability to regulate their emotions tended to earn a slightly higher salary, which is certainly worth noting. Women in general did better on the test than men did, particularly when it came to interpreting nonverbal expressions of emotion. And regardless of gender, "emotional intelligence increases with age and experience, meaning it's a faculty that can be improved and developed," said Marcello Mortillaro, Ph.D., one of the lead researchers of the study and a researcher at the University of Geneva's Swiss Center for Affective Sciences, in the news release. That's certainly promising.
"The more emotional intelligence skills you have and the better those skills are, the better your work outcomes are, above and beyond your cognitive intelligence or personality," Dr. Mortillaro said.
"We also noted that managers who perform well on GECO have better results in standardized leadership tasks, and students with higher GECO scores get better grades," added Katja Schlegel, Ph.D., another lead researcher on the study and a researcher at the University of Berne's Institute of Psychology.
GECO is an entirely new way to examine whether a person will be a good boss or a competent colleague. The test is currently available for recruitment and career guidance purposes from a company in Bern, Switzerland, and it exists in English, French, and German. While the test isn't wholly available to the general public just yet, there are similar, shortened versions available online from the Swiss Center for Affective Sciences, where you can briefly get a sense of your emotional competence. You can choose from a variety of tests that measure emotional competence, each one having three short demo options for you to pick from. According to the center, a free emotional competence assessment program with personal feedback will be available sometime in the future.
Georgina Berbari
mbg Contributing Writer
Georgina Berbari is a multidisciplinary artist focusing on photography and writing. Through these mediums, she creates works exploring the human body, sexuality, nature and psychology. Her work has been featured in the Hecksher Museum of Art on Long Island, ZEUM Magazine, Women's Health, Bustle, SHAPE, BuzzFeed, and elsewhere. She is a Master's graduate of the creative writing program at Columbia University and a Yoga Alliance RYT-200 yoga and meditation instructor.