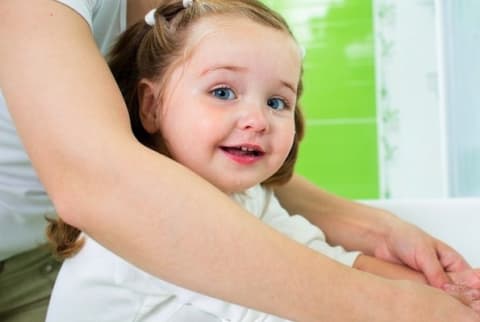 Photo by Shutterstock.com
July 23, 2013
One of my all-time favorite messages for families is: Go to your kitchen cabinet before your medicine cabinet.
That's one I work with at the Whole Child Center and a core theme of my book, Treatment Alternatives for Children. (Sidenote: all these remedies work for us big kids, too.) Some of the most amazing safe, cheap and effective treatments can be grown in your garden or found at the market rather than in the pharmacy.
A prime example is my DIY natural hand sanitizer. Modeled on the mythical "Thieves" blend of essential oils, my hand sanitizer recipe includes oils with proven anti-bacterial and anti-viral properties and adds aloe vera gel for smoothness.
What I keep out is just as important: no irritating alcohol or hormone-disrupting toxic chemicals found in many conventional hand sanitizers. When soap and water aren't available, mix yourself up a batch of this sweet-smelling natural spray and you're good to go. Clean… and green.
Start with a 4 ounce spray bottle.
Fill it about ¾ full with sterile water.
Add 1 TBSP of aloe vera gel.
Add 10 drops each of cinnamon, clove, rosemary and eucalyptus essential oils.
Add 20 drops of either lemon, orange or grapefruit essential oil – whatever aroma fits your mood.
Place the spray dispenser top on securely and mix thoroughly.
Spray two or three times on your hands and rub together.
Repeat as needed.
Note: You can substitute a 1 ounce bottle size for travel. Change the amounts as follows: 1 tsp aloe vera gel, 2 to 3 drops of the four primary oils and 5 to 10 drops of your choice citrus oil.