5 Easy Ways To Get Happier ASAP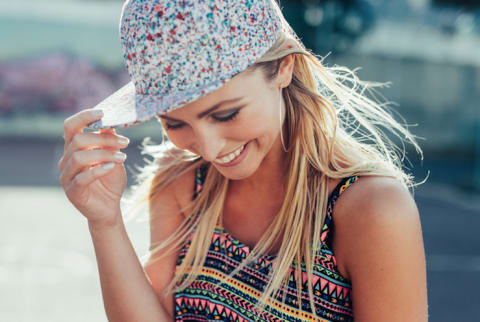 February 21, 2016
That means most of us — 70 percent — are unhappy.
Though I wish it were as simple as slurping up a green juice, making a quinoa salad, and calling it a happy day, it goes much deeper than that. Fortunately, happiness is like a muscle — the more you work it, the stronger it becomes. Here are five ways we can create more happiness in our lives:
1. Decide to be happy.
Happiness doesn't strike us by luck or happenstance. People who seem to always be happy make a conscious decision to be happy regardless of circumstance. We can choose to grumble over traffic or the weather, or we can take a more positive approach. You might be thinking, "Oh, you're oversimplifying. It's not that easy." It's not always easy, but it is simple. And the more you practice, the better you'll get at it.
2. Turn it into a practice.
Take 10 minutes a day to be consciously happy. Think about the blessings in your life. Schedule it into your calendar if you need to! Focus on all the things you have to be grateful for: a roof over your head, a warm bed to sleep in, food in the fridge, loving relationships, sunshine. And spend time every day doing something that brings you happiness — even if it's something as simple as sitting in solitude with a cup of tea. Let the positive feelings wash over you and bask in them.
3. Give happiness away.
It's important to give happiness away, too. In every interaction — with coworkers, grocery store clerks, strangers on the subway — focus on being more kind. Smile, make eye contact, be mindful of your tone of voice and body language. You just might find that when you increase the happiness you offer to others, you'll receive more of it in return.
4. Be more creative.
Are you unhappy because you feel trapped in mundanity? Stretch yourself out. Try being more creative. If it's not possible to boost your creativity at work, then practice it in your spare time. Do the creative things that bring you joy, and do them regularly. The world needs the creativity you have to offer.
5. Share a meal with others.
I'm sure you can think of a half dozen things you could do today to improve your physical health, like drink more water or eat spinach. But have you considered what you could be doing to cultivate happiness? I encourage you to ponder this and approach happiness every day with intention.
How Not Drinking For 90 Days Helped Me Drop 20 Pounds, Resurrect My Marriage & Overhaul My Career
Meghan Telpner
Toronto based author and nutritionist Meghan Telpner, brings her healthy and awesome life inspiration to fans across the globe. As founder of the Academy of Culinary Nutrition and author of the bestselling UnDiet: Eat You Way to Vibrant Health and The UnDiet Cookbook, she is fast creating a revolution in health and wellbeing. Inspiration is waiting at MeghanTelpner.com and follow her daily #UndietLife adventures @meghantelpner