4 Loving Stones For Attracting & Keeping Your Soulmate

By Emma Mildon
mbg Contributor
Emma Mildon is a millennial activist, co-host of 11:11 podcast, and best-selling author of Evolution of Goddess and The Soul Searcher's Handbook.
I'm a spiritual gal, and I've tried and tested dozens of high-vibe stones in my search for true love. I've used them to heal from breakup turmoil (note to self: Crystals do not make great cuddlers), and to give my heart the push it needed to forge new connections.
Here are the top crystals I've leaned on through my search for a soulmate. Working with crystals is a beautiful way to infuse your life with more intention. Keep these stones on your bedside table, hold them during meditations, or wear them as a necklace as a reminder of your intention to cultivate a loving life.
To heal from past heartbreak: Rose Quartz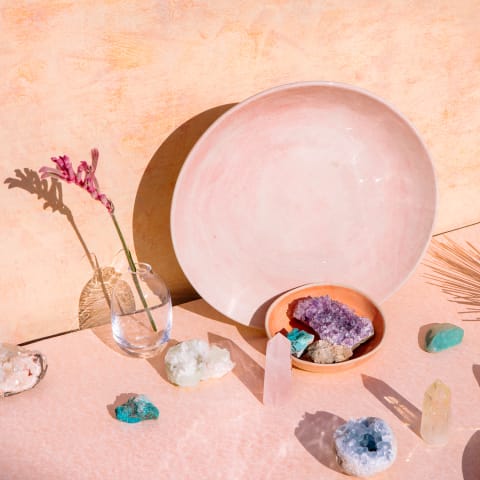 Image by Nadine Greeff / Stocksy
Consider the rose quartz a Band-Aid for your heart—one that can help heal old love wounds, forgive lovers, and release any lingering emotional baggage. It's a must for any gemstone junkie. Recharge your rose quartz outside during a full moon so it can help keep your love tanks full with radiant loving vibrations.
To prepare for your true love: Malachite
Need to heal and recharge your soul so you can open up to love again? Malachite is a crystal that's often used to get the heart chakra in check. A balancing stone, it can help you feel stable, safe, and secure in opening your heart up to all types of love.
To attract your true love: Green Jade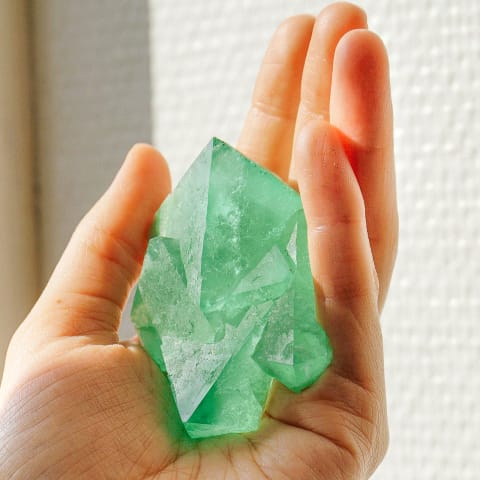 Image by Lyuba Burakova / Stocksy
If you're ready to put your heart back on the dating market and continue the quest to find your significant other, then you, my friend, might need some green jade. Jade is associated with all things harmonious. Consider this a crystal wingman to stand by you as you put your heart back out there.
To maintain deep love: Amazonite
High five, lover! You've been dating someone special and want to maintain your connection. When it comes to new relationships, communication and emotional baggage can be a real stick in the emotional mud. Amazonite to the rescue! This crystal reinforces a safe energy that will help you both to communicate clearly, openly, and lovingly with each other.

Emma Mildon
Emma Mildon is a millennial activist and best-selling author, aiming to provide fun spiritual wisdom to her generation. She has sought out medicine men, healers, physicists, authors, and artists to explore spirituality, channeling, and healing and has also practiced meditation, yoga, and life coaching. Her writing has been published by the Huffington Post, and she hosts 11:11, spirituality and thought podcast with supermodel and actress Rachel Hunter. She is the author of Evolution of Goddess and The Soul Searcher's Handbook.