Clear Your Mind And Calm Anxiety With This Artistic Alternative To Meditation

Contributing Wellness & Beauty Editor
By Lindsay Kellner
Contributing Wellness & Beauty Editor
Lindsay is a freelance writer and certified yoga instructor based in Brooklyn, NY. She holds a journalism and psychology degree from New York University. Kellner is the co-author of "The Spirit Almanac: A Modern Guide to Ancient Self Care," with mbg Sustainability Editor Emma Loewe.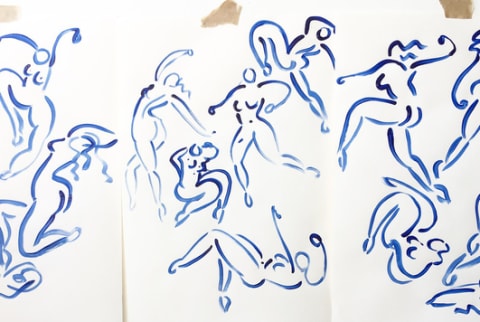 August 11, 2017
It's normal to have a hard time meditating in this ever-engaging world.
We don't need research to know that the demands on our attention are greater now than ever before, and that our capacity to remain attentive to a single phenomenon for longer than say, eight seconds, is dwindling.
Quests for increased focus, concentration, and productivity often point to a similar destination: a steadfast recommendation to meditate. But for the person who tries and loathes it, can't sit long enough, already has a practice, or intends to meditate and can't quite get there, how is attention cultivated?
Yoga is one way. Knitting is another. Getting lost in a rhythm like dancing or surfing are others. But the rising trend this year is making art. Equal parts fantastical and counterculture, artist lifestyles are right up there with van life goals, and yet an increasing number of people are trading in their mindful coloring books and choosing the artist's way instead. More important still, "regular" non-artist adults are using the analog creative process as a mechanism to detach from their phones, connect with people in person, foster a sense of self-expression, and, whether they know it or not, slip into a meditative state. People are finding ways to make art a part of their wellness routines or adopting an artist lifestyle altogether with the intention of optimizing well-being.
Why visual art?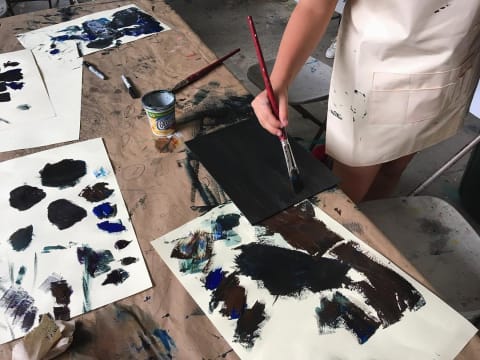 Kimi Mongello, illustrator, musician, and teaching artist at Usdan Summer Camp for the Arts, is one such example. She left a desk job in tech and design to pursue art as a vocation, making mixed media two-dimensional art, playing music, and teaching kids. Upon reflecting on whether the sacrifice of being an artist ultimately increases her feeling of well-being, she said, "I didn't realize the amount of stress I was used to being under because I was in a routine. And I was a creative! Leaving my job turned my health around in the most basic of ways. Waking up, walking outside, and not staring at a computer for eight-plus hours a day made me feel so healthy."
The rush of tech disconnect is real, and hobby artists chase it, too. Nikki Cohen, founder of This Place NYC, a moving figure drawing community out in Brooklyn, New York, said that her figure-drawing events are mostly non-artists looking for a way to unplug. "People who come say that they find it cathartic and meditative. To focus on something for a couple of hours that doesn't require any particular outcome and, most importantly, allows you to totally disconnect is a really beneficial experience that we should do more often," she said.
Jennifer Waverek, owner of BKLYN Clay, a ceramics studio in Brooklyn, shares that a renewed interest in ceramics over the last four years could be due in part to the well-being benefits of working with clay. "The physical act of wedging, throwing, and hand-building helps absorb and release emotional energy. Working with clay, whether hand-building or throwing on the wheel, seems to offer a grounding and recalibrating experience for many people," she said.
The common thread of these experiences is the artist's ability to access flow state1, a well-studied state of mind in which we simultaneously let go of all self-doubt, engage in the present moment, and use more neural resources to do so. To reclaim our attention, we need a healthy dose of flow.
Instagram is a tool, and scrolling is not a flow state.
This trend started in large part because of prolific social media sharing. There's a fine line between accessing Instagram and other social media platforms as inspiration to make art, as it can quickly become a siphon to our attention resources. Or so it seems.
"You cannot blame the current state of affairs on social media because there's a lot of positivity coming from it," said Mongello. "We get down on ourselves a lot for the screen use, but it helps people get out of the structure that they are forced into. It gives you the opportunity to see things that you never would otherwise."
She's right: As it turns out, introducing novelty to a practice is one of the keys to accessing flow state. The truth is that it's our relationship to social media and our devices—not just the devices themselves—that are to blame for impaired attention. Overuse and constant engagement with a device speaks to our own boundary issues and inability to be quiet, alone, and content, for instance.
Social media also breaks down barriers, connecting like-minded souls and creating community. "I know for me social media has been an amazing tool for my own self-expression. I am not a particularly confident person, neither do I have a network before social media whom I could channel my own art to, said Alexandria Coe, a young artist who has used Instagram as a tool to share her work with the world. "Social media opened up an audience and community that I would not have known otherwise."
Another stipulation of flow state is reprieve from interruption.
A sense of community outside the screen.
It's true, artistry is an Instagram trend, but it's how we build upon it that matters. Using social media as a way to connect with others is smart, especially if those connections are intentional and lead to real, tangible, positive differences in the lives of those connecting.
For Cohen, Instagram is an integral part of her artist community because it's the glue that binds them. She changes the location of figure drawing often and uses Instagram to share drawings from the previous meet as well as the location of the next one. Her website is intentionally minimal, a smart strategy that directs people to the in-person event.
Jill Lindsey, owner of her namesake wellness boutique with locations in Brooklyn and Malibu. The third location opening in September 2017 is a testament to a growing demand for community art workshops, one of her many offerings. "I think right now people are looking for opportunities to engage, experience, learn, and share" with the community, she said. And although she doesn't think Instagram is disappearing anytime soon, she said, "I do feel that people are going to move away from being on their phones so much and really dive back into activities, art, and education."
Fast track to self-discovery.
Like any consistent practice, another reason art is being considered a wellness practice is because it leads to clarity of ideas and brings you closer to yourself. When life is fast and reactive, it's therapeutic to work at your own pace, work with your hands, get in touch with yourself, and connect to others.
"An artistic practice really connects you to the patterns within your own emotional cycles and offers a way to express that healthily," said Coe. "It offers a way to let 'stuff' out, both consciously and unconsciously. My own practice also aids another level of my own identity, which feels very authentic, in an increasingly inauthentic culture."
Plus, it can give us a sense of accomplishment and renewed confidence. "It only takes a few words of encouragement and one finished project as proof that [the kids I teach] could do it. It's a combo of making something that's theirs, and then seeing a finished product of something that was an exploration," said Mongello.