How To Lean On Spirituality When You're Trying To Get Pregnant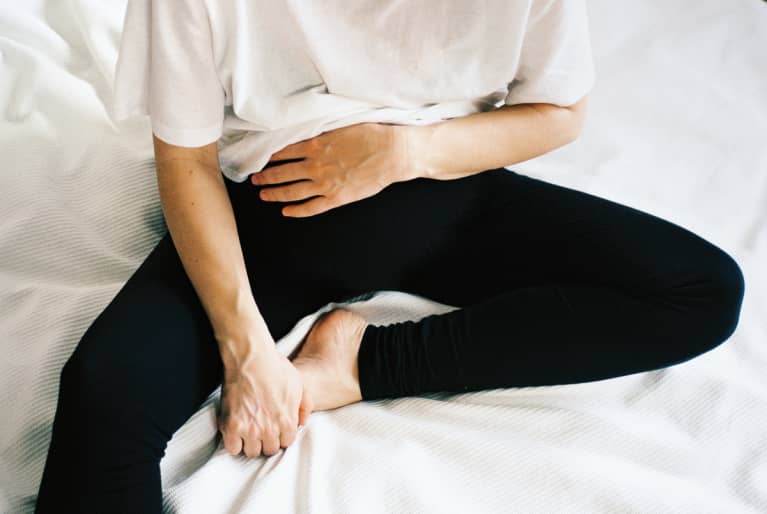 Last updated on April 1, 2020
Trying to get pregnant and finding it frustrating, stressful, and isolating? You're not alone—though it can often feel that way. According to the Department of Health & Human Services, one in eight couples in the U.S. experience difficulties getting pregnant. While there are many physical ways to support the body through this process (such as prioritizing sleep, exercising moderately, and eating healthily), spiritual tools can also help people approach fertility with more calm and ease.
"The answers to a lot of subfertility [a delay in conceiving] may not necessarily lie in the physical realm but could instead be found tied in with emotional and mental well-being," says Larisa Corda, MBBS, a U.K.-based OB-GYN and fertility expert. "When you probe deep enough into someone's history, you almost always find a complex mix of various events, triggers, and life stresses that undoubtedly impact on a patient's psyche but also on their ability to conceive."
Here are five spiritual techniques that can help relax the body and mind if you're trying to get pregnant:
Practicing meditation helps us become more aware of the anxious, stressful thoughts in the body and mind, which is the first step in becoming more compassionate with ourselves. Self-compassion is crucial when struggling with fertility. Meditation trains us to not get attached to these thoughts or ignore them altogether but rather to allow them to just be. It can be scary to stay with worries and painful memories or emotions you instinctively wish to shy away from, but the very act of being with your thoughts can help them dissipate.
Begin by sitting in a comfortable position. Bring your awareness to the physical sensation of the breath: the rising and falling of the abdomen and chest. Once you feel settled, bring your awareness to the thoughts and emotions, letting them come and then letting them go. Imagine each is like a cloud moving across a clear blue sky, always changing.
2. Yin and restorative yoga.
While relaxing will not magically get you pregnant, there is some evidence to suggest that yin yoga can help relieve stress, and stress can be a barrier to fertility for some people. As yoga and meditation teacher Sarah Lo, E-RYT 500 explains, "Yin yoga when practiced with mindfulness has a direct impact on [calming] our nervous system, and there can be no better optimal state to conceive than when the body is in a receptive and calm state. There have not been any conclusive studies, but I personally have had many students relate that they conceived after turning toward a yin yoga practice."
There are many yoga classes available online: Look for one that is gentle and incorporates poses such as bridge, light twists, legs up the wall, cat/cow, hip rotations, and butterfly. These yoga postures not only promote relaxation but also encourage blood flow to the hips and increase circulation and connection to the pelvic area, abdomen, and heart.
Create a personal mantra based on your own beliefs, and choose one that makes you feel calm. "Om," "Shalom," and "Peace" are all good starting points, or simply find a word that resonates with you. Repeat it to yourself throughout the day, especially whenever you find yourself feeling anxious or stressed.
Acupuncturists gently insert thin needles at strategic points on the body in order to stimulate better energy flow. Early research shows that the healing modality can help with fertility by balancing the endocrine system and reducing stress. "Using techniques such as acupuncture can really benefit the mental health of those in whom fertility takes a little longer or involves costly and invasive treatments," explains Emma Cannon, an integrative fertility specialist and author.
Chinese medicine practitioners believe that acupuncture targets energy points (or "meridians"), which facilitate the flow of energy (or "chi") between the surface of the body and internal organs. It is thought that this energy regulates spiritual, emotional, mental, and physical balance and that acupuncture helps to keep the normal flow of this energy unblocked. Find a practitioner in your area whom you trust.
5. Reframe your thinking to cultivate positive energy.
It is hard to accept someone's advice to "relax" when you're trying to have a baby. But if you find yourself overwhelmed by negative thoughts and feelings, it may be helpful to shift your focus toward more encouraging thinking, thus creating a positive environment in your mind. Focusing too much on what you don't have (yet!) can keep you stuck. That's not to say you should ignore the feelings you're having—but give yourself a set amount of time to acknowledge them, then force yourself to move on.
Jean Twenge, Ph.D., a psychology professor and author of The Impatient Woman's Guide to Getting Pregnant suggests using an "optimistic explanatory style" of thinking. Instead of saying to yourself, "I'm a failure because I can't get pregnant," try, "I'm doing everything I can to try to get pregnant."
If you've gone 6-12 months (or 3 months, if you are over the age of 40) and are still having trouble conceiving, it might be time to get a medical evaluation to make sure your body is optimally prepared for pregnancy.