Bill Nighy's Strategy For Managing Anxiety Is All About Self-Love, Actually
mbg Nutrition & Health Writer
By Eliza Sullivan
mbg Nutrition & Health Writer
Eliza Sullivan is a food writer and SEO editor at mindbodygreen. She writes about food, recipes, and nutrition—among other things. She studied journalism at Boston University.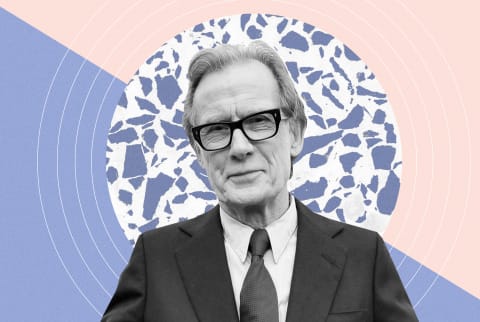 Graphic by George Pimental / Getty Images
February 25, 2020
We carefully vet all products and services featured on mindbodygreen using our
commerce guidelines.
Our selections are never influenced by the commissions earned from our links.
While he's starred in many hit films, it's unlikely that actor Bill Nighy has actually seen the projects that made him famous. His reputation as being "louche, languid, laconic" (his words, not ours) may precede him, but in reality the Love, Actually star is anything but. In an interview with the Guardian ahead of the release of his latest film—a remake of Jane Austen's Emma in which he plays the protagonist's father—Nighy opened up about his struggle with anxieties about his work.
"It takes me quite a long time to recover if I see myself on-screen. Because all my fears about my inadequacies are confirmed when I watch myself," he said in the interview. "I know there's an answer, and the answer is, get over yourself. But that's hard."
A lesson in self-prioritizing your needs.
His steadfast refusal to watch his films isn't one he takes lightly. "It's hard sometimes because you want to honor the people that you've been working with," he said, "but I just find it so dispiriting."
Nighy knows he's not alone in feeling these things: Other celebrities have confessed to not sitting through their own films. "You look terrible according to you, unless you're a weirdo," he said, "and you look at yourself and you think, 'Wow, I look pretty good.' But I'm not one of those."
It's not hard to understand his feelings: Many people are plagued by feelings of anxiety, and the idea of being watched is enough to stop some from pursuing a career like Nighy's at all. He's aware of the problems of the industry and feels the pressures of it even after years of being there.
He's called acting "an alarming job," one that comes with serious pressure. In another interview, he said that it comes with "being scrutinized in a way that no human being should ever be scrutinized and not wanting to let anybody down."
There seems to be a familiar trend in Nighy's comments: a concern with doing what's right for others—but he hasn't let that affect how he leads his life. Often characterized by interviewers, and type-cast by directors, as something of an eccentric, Nighy enjoys solitary time spent in cafes and bookshops and often plays the quirky older Englishman in films (a role he's taken up again as Mr. Woodhouse in Emma).
But he doesn't let the questions about his lifestyle change how he behaves—if anything he has embraced it more. "I suppose I spend a bit more time on my own than most people, but I'm very, very accustomed to that," he said. "I'm perfectly happy."
In his interview, Nighy said that "the trouble is that confidence is a movable feast," one that is hard to pin down. But there are ways you can train yourself to be more confident and even science-backed ways to change the way you see yourself.
Eliza Sullivan
mbg Nutrition & Health Writer
Eliza Sullivan is an SEO Editor at mindbodygreen, where she writes about food, recipes, and nutrition—among other things. She received a B.S. in journalism and B.A. in english literature with honors from Boston University, and she has previously written for Boston Magazine, TheTaste.ie, and SUITCASE magazine.