I Became A Buddhist Nun After A Near-Death Experience. Here's My Spiritual Intel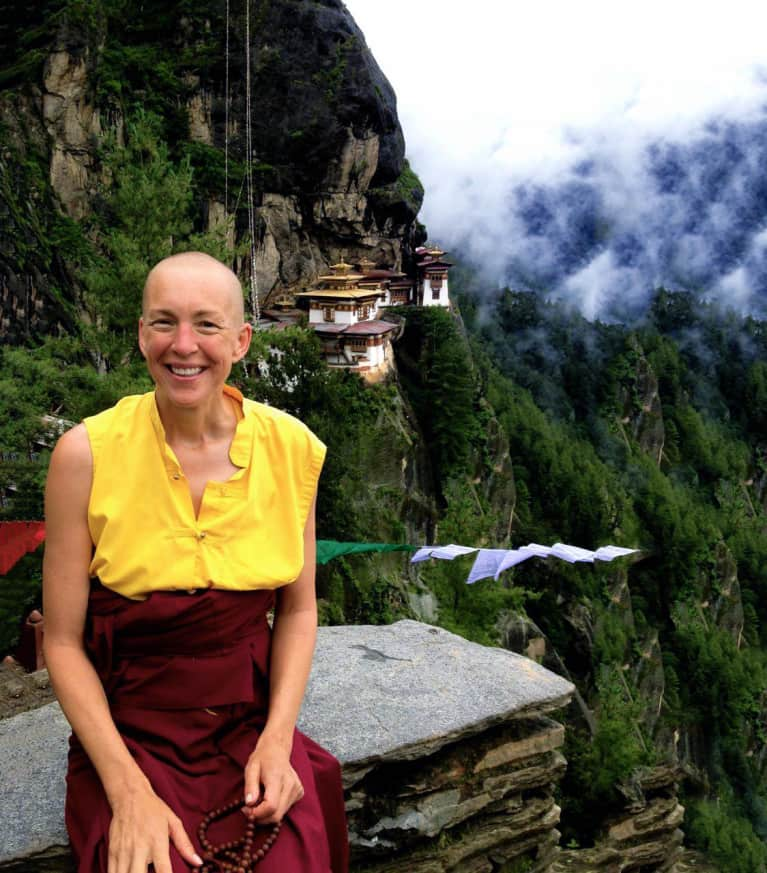 Our editors have independently chosen the products listed on this page. If you purchase something mentioned in this article, we may
earn a small commission
.
"I want to do something no 11-year-old has ever done before."
I dared to say these words aloud as I crossed Joy Lane in my hometown of Whitstable as a lanky, inquisitive preteen. I had entered secondary school, which had introduced me to the excitement of a new town, a new school bus (with that complex hierarchy of seat choices), and a new sense of identity.
I was in that stage of more-than-dreaming; I had the feeling of The Possible coming to the end of my fingertips. Do you remember that feeling when you really thought it WAS possible for a human to fly or win Wimbledon, even if only in your own mind? But other than the Kent sky and a passing Ford Cortina, nobody else heard this declaration. I continued to keep the feeling of expansiveness largely to myself. The words were there, but my body was clumsy, and I preferred the company of books to actual people.
Bookish and creative, I thought I would grow up into a job pursuing something big and unknown—the kind where making something was key. But the early death of my father from brain cancer had a profound effect on me. It made me want to stop feeling anything and pour my energies upward into my thinking mind.
As an adult, I found myself working in finance, visiting important clients around the world with the suits to prove it. I was determined to make a success of my life, partially to honor my father. I poured my energies and attention into my career—and I did love it. I loved the pace, the need to consume large amounts of information, the challenge of making The Right Decision under pressure.
It was all going so well until, like a sleek athlete suddenly brought up too fast by the sound of the gun from a false start, the race stopped for me when I was held at gunpoint on a business trip to Jakarta in 1997. A handgun suddenly held my life at its end.
This experience and the trauma that followed was my emergency stop. It took time to recover, but in the end it made me re-question my earlier assumptions about what made life meaningful. I had sought the security and certainty of career success and money as if they would form a soft cocoon around me, healing me from the death of my father. I never imagined such choices would end up with me in a hotel room, a gun to my head, begging to be allowed to live.
I've dedicated my life to serving others and learning from the deep, quiet expanse of the mind.
I felt a huge deal of courage after recovering from this trauma, courage to slow down and discover what would bring me a feeling of meaning. It was a big step forward from the 11-year-old who could only dream. It was in that time of pause that I stumbled on yoga. Immediately, the practice gave me a sense profundity and sheer joy. It gave me a place where I felt confident and whole. The beauty of my feet on the ground and my arms arching over my head opened up a path of lifelong inquiry.
My yogic path eventually led me to the Himalayan Kingdom of Bhutan to deepen my journey into meditation and ultimately to become a Buddhist nun. Now that was a long way from the fast-talking, high-heel-wearing banker, but not so far from the 11-year-old who knew she wanted to expand what was possible. I've dedicated my life to serving others and learning from the deep, quiet expanse of the mind. In 2015, I founded the charity Opening Your Heart to Bhutan to help special needs children in Bhutan. I now see that both my financial and spiritual skill sets helped me get to this place. It took a while, but now I can honestly say the best of me is here. Here are a few of the lessons that I've learned in my journey that have helped me reach this place of fulfillment.
Advice for living a life of meaning and joy:
1. Increase your intake of wonder.
Whether it's through nature, people, or your pet's extraordinary antics, maintaining wonder about the world around you can help you grow in so many ways. You don't need to stay in this state for long, but look for it every day. Don't wait for it to come to you. Go find it.
2. Be kind to others, and notice how that makes you feel.
See what happens when you smile at someone, and reflect on how it makes you feel. Active reflection is something I feel can be very empowering. Taking the time to digest our experiences and reflect on our feelings can help us see clearly through to the origins of true happiness.
Always express gratitude, even if only to the clouds and sky.
3. Don't use your mind as a garbage container.
A happy mind is one free of anger and resentment. Keep your mind clean for your own sake. If you are a visual person, really imagine these negative emotions like a garbage bin filling your head.
If you decide to take your own path of finding meaning and asking what it is to be a human, challenges will inevitably arise. If you read the yogic texts, you will see the emphasis placed on developing kindness and wisdom for the benefit of all, yourself included. Take this idea into your very heart and keep going through the ups and downs with a smile. Always express gratitude, even if only to the clouds and sky.
Want to learn more about Emma's journey? Check out her book, Set Free.