This Ayurveda Expert Says Investing In Yourself Right Now Is An Investment In The Future
mbg Beauty Director
By Alexandra Engler
mbg Beauty Director
Alexandra Engler is the beauty director at mindbodygreen and host of the beauty podcast Clean Beauty School. Previously, she's held beauty roles at Harper's Bazaar, Marie Claire, SELF, and Cosmopolitan; her byline has appeared in Esquire, Sports Illustrated, and Allure.com.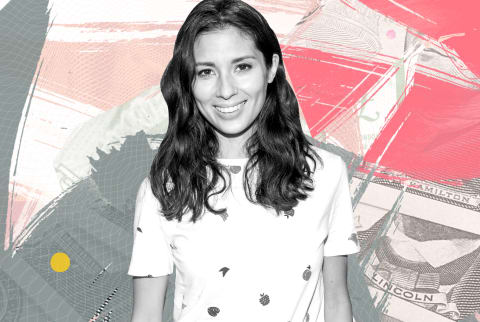 Image by mbg Creative x Contributor
June 17, 2019
With an estimated
67%
of Americans at least a little anxious about paying the bills and
58%
worried they won't have enough money for retirement, it's becoming increasingly clear that being financially well is an integral part of overall wellness. Of course, money management isn't one-size-fits-all, so we're talking to people from all walks of life to find out how they achieved a healthy relationship with their finances. We hope it empowers you to live a life Well Spent. In today's post, Collective member
Jasmine Hemsley
, cookbook author and wellness expert, explains why it's always good to buy quality food and products.
What does financial well-being mean to you?
Freedom to be able to make choices.
What has your financial journey looked like?
It has its ups and downs. My Filipina mum and English army dad brought me up to respect money and not be frivolous with it. Pocket money wasn't a regular thing (although I did once get £5 from my dad when I was 10 after managing not to bite my fingernails for a week). I always worked weekend jobs doing chores for family and friends of family to save up for things I wanted to buy. That instilled a strong work ethic in me. At 16 I started working the summer holidays at my mum's office doing admin and filing. In my 20s I started modeling full time, and for the first time in my life, had money in the bank. I really loved shopping for clothes and would often treat myself to what we now know as "fast fashion." But I was conservative about everything else.
When I met my partner, Nick, in my early 20s, the first thing we did was invest all our money (which we didn't have a lot of) in a tiny one-bedroom flat that we completely renovated. As self-employed people with fluctuating incomes, we decided early on that we would invest in property for our long-term future.
Was there ever a point when you were stressed about money?
During my first year at college, some bonds I'd been gifted as a baby were bought by another company, which meant I kicked off freshman week with a bonus £600 in my pocket. I couldn't believe how quickly that money disappeared without much to show for it! I quickly wised up to what it cost to live from day to day. I used to be pretty tough on myself, always calculating and recalculating my expenses and checking my account online. I still remember the occasions when I went over my overdraft limit by £1 and got fined £25; I used to really berate myself—knowing how cautiously I'd been spending only to mess up at this point.
Over the years I've learned to practice a bit more self-love. If I've made a mistake or could have spent better, I just note it and move on rather than let it hang around haunting me! I've got a much better relationship with money now. It's all too easy to be negative, but just flipping how you talk about money changes how you regard it. I now feel positive and grateful for the abundance of everything that I have in life.
How did you get to where you are now, financially?
I have been self-employed all my adult life. I even self-financed when I started my own businesses, as I don't like to be obligated to anyone else financially. So along the journey, there have been many moments when I have had bills and people to pay and not known where the money would come from. I'd gone from earning a good salary as a model to not being able to pay myself a salary for many years, as often happens when you set up your own business. When it got to the point that I was working every hour but still only financing the business, I sat with Nick and we used spider diagrams to get clear on what we needed to do to enjoy our work. It sounds crazy, but almost from the moment we put our energy into a more aligned message around how we wanted to live and work, more money started coming in.
What have you learned from this?
I have learned to trust. If your intention is true and you are tuned into your passion, not just your bank account, you will be supported. This is, of course, combined with a lot of hard work and dedication. And there are ways to work smart: Getting clear on "working to live" as opposed to "living to work" is key to getting smart about money.
What's one wellness trend you think is worth splurging on?
I put my money on ayurveda. If it's a trend, then it's a 5,000-year-old one! So many of the wellness habits that are becoming mainstream came from it, but we keep studying or utilizing them all in isolation rather than understanding they are all interconnected. I invest in myself now, as well as my future, by using ayurvedic methods of cooking, eating, sleeping, working, and taking care of my home. It's things like being aware of the quality of the products I use on my skin and the foods that I eat. Eating natural, unprocessed food can be expensive, but with a bit of preparation it doesn't have to mean splurging. The ayurvedic classic kitchari cooked with seasonal veggies is the mainstay of my diet; it's inexpensive, nourishing, and simple to cook—comfort food at its best. It's really important to invest in your internal as well as your external environment: Meditation, breathwork, and yoga are habits I use to navigate a busy city life and balance out the overstimulation from a tech-filled world.
I took a big gamble when I wrote my last cookbook, East by West, based on the philosophy of ayurveda — lots of people thought I was crazy not to do another more commercial and potentially more lucrative project. However, East by West went on to win Wellness Book of the Year 2018 in the U.K. I went with my gut rather than the numbers, and my passion has been allowed to flourish.
What's one that isn't worth the money?
Too much of anything—because you certainly can have too much of a good thing! In the West, I find that we tend to think more is more, like if X is good for me then 10 times X must be even better. Basically, you should never swing from one extreme trend to another without any regard for a more gentle and balanced way of looking after yourself. After all, the dose makes the medicine or the poison.
What do you think about before making a big purchase?
Usually the item itself. I love color, texture, pattern, history, nostalgia—as an ex-design student, I'm drawn to things like a moth to a flame! Now I have a checklist to run through: How will this really serve me, do I need it, is there space for it, will it hold or add value, do I really love it? That said, I'm a pretty savvy shopper, so I always find out what the return policy is so that I've got a get-out clause if I change my mind, and I always check online to see if I can get a better deal from anywhere else, and then I will still try to negotiate on the price!
What's your No. 1 tip to your younger, less money-savvy self?
Trust, be playful, and remember money is really a form of energy and exchange, so get in a state of flow. Make positive plans, and talk about money positively, but live respectfully and within your means. One of my life and business mentors, Susie Pearl, who is now one of my best friends, said something that stuck with me: Don't consult accountants about your dreams—dream your dream, get it down on paper, and then speak to a business mentor about ways to make it happen. Remember that you are the captain of your ship, so make time to reflect regularly on what's working for you, what's not, and in which direction you want to go.
And, finally, definitely don't fall into the trap of measuring success by money. As studies have shown, being a millionaire does not make you happy, and you can't take material possessions to heaven or into your next life—wherever you're planning on going after this one!
What's one money habit you're really proud of?
Saving. I don't think of it as sitting on money but rather investing. Every year (and usually at the last minute!) I find some money to put into a stocks- and shares-based investment vehicle (ISA). It's amazing over the years how it's added up and grown, even with interest rates fluctuating madly. I'm not really a big risk-taker when it comes to these kinds of things—my brain doesn't work like that and I prefer working with my hands—so I always take advice from those who know it better than I, and so far it's been a great way of saving for a rainy day.
Also, I think understanding your consumption in terms of waste, something that's very much in the spotlight at the moment, is a good way of thinking about what you spend your money on. It's very easy to buy disposable items for convenience or a quick thrill just because we can and it's so cheap, but what's the cost to our planet? While it's an ongoing problem we all need to work on, I am happy to shout about my love for thrift shops, flea markets, and antiques stores. My wardrobe and home are full of someone else's cast-offs. Through this, I have saved a fortune over the years, as well as keeping a more sustainable attitude in terms of my consumption.
What's the best money you've ever spent?
Anything I invest in my own growth is the best money spent; it's cost me a fair bit in time and money to go and learn about ayurveda in India over the years, but it has all been worth it. There's a quote that really resonates with me: "Travel is the only thing you can buy that makes you richer," and I think we can extend that to "experience" in general. Like all things in life, it's about striving for balance—we should never fear spending money on positive growth, and in the same breath, don't think that you need to spend money in order to grow.
Alexandra Engler
mbg Beauty Director
Alexandra Engler is the beauty director at mindbodygreen and host of the beauty podcast Clean Beauty School. Previously, she's held beauty roles at Harper's Bazaar, Marie Claire, SELF, and Cosmopolitan; her byline has appeared in Esquire, Sports Illustrated, and Allure.com. In her current role, she covers all the latest trends in the clean and natural beauty space, as well as lifestyle topics, such as travel. She received her journalism degree from Marquette University, graduating first in the department. She lives in Brooklyn, New York.