Are You Ready For A Side Gig? Here's Everything You Need to Know

Contributing writer
By Elena Ciccotelli
Contributing writer
Elena Ciccotelli is the host of the new podcast The Side Gig Central Podcast. She graduated from Marymount Manhattan College, and works in corporate sales as her own 9-to-5.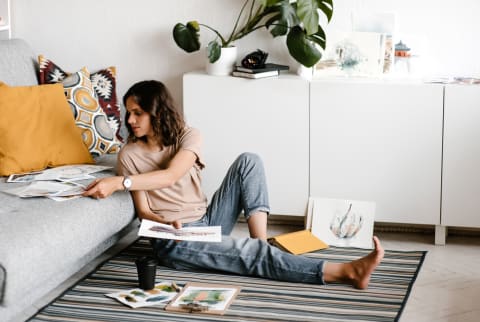 Image by Alina Hvostikova / Stocksy
October 17, 2019
Ever get the feeling that your nine-to-five job isn't your passion? Maybe you feel like you're meant for something more, but you can't really put your finger on it? Have you ever wanted to put your skills to good use, outside of your typical gig? Or do you simply need more cash? A side hustle may just be the missing piece of the puzzle that helps you achieve your biggest goals. But before we get too in the clouds here, let's bring it back down to earth, and let's uncover both the mindset strategies and the steps it takes to start a successful side hustle.
The first thing to know: Patience is key. 
As with any change you're trying to deploy in your life, whether it be a small change like drinking more water to stay hydrated throughout your day or a big change like moving to a new city or changing career pathways, the ability to flex your patience muscle is key. Patience will allow you to see past the surface (i.e., the extra late nights, the early mornings, the botched email campaigns, etc.) and will help you maintain a positive outlook along the way.
Side gigs are a bit like the Wild West right now, so don't fret if things don't fall into place immediately. The notion of "overnight success" and "instant gratification" that permeates popular culture today has left us numb to actually growing at our own pace. In the same way, when you actively practice patience, you'll begin to accept that there will be some detours, do-overs, dilemmas, and some straight-up failures on your side gig journey.
The quicker you can rebound and not get discouraged, the sooner you will start to gain traction in your new endeavor. The No. 1 reason side gigs fall apart is that people expect too much too soon. Start small, build, test, have patience, repeat.
What's luck got to do with it?
Well, a lot actually. Although, luck is not a mindset strategy per se, it is, however, the perfect metaphor for side gig entrepreneurship. Have you ever heard the saying "Luck is what happens when preparation meets opportunity?" Well, this quote from Roman philosopher Seneca, beautifully illustrates two key ingredients that every side gig needs. The gig economy is your opportunity, a vast, yet diverse landscape of work opportunities that has only recently fully bloomed, and now, all you have to do is prepare.
How to start a profitable side hustle in the gig economy:
1. Find your why.
Simply ask yourself, "Why do I want to start a side hustle?" Is it because you need a quick payout for a credit card bill that's due next week? Are you saving up for the ultimate family vacation? Do you want more disposable income? Do you want to learn a new skill to get a promotion, or pursue a new position in an entirely different industry? Are you retired and want to explore a passion project? Or maybe you'd like to go big and use your side gig as a launchpad to eventually leave your nine-to-five. The reasons why are endless. However, the key here is to be honest with yourself from the beginning so that you can set reasonable expectations from the get-go.
2. Pick your adventure.
If your earnings goal is immediate and short term, a "plug-and-play" side gig might be exactly what you're looking for. A plug-and-play side gig allows you to "plug" into an online platform that serves up tasks, on-demand, in exchange for payment. Examples of plug-and-play side gigs include driving ride-share, delivering groceries, assembling furniture, dog walking, babysitting, logo design, and even renting out a room in your home.
It's also important to keep in mind that platform-based plug-and-play side gigs are not "get-rich-quick schemes." Instead, these side gigs satisfy an immediate need (earn cash quickly) and rarely have a long-term upside. As a result, if you're considering a plug-and-play side gig, it's a good idea to set modest goals for how much time you want to spend on this gig and how much money you want to make.
On the other hand, what if you'd like to go after a bigger dream? Like a slow-grow "sweat equity" side gig that has the potential to scale into a sustainable business and will allow you to leave your nine-to-five? If this sounds more like you, then start out by choosing an industry you're absolutely passionate about. Next, home in on your exceptional skills in this particular category (are you a phenomenal coder, a fantastic public speaker, an expert bargain shopper, or a project management genius?) and start mapping out a plan to get the work done.
In contrast to the plug and play side gig, sweat equity side gigs are more likely to possess a long term upside, and if done right, can absolutely make you a fortune. But it's important to realize that this kind of side gig does not offer instant gratification since you are essentially bootstrapping and growing your audience and customer base from scratch. In other words, your sweat equity side gig is allowing you to test the waters with the safety net of your 9-to-5 paycheck, without diving head-first into premature entrepreneurship.
3. Become a numbers nerd.
Congrats! You've started your side gig, and the cash starts rolling in. That's great! But have you considered tracking your expenses or setting aside a tax savings account for all of this extra income you're now earning? Yep. Uncle Sam didn't forget about your little side gig, and guess what? He wants his cut too!
As a rule, to avoid any stress or confusion by the time tax season rolls around, treat your side gig as a small business as early on as possible. Keep in mind that the IRS is not drawing withholding taxes from your side gig earnings, so you'll need to be prepared to pay quarterly taxes on your own. Here are the top four ways to keep your books clean and tidy:
Set up a separate bank account for your side gig earnings. Or better yet, set up a separate LLC just for your side gig. A designated account specifically for your side gig income will allow you to see exactly what's going in and out.
Track your expenses (and revenue). The last thing you want is your side gig to become a money pit. Are you taking out more money than you're depositing? What are your legitimate expenses that allow you to conduct business? (i.e., gas for your car, Wi-Fi access). Pro tip: Easily create a P&L statement (profit and loss statement) by using a program like QuickBooks.
Set aside 30% of your earnings every month to prepare for taxes. It sounds like a lot, but keep in mind that you're covering both sides of unemployment taxes when you're working a side gig as an independent contractor. Invest this money in a money market account (low risk) or a high yield savings account so that you'll have an adequate cash cushion saved up for tax season.
Seek the help of a professional. If bookkeeping or dealing with numbers in general is not your jam, employ the help of a professional accountant who has experience working with either small business or independent contractor clients.
4. Commit yourself to learning (in perpetuity).
If you're going after a sweat equity side gig, this step is tailor-made for you. Remember back in Step 2, the part about "mapping out a plan and getting the work done?" Well, I would be remiss if I didn't mention that in order to map out your side gig master plan, it's equally, if not more, important to commit yourself to learning everything you possibly can about your chosen side gig's industry.
Furthermore, now that we have this thing called the internet and social media content, anyone can get their hands on the information they need to learn a new skill or become an expert in their category. All you have to do is look for it.
Seek out leaders and experts in your category. Scroll social media for experts, brands, and businesses in your category that are absolutely crushing it. Searching relevant hashtags on Instagram or a Google search deep dive is a great place to start.
Start bingeing on relevant content. Listen to podcasts, read every book you can get your hands on, strike up conversations with industry leaders. Humbly commit yourself to becoming a student of your category by consuming all media channels (audio, written word, video). Are you passionate about Italian cuisine and want to start a food YouTube channel? Seek out the leaders in this space and take note of their publishing frequency, their social media strategy, their fan base engagement. Sign up for their email newsletter, subscribe to their YouTube channel, follow them on social media, listen to their podcast. One final note here, you can absolutely draw inspiration from leaders in your category, but be sure that when you hit, post, publish, list, or send, your side gig content is unapologetically your own.
5. Don't let equipment hinder your progress.
When you start a side gig with what you have, you're inviting profitability into the equation early on, (which is a good thing!) Simply put: Use what you already have when you're getting started, and run as lean as possible for as long as possible.
For example, if you decide that a plug-and-play side gig serves your "why," there is quite literally zero barrier to entry. In other words, if you have a smartphone and a Wi-Fi connection, you can be in business in a matter of minutes. (Pro tip: Start a side gig in 10 minutes by taking online surveys on Survey Junkie, selling your stuff on Mercari or eBay, or completing mystery shopper tasks on Mobee).
Conversely, if you're pursuing a sweat equity side gig, and you absolutely need specialized equipment (i.e., a DSLR camera if you're a photographer or tools if you're designing custom bikes) think about searching for used equipment on Craigslist or eBay first. Although it may be tempting to go out and buy brand-new "gear" for your side gig, you'll quickly find out that with a bit of creativity and a few YouTube video tutorials, you'll be able to get the job done with less.

Elena Ciccotelli
Contributing writer
Elena Ciccotelli is the host of the new podcast The Side Gig Central Podcast. She graduated from Marymount Manhattan College, and works in corporate sales as her own 9-to-5. Her podcast helps both veteran and newbie entrepreneurs successfully navigate their side gig journey through expert interviews from business leaders and side gig practitioners alike. She believes that side gigs have the power to change our lives and allow us to leap into new ventures wisely and profitably.