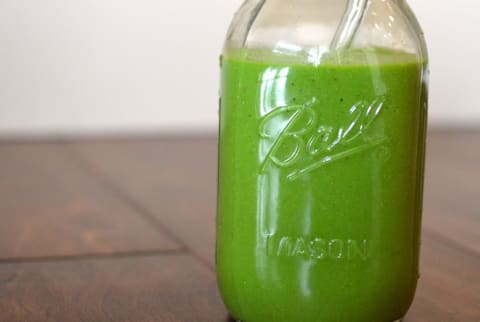 October 16, 2013
Fall means many things: football, chunky sweaters, root veggies, spicy black bean chili on the stove, cozy fires, holidays, and anything warm and fuzzy. But today we're talking apples.
While they're available year round, apples are in-season during the Fall months, meaning that right now they're crisp, fresh, and a bargain.
And, oh the variety! There are so many tasty varieties available—look for something new and local to try this week.
I love apples in a green smoothie; they provide a ton of fiber, plant nutrients, and a delicious sweet taste. They're also full of pectin, which has been proven to lower cholesterol and prevent cancer.
Combining the health benefits of apples, spinach, and avocados with immune boosting properties of lemon, raw honey, and ginger give you the ultimate flue-preventing and flu-fighting green smoothie.
It's also delicious, and your kids will love it, too.
Immune Boosting Apple + Avocado Green Smoothie Recipe
1 cup plain unsweetened almond milk (or purified water)
2 apples, your choice, cored and quartered
3 cups loosely packed spinach (that's about 3 large handfuls)
1 avocado, peeled & pitted
2 teaspoons raw organic honey (local if possible)
1/2 inch knob of ginger, peeled and chopped (use an inch if you like it)
juice of 1 small lemon (about 2-3 tablespoons)
4 to 6 ice cubes
Optional: pinch of kelp flakes for extra iodine if you have it on-hand
Blend all ingredients in a Vitamix or other high-speed blender until smooth. Serve immediately.
Store your second serving in an air-tight glass container (like a mason jar) in the refrigerator up to 24 hours if needed. (See example of how to store a green smoothie here.)

Elizabeth Rider
Blogger & Recipe Writer
Elizabeth Rider is a leading nutrition & whole living expert teaching women around the world how to become the healthiest, most successful people they know. In a world flooded with diet information, Elizabeth's healthy recipes and straight-forward nutrition advice draw millions of inspired readers to her popular blog. Best known for her fun and accessible approach to food & healthy living, she's built an online wellness empire from scratch on her iphone and laptop. The Psychology Of Eating named her website as a Top Health Coach Blog, and List Nutrition called her site a Top 20 Nutrition Blog. Thousands have had success using her online programs, which include Clean Up Your Diet™, Purpose To Profit™ and The Wellness Business Bootcamp™.

As host of Elizabeth Eats on FMTV, Elizabeth is delightfully changing the way the world views healthy home cooking. She speaks on stages around the world and mentors scores of ambitious people each year to seek and live life on their own terms. As a Certified Holistic Health Coach (Integrative Nutrition) and accomplished online entrepreneur, cultivating a lifestyle of freedom and health is her religion. Elizabeth is a graduate of Cornell University's Plant-Based Nutrition program, a TEDx speaker, and regular contributor to The Huffington Post. She has been featured on Shape.com, MindBodyGreen, Greatist and POPSUGAR among others.
About Elizabeth Eats: Join Certified Health Coach and popular food blogger, Elizabeth Rider, as she shares her favorite recipes that are guaranteed to change the way you think about healthy home cooking. Her simple recipes and easy-to-make swaps recreate some of your favorite comfort foods and introduce you to entirely new soon-to-be favorites. Watch as she walks you through making each delicious dish step-by-step. Easy to follow, fun to watch, and delightful to sample, this fresh series will leave you looking forward to cooking your way to a healthier, happier you. No tofu, cardboard, or deprivation required.