A Mind-Expanding Ritual To Ring In Tomorrow's New Moon In Gemini
mbg Contributor
By Alexandra Roxo
mbg Contributor
Alexandra Roxo is a spiritual teacher and creator of Radical Awakenings. She has been featured in the New York Times, Nylon, and Vogue for her innovative approach to healing and wellness.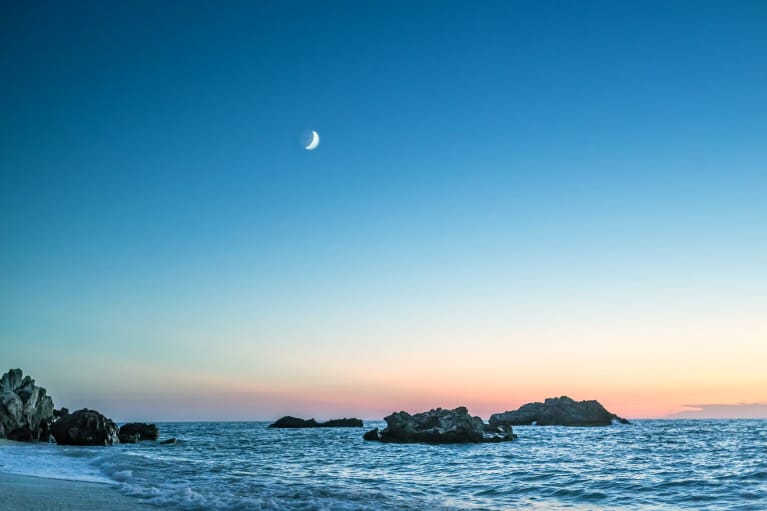 We live in an age when nearly everything is readily available and at our fingertips. The answer to our questions is one Google search away. This fast-paced questioning and seeking is quintessential Gemini energy, and it's been flowing through the air since May 20.
In its highest octave, this energy is what fuels discovery. It gets dialed up even more when we turn our questions inward, until we are interrogating every feeling, every thought. What rabbit hole have you been down these past few weeks? Maybe you've been researching ways to get a side-hustle off the ground or bingeing on TED Talks. Gemini season is zippy. It's buzzy. It's visionary and brilliant—but it can also be destructive. If the spiritual path is often about surrendering control, letting go, and trusting, this time of year can throw off that level of inner peace and calm.
When we make too many plans, we metaphorically close doors.
Now here we are at the Gemini new moon. This is the point in the lunar cycle where our inner and outer worlds touch, where what has been hidden from view rises to meet the surface. A new piece of our self-discovery is landing.
This inner deep-dive sets the tone for the Sun's move into Cancer on June 20. The Sun reaches the top of the sky with the June 21 summer solstice, but allow the Moon to pull you into the cool, soothing chill of your own personal midnight. Allow yourself to melt a little.
As the moon begins its new monthly cycle, it's a great time to look at your life from another angle and clear your slate, so to speak. There's a beauty to inquiring and not getting complacent, but can you let go of any of your need to find answers or have a plan?
A new moon ritual for releasing control (while still seeking answers).
1. Begin with a heart-centered journaling exercise.
Since Gemini is ruled by the Air element, this month's ritual will be part in the head and mind and part in the heart. Pulling energy from the mind into the heart creates an opening to making deeper change in your bod. So set a nice space for yourself, put the phone on airplane mode, and prepare to get writing.
What is one question in your life you are willing to let go unanswered? This is your opportunity to turn anything that feels "out of control" or like a wild unknown into a space for expansion, exploration, and excitement. Journal about what you are willing to stop trying to plan or figure out and just let be.
2. Complete a visual meditation.
Now, it's time to pull this writing into the heart. This is very balancing to the Gemini energy—to pull everything into the heart, out of the obsessive and knowledge-seeking mind. A lot of meditation is done to retrain the mind, but we can also meditate to open our hearts.
Based on your writing, start to visualize every plan, every idea as scenes in front of you and then allow them to turn into liquid love that showers you from head to toe. Your shower may be like a cool gentle love rain. Or like chicken noodle soup in your belly. Then allow yourself to feel in your body what the best-case scenario would FEEL like. If this triggers resistance, breathe into it; let it pass. See if you can sustain the feeling of something beyond your wildest dreams coming true, even for a moment. Go broad! It does not have to be goal-oriented at all. Just feel the surrender and expansion in your heart.
3. Wrap things up by taking action.
Return to this feeling in your body every day until the next new moon. Choose a song that will cue you to it—one that encapsulates the feeling of all your plans and visions turning to love in your body.
When we make too many plans, we metaphorically close doors. We don't allow for the divine mystery to do its magic because we stay in control, already having decided what is possible and what is not, based on our limited human experience. This next moon cycle, let the Gemini mind take you to far-out places and open doors to potential you didn't even know was possible.
Can you feel the frantic Gemini energy in the air? Here are a few tips for staying grounded through it all.