This Meditation Will Help You Embrace Difficulty & Open Your Heart For 2018
mbg Class Instructor & Meditation Teacher
By Biet Simkin
mbg Class Instructor & Meditation Teacher
Biet Simkin is the founder of Center of the Cyclone, an immersive experience that weaves meditation, self-inquiry, art, music, and fashion, offering an explosive experience. Her feeling was that the world of intellect, fashion, and art needed spirituality, and the world of spirituality was often missing the mark and needed some vanity and fire. Combining these two worlds, Simkin has created events with Lululemon, SoulCycle, Summit Series, Vice, Sundance Film Festival, the Path, the Collective, Babel, Serene Social, mindbodygreen, Wanderlust Festival, and more.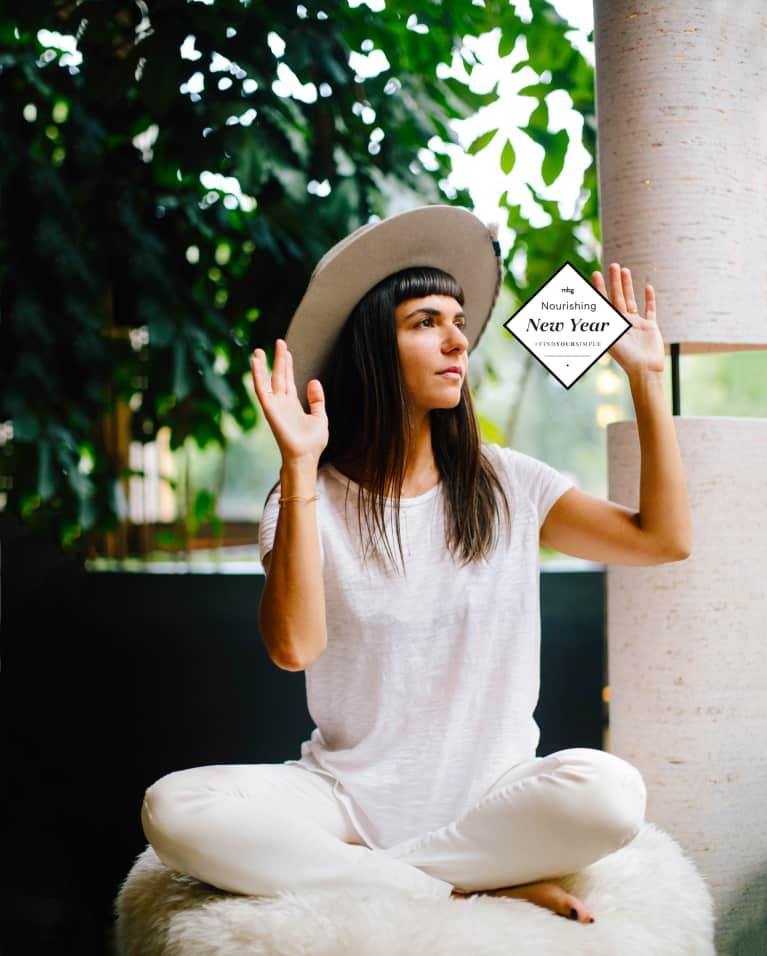 Don't push yourself enough? This January, nurture yourself with Nourishing New Year. Instead of focusing on flaws to fix, this January we're nurturing ourselves back to balance with simple, grounding steps. For the next two weeks, mindbodygreen will share with you a story a day inspiring you with simple ways to nourish yourself, your community, and our world through eating, moving, giving, creating, and loving. Follow these common-sense principles along with us for the next two weeks and start the new year with a calm mind, connected spirit, and balanced body. Check out the full plan here!
Uncertainty was a common thread throughout 2017: Uncertainty about our environment, our rights, and the world as a whole. And with the month of December came a flurry of busy days and nights, and many of us burned our candles at both ends as we attended holiday festivities, met work deadlines, and spent time with friends and family—all while hunching our shoulders against the cold weather.
If you kept your meditation practice up throughout the holidays, good for you! But I'm going to bet you weren't focusing on opening up your heart—you were probably just trying to get through the end of the year feeling sane and grounded. And now that it's a new year, 2018 is all about asking ourselves: Who are we? Who are we in the face of difficulty and bad news?
Here's a meditation to practice to keep your heart and mind open all year long.
Heart-opening New Year meditation.
Take a comfortable seat wherever you are and get grounded.
Ask yourself (your inner world) who am I? And how can any difficulty in the news or in my life be made into an opportunity to be my best and highest self? Start to fall in love with difficulty, as it's a platform on which to shine its opposite.
Inhale the difficulty in front of you and see whatever it is in all its color. See it before you like a projection or visual.
Then, as you exhale, blow with your mouth, pushing the difficulty away and also transmuting it into pure light. Feel yourself surrounded by a permeating light.
Do this 10 times for each problem you may be experiencing.
When you are done, feel yourself ready for a day that "anything can come your way" because you are ready.
Trust me: You are ready. Whatever 2018 may bring, be prepared to embrace it with open arms and an open heart. Practice this meditation daily and prepare for your most open, compassionate year yet.
Want more ideas for how to take on meditation in a whole new way this year? Here's the one thing that quiets Danica Patrick's monkey mind.