A Bath Ritual For Fire Signs To Help Relax & Prevent Burnout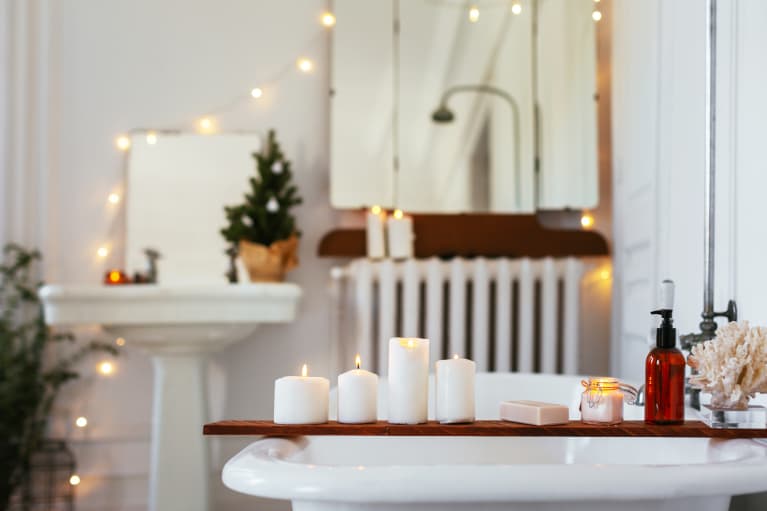 Our editors have independently chosen the products listed on this page. If you purchase something mentioned in this article, we may
earn a small commission
.
Fire signs are the zodiac's brazen, action-oriented doers. They're passionate, active, and creative—and when they're channeling all that powerful energy, they're a force to be reckoned with.
But another thing fire signs have in common is a capacity for burnout. What with all the "go-go-go," it can be hard for fire signs to relax, and further, tap into their intuition. Which is why we asked Gabriela Herstik, author of Inner Witch and Bewitching the Elements (coming this April), what she recommends for all the burnt-out Aries, Leos, and Sagittariuses out there.
And according to her, if any sign is out of balance, working with the other elements to restore harmony is a great place to start. So for fire signs, she recommends a bathing ritual.
"Bath magic and bath rituals can be really beneficial," Herstik says, "because working with water is both powerful and balancing."
Grab any items you'd like to include in your ritual (more on that later), and as your tub is filling up, take the opportunity to get clear on what you need from this bath. Setting your intention, whether that's to heal, let go, or relax, will make the ritual that much more impactful.
For fire signs, adding some Epsom salts to the running water will help to "not only relax your body and muscles," Herstik says, "but also to help absorb any unnecessary energy that's clinging to you or doesn't belong to you, and really help you get centered."
She also recommends incorporating herbs that are associated with the moon (the moon symbolizes both water and feminine energy, which can benefit action-oriented fire signs). Mugwort, for example, can help fire signs unwind and tap into their intuition. "Herbs like eucalyptus and lavender also allow fire signs to relax and be present, which I know can be challenging," Herstik adds.
To include a little extra harmony, "lighting some candles to bring in the element of fire alongside the water" she says. "And for fire signs who aren't feeling connected to themselves or their body, trying something like ESP (aka tapping), offers a grounding earth element, for fire to find a little chill."
Aries, Leos, and Sags are some of the most hardworking people in the zodiac. But all that hard work can come at a cost, hampering their strong, fiery energy. The next time that happens (or the next time you think burnout could be coming on), carve out the time to get the water running and immerse yourself in a healing bath.