Not Into Early Workouts? This 10-Minute Morning Ritual Is All You Need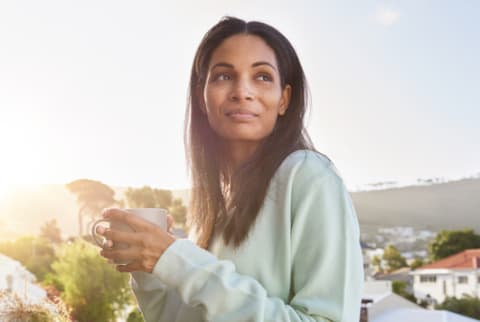 July 28, 2016
"Start your day right." "Your morning sets the tone for the rest of the day." "A proper morning routine will set you up for success."
You've likely heard all of this before. Yet, when the alarm goes off, the temptation to snooze often overrides any ambition to have a productive morning complete with yoga, meditation, hot lemon water, a healthy breakfast, and a gratitude list.
When we set the bar too high, we often set ourselves up for failure. Our plans might excite us at first, but then when we're unable to stick to them, we quit. The trick is to start small. Remember, consistency beats intensity and duration.
This 10-minute routine is super simple, and it will set you up for a successful day:
1. Give thanks (one minute).
Gratitude is powerful. It turns what we have into enough. It anchors us in the present moment and brings joy, peace, and fulfillment. As Oprah said, "Be thankful for what you have; you'll end up having more. If you concentrate on what you don't have, you will never, ever have enough."
Before you get out of bed in the morning, remind yourself of the three things you are most grateful for in your life right now.
2. Stretch (two minutes).
Including exercise in your morning routine can be quite challenging. However, a few minutes of stretching provides just enough physical movement to help energize a tight and achy body. Stretching increases circulation, calms the mind, and improves flexibility.
3. Meditate (three minutes).
You might think you need 15 to 20 minutes to meditate, but just a few minutes of stillness can do wonders. Meditation is scientifically proven to enhance self-esteem, mental focus, and creative thinking. I like to imagine myself sitting in the center of the universe surrounded by unconditional love, then to feel that love penetrating every cell of my body.
4. Hug (one minute).
If you loved hugging before, you're about to love it even more: Research shows that it can strengthen our immune system, elevate our happiness, and heal anxiety and stress. So make sure you give and get a proper hug in the morning. If you live alone, hug an animal, a tree, or why not yourself?
5. Visualize (two minutes).
Successful celebs like Jim Carrey, Oprah, and Will Smith all know about the power of visualization. A vision board can help boost any visualization practice. If you haven't gotten around to creating one yet, create an album on your phone with inspirational pictures from Pinterest or Instagram. Then, take two minutes each morning to look them over and dream about your ideal life.
6. Say "I love you" (one minute).
Look yourself in the mirror and say, "I love you." Hold your gaze to show that you really mean it. You might feel embarrassed or silly for doing this, but do it anyway. Loving and appreciating yourself is one of the best ways to increase self-esteem. Then give yourself a wink before heading out for the day.
We've all experienced stressful and hectic mornings—mornings that often are followed by even more stressful days. By establishing a powerful morning routine, you'll make sure you don't leave your day to chance.
Progress, not perfection. You've got this.