5 Quick Ways To 'Spring Clean' Your Finances & Feel Super-Accomplished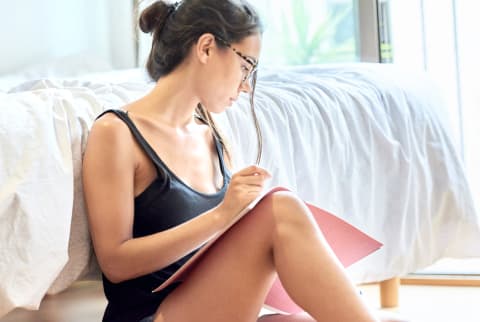 Image by Guille Faingold / Stocksy
March 30, 2019
Spring cleaning season is upon us! In the coming weeks, mbg will be sharing some of the easiest, most effective tips and tricks we've heard for nixing germs at home. (Check out what we've run so far here.) Today, we're featuring a finance expert's take on why your bank accounts deserve a good spring cleaning too.
While it's tempting to spend every free minute outdoors this spring, I'm here to remind you that the new season is also the perfect reminder to take a fresh look at your financial well-being. Spring cleaning your financial situation doesn't have to be scary. See below for a few organization and budgeting hacks that should refresh your outlook and get your wallet ready for summer.
Advertisement
This ad is displayed using third party content and we do not control its accessibility features.
Declutter your financial documents.
If your counter is piled high with unopened credit card offers, receipts, and bank statements, it's time to sort through all those financial docs. Gather them up, and examine and file away all of your paperwork. You might even find a faulty charge to dispute or missed payment that you've overlooked. Pro tip: You don't need to keep everything filed away; shred and recycle old papers, including paid bills, over-a-year-old bank statements and tax documents older than seven years old.
Better yet, avoid paper piles altogether next time around by opting to go paperless with all of your accounts. By utilizing e-banking and financial organization apps, you can pay for, track, and even set up automatic alerts for all of your bills on an online platform while also saving some trees.
Take stock of your financial standing.
Spring is a great time to check up on all of your open financial accounts, including loans, credit cards, and your credit report before summer, which tends to be a season of higher spending.
Two important numbers to pay specific attention to during your financial checkup are your credit score and debt-to-income ratio. These numbers are critical, as they matter most when applying for loans, things like car leases, student loans, apartment applications, and other financial necessities. You can check your debt-to-income ratio and credit score for free, without any dings to your profile, with a tool like Turbo, which grants you a holistic view of your financial profile and offers you personalized advice, to ensure that you're making the best choices.
Advertisement
This ad is displayed using third party content and we do not control its accessibility features.
Make spring a time for savings.
You've already sprung ahead for daylight saving time; now it's time to also get a start on your personal savings—especially since you may have some exciting summer plans in the works: heading on a retreat, taking yoga teacher training, or moving to a new apartment.
Instead of occasionally funneling money into your savings account whenever you have extra cash, consider setting specific savings goals for yourself and scheduling automatic transfers from your checking to savings account, each payday. Another idea is to set a specific savings target, with a date in mind of when you want to achieve your financial goal. You can do this using an app like Mint, which can help keep you honest with yourself and on track by providing personalized tips on areas where you can save so that you can finally watch your "yoga weekend in paradise" fund grow.
Streamline your spending.
As you set fresh savings plans, also re-examine your expenses and look for areas to curb unnecessary spending, which may help lessen your financial anxiety and also help you grow funds for purchases that matter most to you.
There are tons of areas in our lives where we can cut out some spending. For example, take a look at what monthly payments and subscriptions you're paying for on auto-payment, and reconsider whether they'll still serving you joy (à la Marie Kondo). For example, enjoy the change of seasons by opting for a group hike with your tribe instead of an indoor boutique class. Or press pause on your streaming subscriptions and check out what free events are happening around your local neighborhood on a weeknight instead.
Advertisement
This ad is displayed using third party content and we do not control its accessibility features.
Slim down your wallet.
We all love the idea of a full wallet, but it's possible that yours is bursting with unnecessary receipts and cards. Toss receipts from smaller purchases (like food and gas), and remove cards you don't reach for on a regular basis, such as rewards cards (this will also keep you from on-the-whim spending), membership cards, and less-used insurance cards, like dental and vision.
If you find yourself putting all expenses on one credit card, consider designating your purchases to specific cards in your wallet. For example, make your meal-prep purchases on a credit card that offers cash-back rewards on grocery store purchases, or your weekend road trip gas purchases on a specific card that rewards gas station purchases.
This will also help you to see exactly how much of your money is being spent on specific categories—giving you added insight into your spending and budgeting behaviors.
Taking the time to refresh your financial situation may not be the most fun spring cleaning chore, but as soon as it's done, take a deep breath of fresh air and rest assured knowing that you've taken proactive measures to reset, take control, and ultimately, brighten, your financial future.
Advertisement
This ad is displayed using third party content and we do not control its accessibility features.

Keri Danielski
Keri Danielski is a consumer finance expert and the head of communications for Intuit's financial health platforms, which include Mint and Turbo. She has more than 20 years of experience in communicating how the latest technology can help solve consumers' everyday challenges.