5 Ways To Reconnect To Your Spirituality When You Feel Tired & Overwhelmed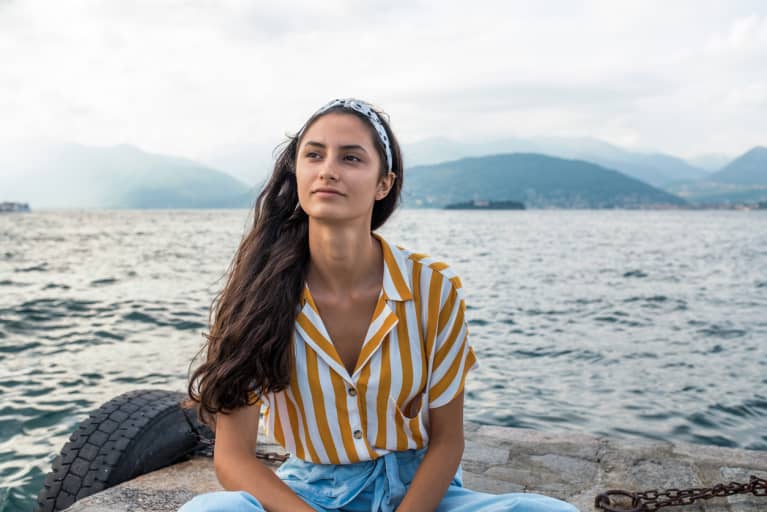 Our editors have independently chosen the products listed on this page. If you purchase something mentioned in this article, we may
earn a small commission
.
In my life coaching practice, I have some clients who are exhausted and have little to no time left in the day for themselves. Can you relate? So many of us intuitively know what we need to do to feel better (i.e., self-care and self-love), yet we can't find the energy to do it. Maintaining a spiritual practice—i.e., one that helps you feel aligned with your true self so you can stay connected to you higher self—starts to feel less like a necessity and more like a chore.
There's no one-size-fits-all for spirituality, and everyone's practice will look a bit different. But in the process of writing my forthcoming book, Joy Seeker, I discovered some tips that can help anyone reconnect with spirit amid chaotic days. Here are five to try the next time you feel off track or disconnected:
1. Pay attention to the signs.
Your inner guide and the universe are always working with you to help steer you in the direction of joy. When you pay attention to these signs, you will feel more connected and aligned. Signs and synchronicities happen all around us, even when our spiritual practice is not ramped up. In fact, I've found that is often when the signs are strongest!
Pay attention to what your inner voice is saying about the situations around you. Maybe you keep getting thoughts or ideas about next steps. Pay attention and take guided action daily. Signs come to us in thoughts, ideas, physical situations, people, and even patterns. Pay attention to what keeps coming to you, as everything can be a lesson and a teacher.
2. Make peace your purpose.
Peace begins with you. We must make peace our priority. Focusing on feeling good will radically improve your well-being. For today, can you focus on adding one more thing into your routine that you know will help you feel better? Perhaps drink more water, get up and stretch, or go on a mini nature walk. Peace starts with prioritizing it one moment at a time. And this moment matters.
One of the biggest barriers to connecting to our true self is expectation.
If things aren't going as smoothly as you would like, you could be focusing too much on the outcome and how what you expected isn't happening. One of the biggest barriers to connecting to our true self is expectation. When we expect things to happen a certain way, we miss out on the true joy of the moment. If what you are currently experiencing is frustrating or difficult to manage, recognize that nothing is permanent. So often we focus on what is not going well and think it will last. Whatever comes up is on its way out of your consciousness. When you can let things come and go, you operate on a deeper, intuitive level, and you will feel more connected to life itself.
4. Increase all communication with love.
Sometimes we feel disconnected from life because we are disconnected from ourselves. If you are exhausted, overworked, and overwhelmed, practice mindfulness by increasing the communication with all of life, starting first with yourself. A good place to start is by listening to your body. Ask, what does it need and want from me? Ask yourself key questions like Are the choices I am making aligning with the life I want to create? Power questions are a good way to increase your well-being and help you feel more connected to yourself.
5. Follow your joy route.
Joy is a word that gets tossed around in the spiritual and wellness community, but when was the last time you really experienced pure, undiluted joy? When was the last time you laughed so hard your sides hurt? When was the last time you felt free from worry and stress? Choosing joy as your barometer for success is one of the highest forms of balance. When you are in joy, you are grateful, present, and experiencing life more fully. As inspirational speaker Abraham and Esther Hicks say, "You will know your path by the fun of it." Always follow the joy and let it lead you forward.