5 Signs You're Living Life On Autopilot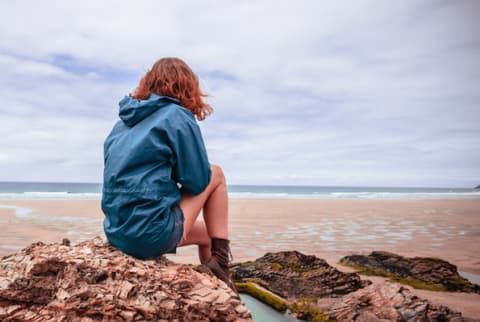 October 27, 2014
If you're reading this, you're alive, but that doesn't mean you're truly living your life. When you hear the phrase, "truly living," you often think of some crazy adventure like sky diving or swimming with sharks. That's not the case.
Truly living means adhering to one simple truth: being able to die without regret. Chase all the dreams and desires in your heart. You may not be able to go on crazy adventures, but you don't have to. You have to live YOUR adventure.
I existed for 12 years; I made every excuse to live a "good enough" life. The sudden death of my father at 54 years old was the wake-up call I needed to get shaken out of my comfort zone.
After his death in April 2012, I started living. I quit a job I hated, I lost 170 pounds, and our family moved to our dream designation of Maui, Hawaii. If I died today, I can honestly say I wouldn't have regrets.
You only get one life to live, and going through the motions day in and day out is not a great way to live it. Here are five warning signs that you just exist in life.
1. You let negative people hold you back.
When we're excited about a big decision or change, we naturally want to tell someone. Negative people will point our the reasons why what you want to do is impossible. They will feed into the things inside you that are holding you back.
It can be an outwardly negative person or someone who tries to talk you out of your dream with a smile on their face. If you want to live, and not exist, you have to cut negative people out of your life.
2. You believe self-limiting beliefs.
Whether it's doubt, fear, or negative thoughts about ourselves, we all struggle with self-limiting beliefs. If you want to truly live, it starts with beating the thoughts that are holding you back in your mind. It's time to conquer whatever self-limiting beliefs you've been listening to.
What we believe in our minds affects the actions we take. Realize that you're special and powerful, and can do anything. Nothing can stop you!
3. You have more regret than hope.
When you think about your life, do you still have hope? When we let regret win and don't do anything about our dreams, it's easy to lose hope. You only get one life to live; the worst way to live your life is with unfilled dreams and never ending regret. Never let hope die in your mind and heart.
4. You don't take action on your dreams.
Do you only dream about an amazing life or do you take the actions it requires to make those dreams a reality? I'm not sitting here telling you this will be easy, but I'm telling you that it's possible. Too many of us are content to let our dreams be enough for us. What's waiting for you is so much greater than the dreams.
5. You choose "stuff" over experiences.
At the end of your life you're not going to remember all the stuff you accumulated; you'll remember all of your incredible experiences. There's nothing wrong with having nice things as long as they don't replace your desire to truly live.
In the last few conversations with my father, he talked about all the regrets he had. He said he spent so much time chasing after stuff that he missed out on so many things he wanted to do in his life. He begged me not to die with the same regrets.
If any of these things have held you back, let today be the day you scream, enough! It starts with those dreams and a plan, and then taking action on that plan. We live in an incredible time when some many more doors are opened to us. Don't put his off any longer. Start truly living today.
Are you living or existing?

Kimanzi Constable
I used to deliver bread for a living, now I write. You can see my words in cool places such as the Huffington Post, Entrepreneur Magazine, Mind Body Green, the Good Men Project, Fox News, and many more. My books have sold over 100,000 copies and my new book, Stop Chasing Influencers, drops later this year. In the last three years, I've lost 170 pounds and moved our family to Maui, Hawaii. My goal is to help you create freedom in your work, health, and relationships, and live your dream life. Join me at KimanziConstable.com and KimanziConstable on Facebook.