Up Your Self-Care Game With These Quick Daily Rituals
mbg Contributor
By Aarona Lea Pichinson
mbg Contributor
Aarona Lea Pichinson is a certified yoga instructor and wellness advisor. She has 24 years of yoga study, 14 years as a yoga teacher and wellness adviser, a BFA in photography and mixed media arts from the University of Hartford, and a holistic health counseling certification from the Institute for Integrative Nutrition.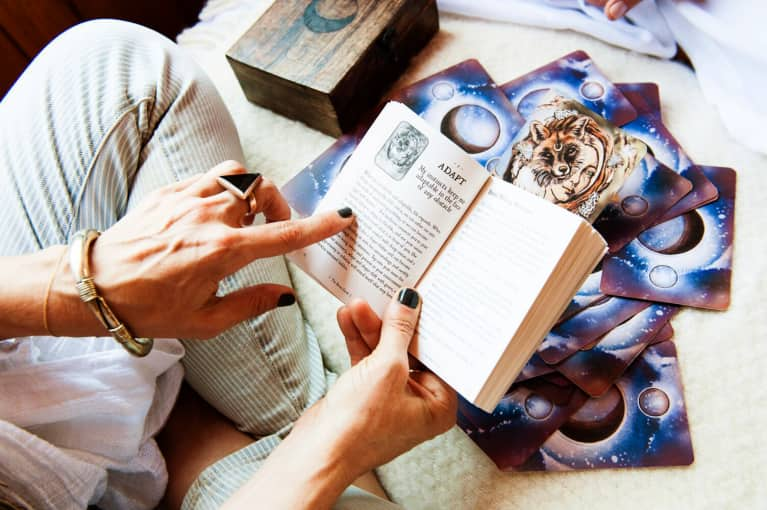 Our editors have independently chosen the products listed on this page. If you purchase something mentioned in this article, we may
earn a small commission
.
I'm a firm believer that spiritual rituals are an essential part of any well-rounded self-care routine.
Self-care is giving yourself permission to do what is necessary so that you can feel at home in your body with a healthier emotional and mental perspective. The first step is getting to know what feeds you inside and out, which may take some experimenting.
Whether we feel it in our body, emotions, or mind, the little ways we ritualize our lives matters. Personally, when I fall off track with my rituals, things begin to unravel. My body starts to feel achy, overthinking takes over, and my emotions become a swinging pendulum—which eventually seeps into the energy I bring to life.
Here are some of my favorite simple rituals that can help you put your self-care into practice. They may shift over time, but try to have at least a couple of nonnegotiables so that you always have somewhere to land. In other words, carve out at least 10 minutes for yourself daily.
Ritualize your morning beverage.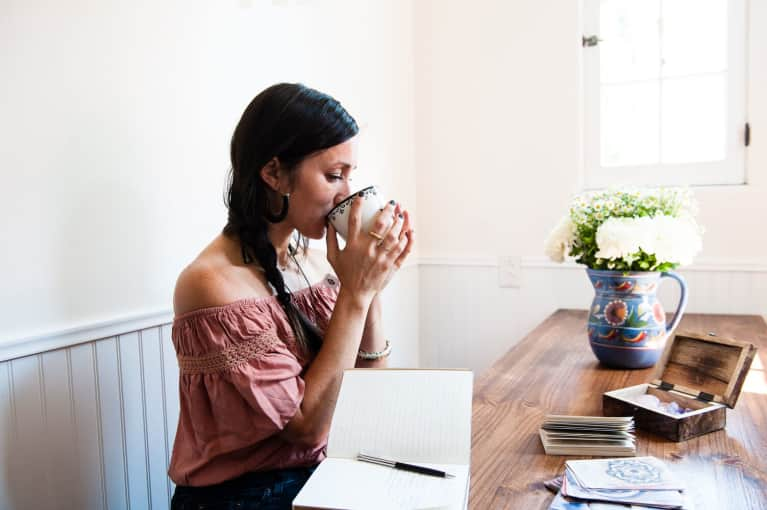 I start off with a huge glass of water followed by a superfood coffee. If you love coffee but want to tame the caffeine while boosting the nutrients follow a version of this recipe: Blend 1 packet of Four Sigmatic medicinal mushroom coffee (swap with tea if need be) with almond milk, 1 to 2 tablespoons MCT oil, a few dashes of cinnamon, hot water, and maybe an adaptogen or two (I love Moon Deli adaptogen blend and Sun Potion Yin Power blend)
Sip your mug slowly in a calm space in your home. I'll sit at my altar and light a candle and burn sage, palo santo, or copal. Then I write or work with oracle cards and drop into a 20- to 30-minute meditation and prayer practice. My meditations consist of breathwork, mantra, mindfulness, body scanning, clearing out old resentments, and connecting to my "why" for the day.
Head into your workday feeling renewed.
Dry brush before a shower.
It stimulates the lymphatic system and gives your skin an energizing massage. Start at your feet and move up to your heart in small circular strokes. Follow the same pattern from hands to heart. I also love keeping a bottle of eucalyptus oil in my shower. Splash a few drops into cupped palms during a hot shower and place your nose into your palms for a few deep breaths. Heaven.
Up your nightly beauty routine a notch.
At night before bed, I indulge in a face massage using a blend of rosehip and frankincense essential oils. You need only a drop or two of frankincense. It's a luxury for your face that will give your skin a smooth glow upon waking.
Practice the "sacred pause."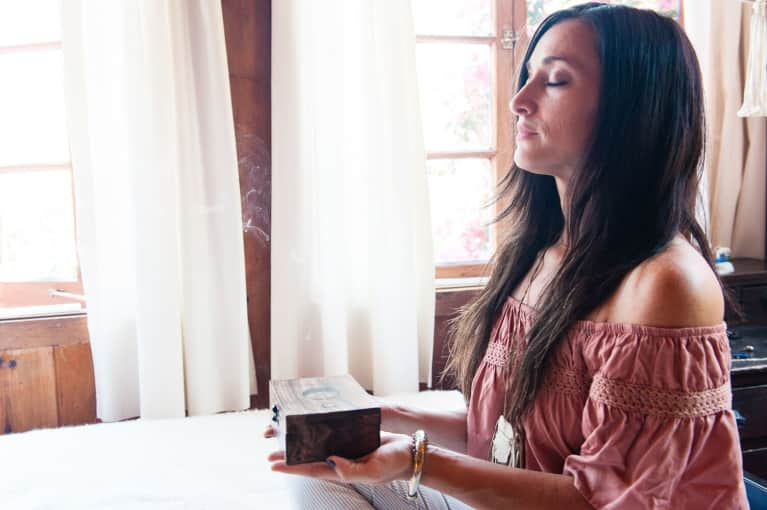 I practice a sacred pause throughout the day by using a mantra or affirmation while staying connected to my breath. I do my best to catch myself before old inner-dialogue patterns grab me and replace them with a more productive tone. Some days are better than others, yet the practice builds on itself and begins to flow.
About once a month I take this up a notch by crafting my own intention candle to remind me to slow down. It's one of my favorite rituals from The Moon Deck guidebook. (Check out this free online class I recently launched for the new year. It shows you all the steps to tap into your own witchery and create an Intention Candle that you can meditate with daily.)
Doing these rituals helps me feel connected, comforted, spacious, and inspired. I don't hit the zone every time, but showing up is the biggest step.
When we use threads of active, consistent ritual, we drop into our unique rhythm and begin to love who we are as we expand into life. Give yourself permission to explore and feel what you discover. Your intuition will wake up, your body will feel more resilient, and your mind and heart will call a truce. At least until your next ritual.