By Shannon Kaiser
mbg Contributor
Shannon Kaiser is the best-selling author of 5 books on the psychology of happiness and fulfillment including The Self-Love Experiment, Adventures for Your Soul, and Joy Seeker. She has a B.A. in Journalism and Communications from the University of Oregon.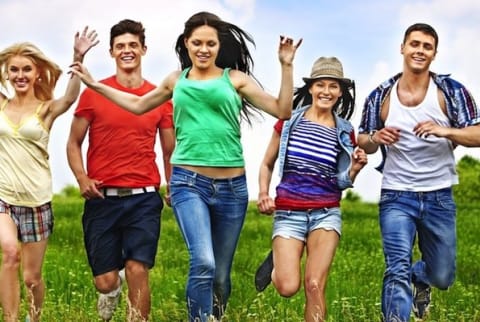 Photo by Shutterstock.com
August 1, 2013
We all experience moments of insecurity, frustration, stress and even depression, but for some of us, these moments last longer than others.
Like many people, I've gone through some major life changes over the past few years. I was stuck in depression tied to my corporate job. My breakdown turned into a breakthrough, which gave me clarity to follow my heart and change direction in my life. I moved across the country to live my soul's purpose: to be a travel writer, life coach and public speaker.
One important step I took in my transition was to align myself with happy and successful people. I studied their behavior and learned that there's a clear system and pattern in place to tap into true happiness. Through difficult life changes, we can learn a lot about ourselves as we grow into the people we're meant to be.
I used to be sad, depressed, and insecure. Today my life is much different; I'm happy, healthy, fulfilled, and I love every second of my life. I attribute my newfound freedom to this magical list of habits of highly happy people.
Whenever I feel out of alignment, I return to this list and it gets me back on track. These are the steps of highly happy and successful people, but I reframed it to be in the present tense, so it becomes a go-to list to pull anyone into a happier state. Maybe it can help you through a tough time.
1. Stop worrying, if it supposed to happen it will.
2. Allow yourself to be a beginner. No one starts off being excellent.
3. Don't let your happiness depend on anything outside of yourself.
4. Stay close to everything that makes you feel alive.
5. Listen to your body, it will lead you to unlimited health.
6. Surround yourself with people who see your greatness.
7. Make peace with your past.
8. See all setbacks as growth and expansive opportunities.
9. Comparing yourself to others will hurt your health and steal your joy.
11. You always have a choice.
12. Stop chasing what's not working.
13. Believe wholeheartedly in miracles.
15. Trust the universe, there is a plan greater than yours.
16. Wake up every morning with a grateful heart.
17. Remember things take time.
18. Always trust your gut.
19. No need to change people; just love them for who they are.
22. Your life is a creative adventure.
23. Release expectations and enjoy the journey, there is no destination.
25. You're not broken or damaged. You are perfect just the way you are.
Shannon Kaiser
Shannon Kaiser is the best-selling author of 5 books on the psychology of happiness and fulfillment including The Self-Love Experiment and Adventures for Your Soul, Joy Seeker, and Unshakable Inner Peace Oracle card deck, and the forthcoming book Return to You. She has a B.A. in journalism and communications from the University of Oregon. As an international life coach, speaker, and retreat leader, she helps people awaken and align with their true selves so they can live their highest potential.
She's been named top 100 Women to Watch in wellness by mindbodygreen, alongside Cameron Diaz, Gwyneth Paltrow, Kris Carr and Gabriel Bernstein, and was listed as of the freshest voices in mental health and wellness by Chicken Soup for The Women's Soul. She's been named one of Entrepreneurs Must-Follow Instagram Accounts for Inspiration and Top Facebook Accounts for Daily Motivation by Mind Body Green.
Her website Playwiththeworld.com has been names top 75 Personal development websites and top 100 self-help websites by the institute for the Psychology of Eating. She's an international life coach and author mentor, and a full time world traveler with a home base in Portland, Oregon with her best friend, her Golden Retriever Chance, who she flew to China to Rescue.