By Shannon Kaiser
mbg Contributor
Shannon Kaiser is the best-selling author of 5 books on the psychology of happiness and fulfillment including The Self-Love Experiment, Adventures for Your Soul, and Joy Seeker. She has a B.A. in Journalism and Communications from the University of Oregon.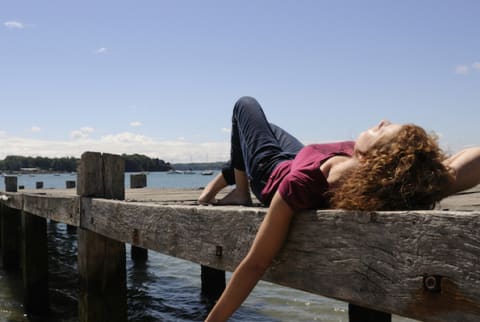 Photo by Shutterstock.com
June 2, 2014
This post is just the tip of the iceberg! For even more of Shannon Kaiser's wisdom, be sure to check out her newest class, Get Unstuck: How To Find Your Calling & Live A Life With More Meaning.
While there are plenty of happy changes we seek in life — new relationships, a makeover, a car — for most of us, change represents uncertainty. With uncertainty comes insecurity and worry.
Advertisement
This ad is displayed using third party content and we do not control its accessibility features.
The truth is that change isn't always a joyful, happy time, but rather a time to act like things are unfolding perfectly. That's what it seems to be for a lot of us: that stuff you have to plaster a smile over and pretend to embrace, even when your heart is drowning.
Most of us want change as much as we are afraid of it. We say things like, I'm so unhappy in my marriage, but I'm afraid of being alone. I'm sick of working in corporate, but I have no idea what else I would do. I can't stand where I live, but my home is paid off.
When we resist change, it's because we're still holding on to what the universe is asking us to release. Whether it's planned or unplanned change, we are being asked to re-examine or life and consider what direction really matters most.
Change is part of life. And whether you like it or not, it's going to take place with or without your approval. It could be something pint-size (your favorite ice cream joint shut down), or gigantic (death, divorce, or disability). The universe has a natural way of balancing things out.
Based on my own experience and that of hundreds of clients, change is much more enjoyable if you make a change instead of waiting for the universe to do it for you.
Here are 10 signs it is time for a life change.
1. When you romanticize the past to escape the present.
Ask yourself why you're afraid to look at the present, and take steps to create a more positive situation.
2. When you resist unexpected opportunities out of fear of the unknown or what others will say.
Instead of holding onto what isn't working, be open to letting go so you can make room for what will work.
3. When you feel numb.
When we feel numb to life, it's because we've lost passion and motivation. Ask yourself if you're just going through the motions. Try doing more of what you love each day and watch your inspiration come back.
4. When you've lost all passion for your current situation.
Be willing to let go of what no longer serves you. Some situations, places, hobbies and people have expiration dates. As you grow and change, so do your passions.
5. When you start to lie to yourself and others to avoid the truth.
Lying creates inner turmoil, shame and guilt. Instead of festering in these feelings, ask yourself what you're running from and are afraid to admit.
6. When your actions don't align with your words.
Actions will always speak louder than words. If you aren't doing what you say, ask why you're overpromising.
7. When your relationships feel superficial.
Sometimes breaking up with a best friend or romantic partner is the best thing for your personal well-being.
8. When you feel disenchanted with life.
Staying in situations that no longer serve you always produce a byproduct of discomfort. Give yourself permission to follow your heart and step into your future.
9. When you sense you are settling.
Repeat the mantra, "I do not settle. I am worthy of my desires and believe in my well-being."
10. When your mind drifts to better ways of being.
Trust the nudges coming to you. These inspirational pushes are the catalyst to propel you into a happier and healthy life.
If you want guidance on how to create a powerful plan for life change grab this FREE guide.
Advertisement
This ad is displayed using third party content and we do not control its accessibility features.
Shannon Kaiser
Shannon Kaiser is the best-selling author of 5 books on the psychology of happiness and fulfillment including The Self-Love Experiment and Adventures for Your Soul, Joy Seeker, and Unshakable Inner Peace Oracle card deck, and the forthcoming book Return to You. She has a B.A. in journalism and communications from the University of Oregon. As an international life coach, speaker, and retreat leader, she helps people awaken and align with their true selves so they can live their highest potential.
She's been named top 100 Women to Watch in wellness by mindbodygreen, alongside Cameron Diaz, Gwyneth Paltrow, Kris Carr and Gabriel Bernstein, and was listed as of the freshest voices in mental health and wellness by Chicken Soup for The Women's Soul. She's been named one of Entrepreneurs Must-Follow Instagram Accounts for Inspiration and Top Facebook Accounts for Daily Motivation by Mind Body Green.
Her website Playwiththeworld.com has been names top 75 Personal development websites and top 100 self-help websites by the institute for the Psychology of Eating. She's an international life coach and author mentor, and a full time world traveler with a home base in Portland, Oregon with her best friend, her Golden Retriever Chance, who she flew to China to Rescue.