These Tarot Rituals Will Help You Take Control Of Your Destiny
Tarot is a beautiful tool for healing and self-reflection, and it's one of the most empowering spiritual practices around.
Working your deck into a ritual or ceremony is a wonderful way to develop a deeper relationship with the cards. Birthdays, New Year's, astrological transits, equinoxes, retrogrades, and moon phases are all opportunities for a sacred tarot ceremony. You can tap into the frequencies of these events by asking potent questions and setting intentions for the cycle ahead. You'll learn more about your deck while you're at it too.
Here are my tips for creating your own tarot ceremony, as well as two beautiful examples and guided prompts for the year ahead:
What you will need:
A new moon spread for setting intentions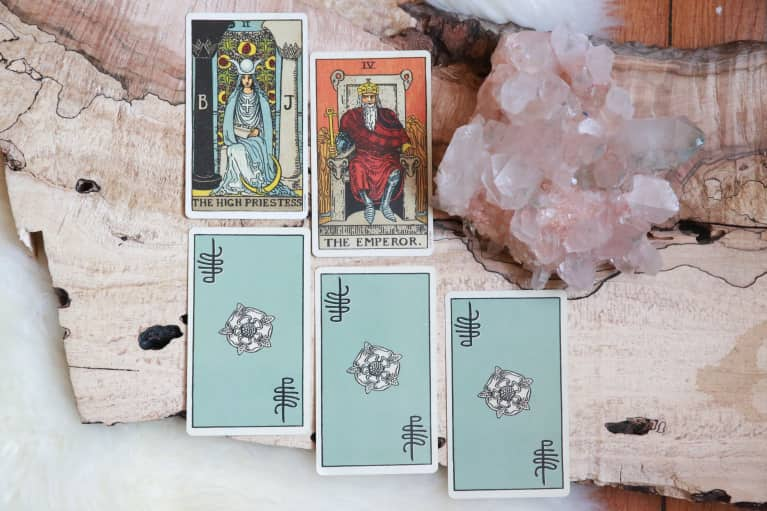 New moons present an opportunity to wipe the slate clean, plant new seeds, set intentions, and clear away anything that does not serve you. The upcoming New Moon in Aries on March 28 is the perfect opportunity to work your tarot deck into a new moon ritual.
To get started, create a sacred space that speaks to what this specific new moon means to you. Tune in with yourself and ask what intentions you'd like to set—what seeds you are ready to plant. Since Aries is a fire sign, consider placing a few fire elements (candles and red crystals) on your altar, as well as a fireproof bowl, lighter or matches, paper, and a pen.
Step 1:
Take your High Priestess card and Emperor card out of your deck, and place them in front of you. Why? Because The High Priestess is ruled by The Moon, and The Emperor is ruled by Aries. Whenever we create Sacred Tarot Ceremony, we do so by connecting the ruling planet or sign with the corresponding card. Because this is a New Moon in Aries, we will take the card that corresponds with The Moon out of our deck, and Aries out of our deck. (If you are not familiar with what planets or signs align with which Tarot cards, a simple Google search will do the trick!)
Step 2:
Look deeply at your High Priestess Card and your Emperor card. Notice the differences, how they feel to you, what they represent. Tune in with your spiritual practice: Call the corners, drop in with source, anything that feels good to you. Then, ask the following questions, pulling an additional card out of your deck for each one:
1. What am I ready to release at this New Moon tonight?
2. What seeds in my life are ready to be planted?
3. What am I learning in this upcoming Moon Cycle?
Step 3:
Tune in with the cards you pulled, looking them up if need be. Journal and tune in with the messages they may be bringing you. If it moves you, you can write down everything you are ready to release in your life on a small piece of paper, then burn it using common sense in a fire-safe pot or bowl. You can do the same with what you're ready to call in as well. When you are ready, you can end or complete the ceremony in a way that feels right to you.
A retrograde spread for taking back control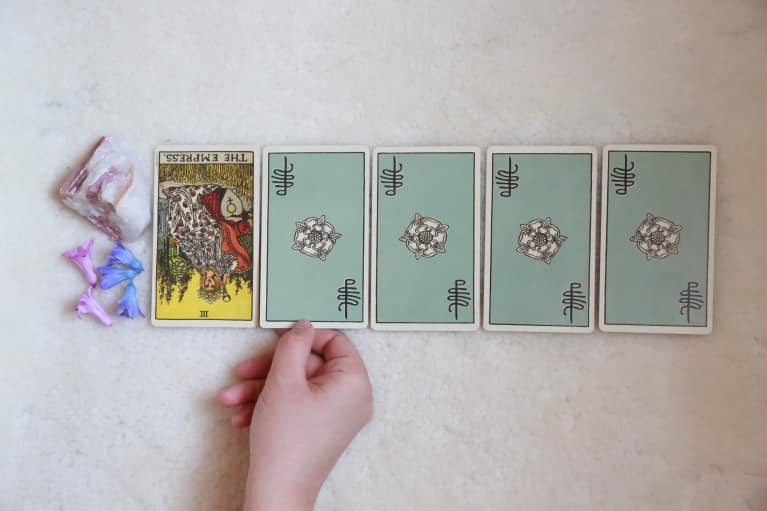 Retrogrades are a spectacular occasion for sacred ceremony. Often looked upon with fear, dread, or disaster, retrogrades are actually powerful invitations to slow down and review the previous cycle of life. If we can surrender to and honor that invitation, retrogrades can bring us some powerful medicine, which tarot can help us access.
Step 1:
Tune into what planet is currently in retrograde, and pull out the corresponding card from your deck. For example, if we're in a Mercury Retrograde, you would pull out your Magician Card, because The Magician is ruled by Mercury. For this, again, Google is your friend! We are currently in a Venus Retrograde until early April, so let's use that as an example:
Step 2:
Pull your Empress card out of your deck (ruled by Venus), and place her in front of you upside down, or reversed. (When we are in a Retrograde, we consider the reversal of the card.) Tune in with the energy of The Empress, and all she represents, then tune in with her energy reversed. Are there blocks standing between us and The Empress' energy? Are there between us and love, receiving beauty and abundance? Gently release judgment around anything that arises with those questions, and intend to view these blocks with an open heart. Once you've tuned in with your Empress card, ask the following questions of your deck, pulling an additional card for each question:
1. What is the medicine of this Retrograde? What is it teaching me?
2. What aspects of myself am I healing in this Retrograde?
3. How can I slow down to receive the messages it's bringing?
4. What will I be moving through in the next cycle of my life?
Step 3:
Write down any a-ha's or messages you received in this spread. Close out your tarot ceremony in any way you wish, letting yourself return to the messages in the spread any time you need guidance or support around the retrograde period.