7 Foolproof Ways To Find Your Zen In Times Of Uncertainty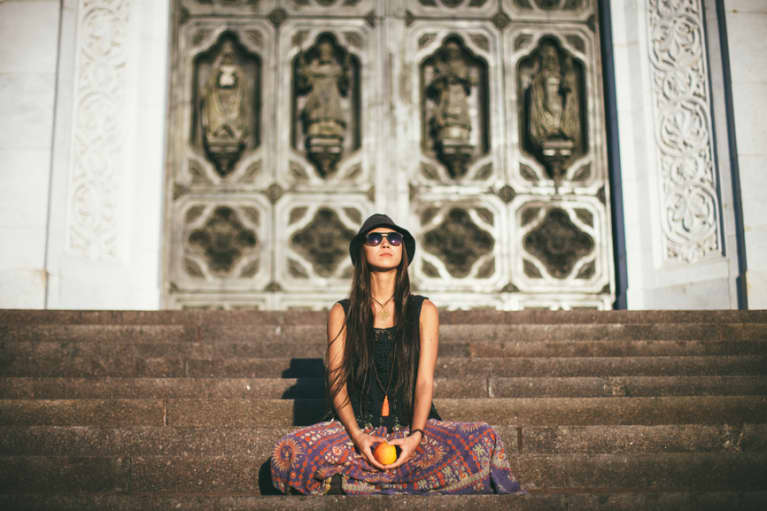 Our editors have independently chosen the products listed on this page. If you purchase something mentioned in this article, we may
earn a small commission
.
We're facing a challenging period of transitions—internally, interpersonally, and for humanity. Everyone is feeling the energetic churning and swirling of this era. Inside each of us is a powerful life force—a brilliantly luminous light with the potential to vibrate with love and healing. Yet the sense of separation, physical and emotional pain, and the confusion in the collective consciousness can make it feel like it's too much to bear.
Staying centered with the love at our core is especially important during times of unrest and uncertainty. Effective action in the midst of external confusion requires intuition, stillness, and contemplation so we can allow soul-level connection to our deepest truth to prevail over fear. It's essential to align our nervous system with the knowing inside, so we don't let anger and reactivity override the natural love we were born to hold. Here are eight powerful, simple tools that we use regularly to stay centered:
1. Allow yourself to feel.
Tune in with sensitivity to what you are feeling, be aware of the chaos, but don't make the turbulence your reality. Allow yourself to let everything simply exist as you return your awareness to the shining light that is your essence. That essence is your deeper reality and your springboard.
2. Wake up before sunrise.
Our brain chemistry goes through a major shift around 4 a.m. The hours before dawn are a beautiful time to do your practice, whether that be deep breathing, prayer, yoga, meditation, or any other quiet way in which you choose to connect with your soul.
This is one of our favorite breathing exercises. It's amazingly transformative and balances the nervous system. Inhale as slowly as possible for a count of eight. Hold your breath in for a count of eight. Slowly exhale for the same count of eight. Hold your breath out for a count of eight. Focus on the energy your breath carries, bringing light and love through every cell of your body.
We call this the love trigger. As you say your prayers, finish your practice, walk in nature, or do anything that resonates the truth of your soul, press the tip of your tongue firmly to the roof of your mouth for 15 seconds. Train yourself to do this every time, and it will become natural. Then during the day, use this touch as a trigger to regenerate the sense of soul connectivity. Anytime you feel challenged, angry, or pulled off center, press your tongue back to that same spot. Your body will remember.
Rub natural almond oil all over your body. Start with cold water at your feet and rub your skin briskly as you allow the cold water to hit higher and higher on your body. When you step out, rub yourself with a cotton towel, massage your skin again with some natural almond oil, and get dressed, letting the refreshing sensations wash over you. The cold water brings about a powerful sequence of cellular cleansing in your body. A cold shower daily strengthens and steadies your nerves so you can handle stress more effectively throughout the day.
6. Take five authentic breaths.
If you feel yourself freaking out and losing control, pause and give yourself the gift of five long, slow deep breaths to reclaim Love. Everything can wait for those five breaths. Then move forward with your heart as your guide.
Shame is the lowest vibration, and when we feel guilty for our actions, we hurt our frequency much more than if we forgive. Trust that you are enough. More than enough. Check out our in-depth technique for releasing shame here.
Our words carry vibrations that can uplift ourselves and others. Say an affirmation that purifies your energy field before you leave your home. Ask that all negative energy be released from the field of light that lives around your body, and ask the universe to help you reclaim your power and energy from those who are consciously or unconsciously zapping it from you. This traditional Prayer of Light is one of our favorites. Recite it mentally or aloud and allow the resonance of the words to vibrate in your body.
Love before me Love behind meLove at my right Love at my leftLove above meLove below meLove unto meLove in my surroundingsLove to all Love to the UniversePeace before me Peace behind mePeace at my leftPeace at my rightPeace above mePeace below mePeace unto mePeace in my surroundings Peace to all Peace to the UniverseLight before meLight behind meLight at my left Light at my rightLight above meLight below meLight unto meLight in my surroundings Light to allLight to the Universe