5 Healing, High-Vibe Crystals To Welcome The Chinese New Year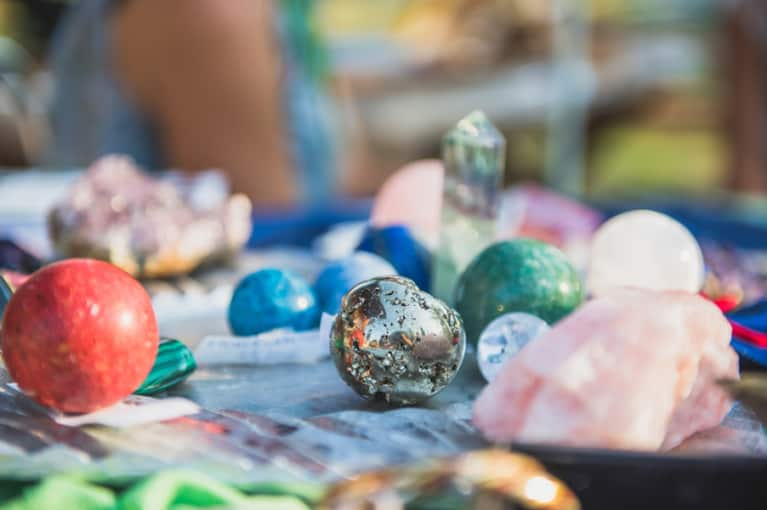 The Year of the Rooster has arrived, and it's bringing a heap of opportunities along with it.
In the Chinese zodiac, roosters are thought to be hard workers who pride themselves on loyalty and commitment. Harness these positive traits by standing proud, holding your head high, and rising early to seize the day this year. It will be a period of growth if you stick to the plan, stay focused, and remain consistent. Instead of embarking on risky ventures this year, go with the tried-and-true paths to success to capitalize on this time of peaceful progress. Here are five crystals that can guide you through the journey ahead:
Angel phantom quartz holds the colors of the rooster and the wings of an angel. The stone is thought to bring love, beauty, and joy to its beholders by helping them connect to a higher realm of awareness and find inner strength. Like the rooster, angel phantom quartz encourages you to grow into your most magnificent self—confident and proud. This crystal is a messenger of hope and faith and is a gentle reminder to tap into the energy of love.
Delicate and fragile on the outside, aragonite is strong and sturdy on the inside. Just as the rooster alerts you that it's time for a new day, this stone helps bring your awareness to the present moment. It will empower you to locate any unresolved emotions such as fear or anger and bring them to the surface to be resolved. Once you let go, you can be energetically free to express yourself on a new level.
Black kyanite encourages you to shake off unwanted energy and cut cords with draining people or situations. Restore positive energy flow throughout the body with this crystal that promotes personal space, balance, and harmony.
Equivalent to liquid light, selenite harmonizers are one of the highest vibrational stones on the planet. Selenite helps to stabilize and balance the emotional body and has the ability to unblock stagnant or stuck energy. These "energy rods" will guide you through the dark like flashlights. Use them to dispel negative energy when your aura feels clouded.
Smoky citrine is a stone to help clear your path and remove any obstacles along your path to abundance. Similar to a rooster's cock-a-doodle-doo, Smoky citrine encourages us to wake up, rise to action, and move forward. Place a piece of this money stone on your business card in your office to feel its rays of light beaming into your financial life.
The sun is on the horizon, and a new day is calling. With your crew of crystal allies, you are ready to take on all the opportunities that the Year of the Rooster brings your way. Forget the night and the darkness of the past, and welcome beams of life, energy, and positivity instead. This dawn will illuminate your path. All you have to do is walk it.