8 Questions To Help You Actually Manifest Everything You've Ever Wanted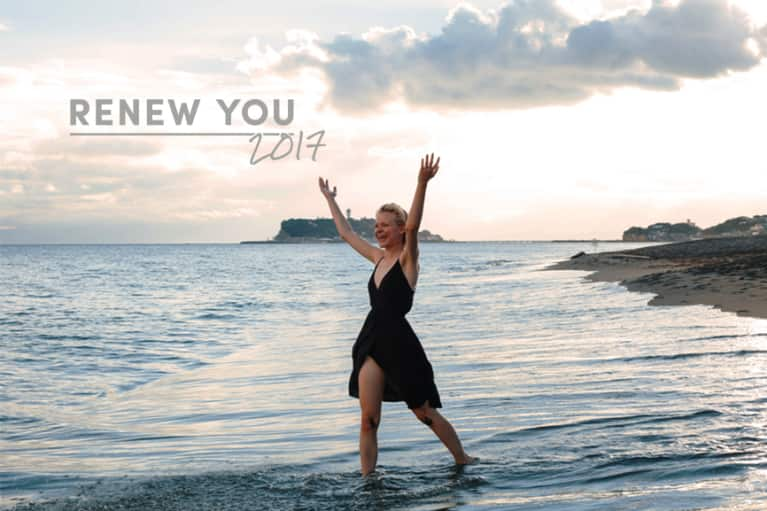 Manifest the year of your dreams by going inward. Renew You 2017 is a month of mindfulness during which we'll share content that guides you to create a deeply rooted intention for the new year. We'll help you navigate inevitable obstacles with the latest science on habits, motivation, ritual, and more and equip you with tried-and-true techniques to outsmart even the toughest inner critic.
The moment I learned that I am in charge of creating a life with meaning and purpose was the moment that I stopped playing small. The moment I realized that I could set goals and see them manifest into reality was the moment that I began to shine and give permission to all those around me to shine brightly too.
Two years ago, my dear friend Elena Brower saved me from a situation that was sabotaging my light, and she gifted me a journal with an inscription by the beautiful writer Anaïs Nin. I started writing in this special journal the moment I woke up on Elena's couch with fresh new eyes and visualized my new life unfold. In the months that followed, I wrote exactly what I wanted to create, who I wanted to spend my time with, and where I wanted to live.
The miracle that has unfolded has been remarkably similar to, if not even better than, what I had set the intention to receive.
I illuminated exactly what I longed for. I planted the seeds for it to grow beyond the walls of what I was conditioned to think was possible for me.
These eight questions, crafted together with another manifestation queen, will encourage you to start seeing yourself as the magical creator that you are. Our mission is to ensure that what you're creating reflects your highest potential and most authentic self.
Answer these questions honestly, as if no one would ever see your answers. As if your parents would be thrilled no matter what you did with your life, who you spent your life with, or where you lived. As if no one else's opinion mattered. These responses are for you alone, unless you would like to share them with an accountability partner, so you have everything to gain by reaching deep.
In a relationship? You may want to share this ritual with your partner and plant the seeds for creating your future together.
1. I will feel ecstatic at the end of 2017 because my____ are:
Finances
Relationship
Family/Friends
Health
Travel
Career
Home
2. Five things I have experienced by 2018/end of 2017
3. By 2018, my relationship...
4. By the end of 2017 a typical day in my life looks like...
5. By 2018 I will have visited...
6. My three biggest fears up until now that will not be present in 2017 and beyond:
7. Three things I will manifest:
8. By the beginning of 2018 my business…
In your journal, write a message to you from your Highest Self:
Thank you for taking the time to express myself fully and make my deepest wishes known. I ask that you please bring me the people, experiences, relationships, and lessons I need in order to realize my soul's purpose. I ask that you please take from me anything that no longer serves me in the most graceful way and I promise to trust that what leaves my life has served its purpose. I know that I am always guided. I love you. Thank you.
Another beautiful practice is a visualization meditation. I created this special Radiance Blueprint Meditation, a guided meditation to serve as a blueprint to get you started living your most radiant life. Find a comfortable, quiet space. Light candles, incense, and sage. Invite your intuition to lead. Your breath will naturally deepen as you fully relax and trust in your soul's calling. I can't wait to hear about all the magnificence you naturally attract.
Would you like to get your genius out into the world but feel paralyzed or unsure how to do it?
Would you like to feel a greater sense of meaning and purpose in your life but aren't sure where this would come from?
This year, experience a new way of life where you are in charge and you focus your precious energy on what truly matters to you. This is what I am here to see for you, and serving as your guide and accountability partner, we will craft tangible goals that align with your unique truth and gifts. See your brightest future and learn about all the ways we can make it happen big this year!