11 Things To Let Go Of If You Want To Fill Your Year With Joy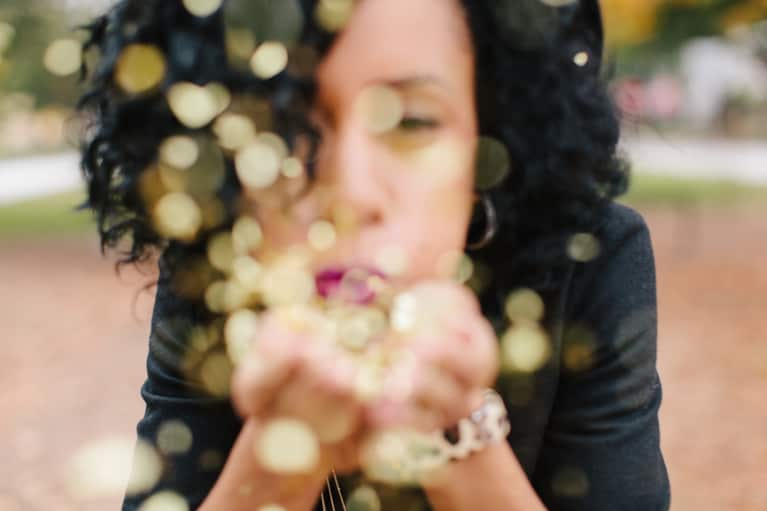 Our editors have independently chosen the products listed on this page. If you purchase something mentioned in this article, we may
earn a small commission
.
You know those images you have in your head of how you and your life should look? Give yourself the gift of erasing them. Start the year with a clean slate.
That's the first step in making this new year your most positive, loving, and creative one yet. Make 2017 the year when you take such good care of yourself inside and out, when you reinforce the positive, when you let go of toxic self-judgment. It's time to give up feeling like you're not enough. Instead, look around and realize there is no one like you. You are a masterpiece and a work in progress at the same time.
You'll need to learn to know and love yourself just the way you are. Be ruthless about not comparing or compromising who you are. Ask for what you want. Sometimes you won't get it. When that happens, don't turn against yourself and despair that your life is not working; instead, trust the wisdom to keep going and refining what you want to create and how you want to live. Ask for help in the areas you need support and guidance; at the same time, offer your gifts to help others who need your support and guidance. Be transparent, find people you feel safe with, and create a tribe of like-minded people who also want to make this their most positive year.
This is your beautiful life, the one and only Bella Vita. Give it meaning, embark on new adventures, don't let anyone or anything rob you of your joy. Find what makes you joyful and go do it often. The time is now. This year is your chance to let go of the things that don't work in your life and redesign your life to serve how you want to feel.
Here are my 11 tips for getting rid of the bad, making room for the good, and having the best year ever!
1. Let go of trying to change people.
You are not responsible for their happiness. Instead, focus on what brings you joy and let it spill over to others.
2. Step away from your to-do list and step into your to-be list.
Disconnect from the constant doing and practice moments of meditation, conscious breathing, and establish a new habit of disconnecting from the world and connecting to you.
3. Don't numb your negative feelings.
Express what is bothering you so you can let it go. Then you will create space to have more of your joy present.
4. Stop focusing on what didn't work and focus on what did.
Get a beautiful journal and every night before you go to sleep, write down three things that worked today, three things you are grateful for, and three things that have brought you joy.
5. Let go of comparing yourself to what others have.
Instead, focus on gratitude for all the things you have, all your gifts big and small. Find new ways to celebrate your uniqueness.
6. Let go of relationships with toxic people.
As much as you can, surround yourself with people who appreciate, cherish, and support you. Seek people who make you laugh, who don't take themselves too seriously, and who have an elevated perspective on life.
7. Stop separating yourself from others.
Practice keeping your heart compassionate, open, and full, even by simply smiling at people you pass on the street—you never know what a blessing you might be to someone who needs your good energy to be lifted.
8. Give social media a break.
Connect with your friends in person.
9. Evict the obnoxious, critical roommate in your head.
Replace him or her with the voice of self-appreciation.
10. Let go of being of Superwoman or Superman.
Stop trying to prove you don't need anybody. Instead, practice the four magic words, "Can you help me?" Asking for help is a sign of strength.
11. Let go of hiding who you are.
Show the world your light and everything that makes you uniquely you.
Finally, give yourself the gift of learning how to love yourself this year and Wake Up to the Joy of You! You deserve it!