'It's All About Perception' + 7 Other Lessons From My Month In An Ashram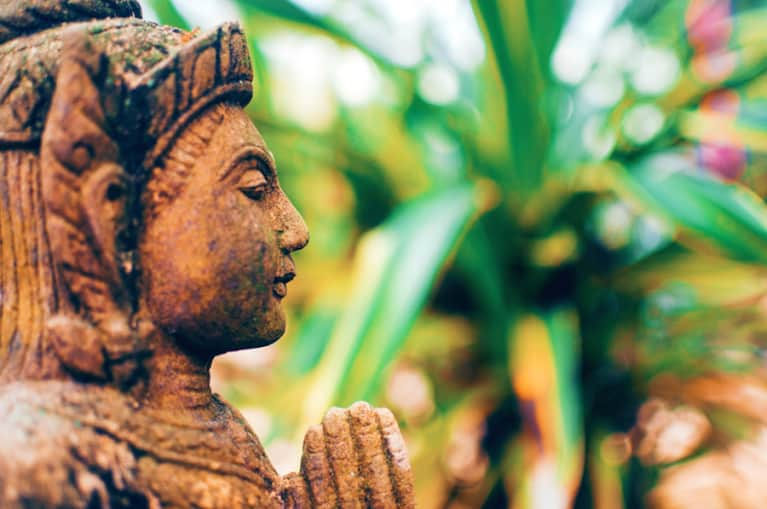 I have to admit it: I felt scared as I sat in the airport waiting for my flight to New Delhi, India. For the coming month, I'd stay in an ashram in the Himalayas while completing my yoga teacher training.
Two years earlier, I'd been the biggest skeptic about spirituality, and now I was headed straight for the source of it. Life's funny sometimes, no?
I knew the experience would be mentally, emotionally, and physically challenging. In the end, it was all of those things. But it was also exciting, mind-opening, and perspective-changing. Here are a few of the lessons I took away from my month in the ashram.
1. We must allow experiences to complete themselves.
All experiences must complete themselves. Children are especially good at completing their experiences. If someone steals a toy, a child might cry for a bit, but then move on to another one pretty quickly. As we grow older, we tend to shut down when difficult and negative feelings show up. Allow yourself to feel everything, to fully complete your experiences so that you can let go and move on.
Don't hide from the darkest part of yourself. Choose to face it so that you can let it go.
2. Facing yourself is the only path to freedom.
To look at your insecurities, flaws and scars takes courage. Gosh, I avoided them for years. In today's demanding, hyper-connected, busy society, it's easy to stay distracted. But, if we don't sit with difficult feelings, we can't fully accept them. If we can't accept them, we can't fully release them. Don't hide from the darkest part of yourself. Choose to face it so that you can let it go.
3. We're much more powerful than we think.
You've heard it before: Your thoughts create your reality. During my time at the ashram, I noticed just how powerful our words and feelings really are. A few people in our group were negative from the start, having a hard time adapting and staying open-minded. All of them got sick in one way or another after just a few days. A coincidence? I don't think so.
4. Your body is your subconscious.
In yoga, the body is seen as the crudest layer of the mind. That means the body is a reflection of your subconscious. Notice different areas of your body and how they reflect on a healthy or unhealthy state. Be grateful for the messages you receive so that you can make any necessary changes.
5. Negative emotions are messages.
When you think about something and you immediately don't feel good, trust that your higher self (your soul, the divine, or whatever you want to call it) is looking at it from a different perspective. If you're thinking "I'm not good enough," you won't feel good. That's because your higher self is thinking that you're the most adorable person ever. So when you experience negative emotions, ask yourself how you can look at that situation differently.
6. It's all about perception.
Events are always neutral. It's you and I who put labels on them. In the ashram, some labeled meditation as hard and difficult, so it became hard and difficult for them. Others labeled it as a time to learn and expand, so this became their experience. Make sure to label your journey based on what you want more of.
7. Life's about finding balance.
When I was in the ashram, I was able to practice yoga daily, keep a sattvic diet, and do one hour of meditation per day. When I came home, I tried to keep the same routine. But, that didn't work. Instead of helping me, my strict schedule just stressed me out. I came to accept that what worked in the Himalayas wasn't going to work at home. As I pushed myself less, I was able to maintain my balance and turn "shoulds" into "wants."
8. Everything is connected.
We're all connected. During one meditation, I remember hearing a fly buzzing around my head. This would usually annoy me, but this time it was different. I felt a deep connection to the little fly and I was truly honored that he had chosen to fly around me. I think it was my first sneak peek into how everything actually is connected.
Keep reading:
3 Ordinary Activities That Can Help You Connect To Your Highest Truth