The Perfect Yoga Flow For Your Zodiac Sign
mbg Contributor
By Leigh Weingus
mbg Contributor
Leigh Weingus is a New York City based freelance journalist writing about health, wellness, feminism, entertainment, personal finance, and more. She received her bachelor's in English and Communication from the University of California, Davis.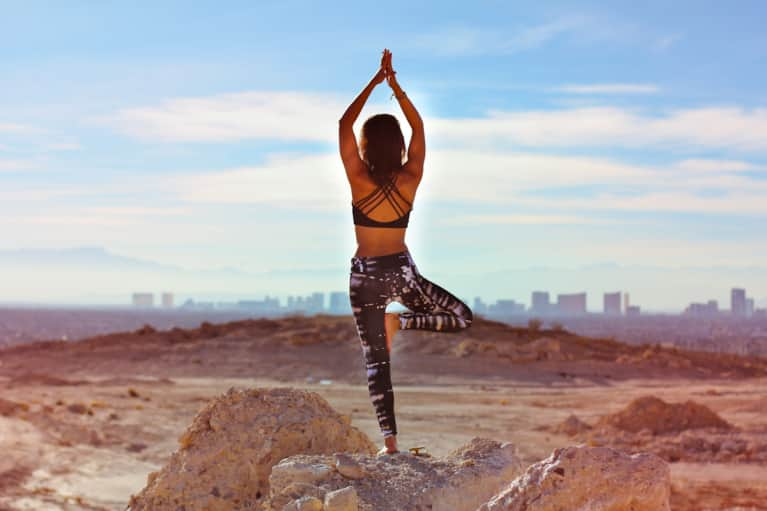 Maybe you read your horoscope to find out what's in store for you romantically, or perhaps you use it to figure out how to create space in your life or ease anxiety.
But have you ever thought about what type of yoga best suits your zodiac sign? While some sun signs benefit more from more relaxing forms of yoga, others deeply connect to sweatier, more powerful versions of the ancient practice.
Because we want you to get the most out of your yoga practice, we consulted spiritual expert Emma Mildon on this very topic. Here's her advice on what type of yoga you should be doing based on your zodiac sign.
Not only is Aries one of the fire signs, but Aries are natural-born leaders. They're bold and always up for a challenge, making sweating through their asanas a perfect choice.
Leos are fiery, loyal, and all about raising their vibration. Because Kundalini emphasizes releasing untapped energy and utilizes breath of fire, this yoga style is a great match for Leos.
Also one of the fire signs, Sagittariuses are known for their courageous and optimistic spirit. If you're a Sagittarius, you need everything turned up a notch, so a basic yoga class may not be enough for you. Power yoga will ensure you build both strength and flexibility.
Tauruses, grab your blankets and bolsters. You're down to earth and appreciate all things zen, so a class that emphasizes rest, recovery, and relaxation is the class for you.
Virgos are reliable and practical, which is why Yin yoga is such a great fit. While Yin is a more gentle approach to yoga, the long-held poses are an excellent way to harness focus.
Calm and persistent Capricorns will benefit from practicing Iyengar, as it uses props like blocks and straps to help with grounding, balance, and alignment.
As one of the air signs, Geminis thrive on fresh air. So take your practice outside and feel the grass between your toes. And if you're not in the mood for sweaty asanas, feel free to make your practice restorative—just make sure it's outside.
Libras are calm, peaceful, and gentle. The relaxing, unhurried practice of Sivananda will help you go with the flow and leave you feeling breezy.
Aquarians are passionate and affectionate and thrive on all things air, breath, and movement. The practice of Hatha will get your body moving and your lungs pumping.
Cancer: Stand-Up Paddleboard Yoga
As a water sign, Cancers love a yoga style they can dip their toes in—and SUP yoga is just that. Plus, Cancerians always carry their shell on their back, so when it comes to yoga it makes sense that they have a tool for the trade, stand-up paddleboard included.
Driven, dedicated, and loyal, syncing movement and breath in a Vinyasa class will help Scorpios thrive and flow like the rolling waves of the ocean.
This purifying, intense flow from one pose to the next will make Pisces feel like fish swimming down the stream.
What are you waiting for? Roll out your mat and get ready to do some yoga!