15 Quotes That Will Inspire You To Chase Those Big, Beautiful Dreams
mbg Contributor
By Kaia Roman
mbg Contributor
Kaia Roman is a freelance writer and communications consultant for people, projects, and products working towards a better world.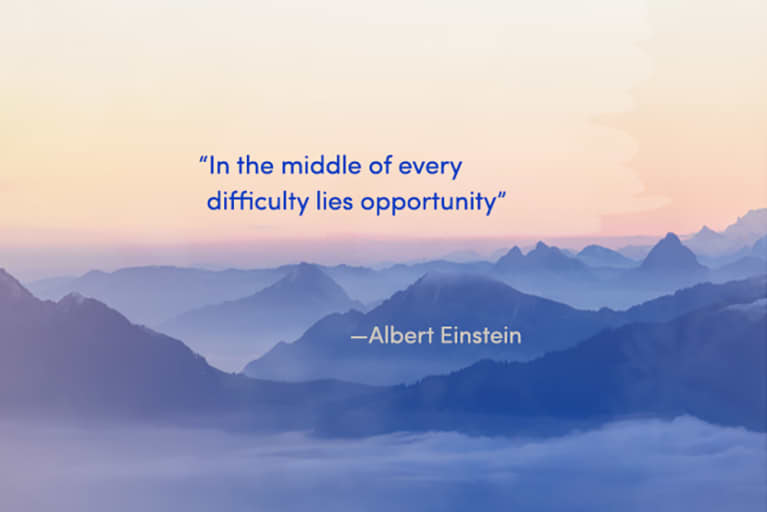 I'll admit it: I'm a word nerd.
I collect words—others' and my own—and save them for a rainy day. On that rainy day, if I'm feeling like the clouds in my life are too thick, the sun too obscured, and my dreams too unrealistic to reach, I'll pull those words out from where I've been saving them, and watch as a rainbow appears.
I'm not picky about whom I look to for inspiration. You'll see quotes in here from Gandhi and Oprah, Winnie the Pooh and Walt Whitman. I'll take encouragement wherever I can find it. As you read through these quotes, I hope they bring as much sunshine to your rainy days as they've brought to mine.
Whether you think you can or you think you can't, you're right. —Henry Ford
Twenty years from now you will be more disappointed by the things you didn't do than by the ones you did do. So throw off the bowlines. Sail away from the safe harbour. Catch the trade winds in your sail. Explore. Dream. Discover. —Mark Twain
Nothing is impossible, the word itself says "I'm possible!" —Audrey Hepburn
In the middle of every difficulty lies opportunity. —Albert Einstein
What you get by achieving your goals is not as important as what you become by achieving your goals. —Henry David Thoreau
You must be the change you wish to see in the world. —Mahatma Gandhi
Be a first-rate version of yourself, instead of a second-rate version of somebody else. —Judy Garland
To be yourself in a world that is constantly trying to make you something else is the greatest accomplishment. —Ralph Waldo Emerson
Keep your face always toward the sunshine—and shadows will fall behind you. —Walt Whitman
Think like a queen. A queen is not afraid to fail. Failure is another stepping stone to greatness. —Oprah
I learned that courage was not the absence of fear, but the triumph over it. The brave man is not he who does not feel afraid, but he who conquers that fear. —Nelson Mandela
Once we believe in ourselves, we can risk curiosity, wonder, spontaneous delight, or any experience that reveals the human spirit. —E.E. Cummings
You can't stay in your corner of the forest waiting for others to come to you. You have to go to them sometimes. —Winnie the Pooh
Always remember you are braver than you believe, stronger than you seem, and smarter than you think. —Christopher Robin
You have brains in your head. You have feet in your shoes. You can steer yourself in any direction you choose. You're on your own. And you know what you know. You are the guy who'll decide where to go. —Dr. Seuss
Keep reading: