High-Vibe Manifestation Rituals Just In Time For Tomorrow's Supermoon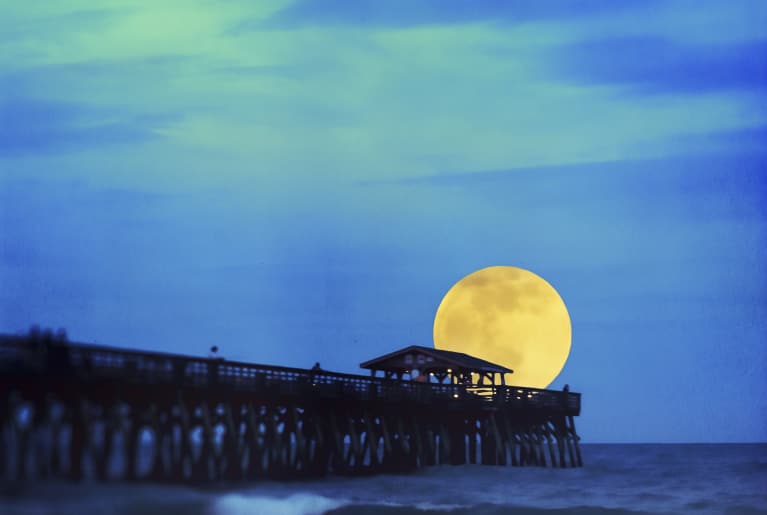 November 12, 2016 — 10:17 AM
A leading voice on modern spirituality, Emma Mildon has traveled the world studying everything from auras to aromatherapy. Leading up to Monday's full moon, we're sharing a bit of her otherworldly expertise. To learn more, check out her mindbodygreen class, Crystals 101: How to Use Crystals to Clear Negativity, Attract Love & Heal Yourself Naturally.
Tomorrow's supermoon, and any full moon for that matter, is an ideal time to release what is no longer serving you. Be it work, relationships, draining energy, it's high time to let that s*** go.
Many cultures have worshipped the moon for centuries, creating rituals that celebrate the cycle of the luna and life. Taking a cue from them and using the full moon as a time for reflection, release, and recharge can be a powerful way to add a dash of manifestation and magic to your life. Because, let's be honest, who couldn't do with a pinch more of that? Here are some of my favorite rituals that can help you embrace the full moon energy and cleanse your soul.
Full moon energy is powerful and intense, which means the vibes you give off during the occasion will be heightened. So use it as a time to drop negativity and radiate strong, positive energy. Conduct this spiritual cleansing by sitting down and giving yourself space to think about what you can clear out of your life. Take out the energetic trash, so to speak. Some people like to meditate while others write things that no longer serve them down on paper. Whatever your method of lunar madness, make sure you allow yourself some time to access what you are going to keep and what you want to drop in your junk folder.
Clearing exercise: Imagine standing under a silver waterfall, allowing all negative energies to wash away. Or exfoliate away your energies in the shower, consciously noticing yourself shedding what you no longer need. Peace out, bad vibes. Down the drain you go.
Full moons are a great time for conscious action. This doesn't necessarily mean decision-making but action toward things that can serve and support your energy at this time of release. Conducting cleansing rituals like Epsom salt baths, lighting smudge sticks, or even recharging your crystals in the light of the moon can help you actively clear any bad vibes.
Cleansing exercise: Cleanse crystals that can support you during a full moon—stones that help you connect to your psychic awareness and higher self such as moonstone and amethyst.
In order to mentally and spiritually unclutter, it's essential to create a sacred space in your home where you can recharge. Do so by removing clutter, decorating with crystals, and using soothing essential oils like sandalwood, jasmine, and frankincense.
Creation exercise: Create a full moon release and recharge room spray by adding water, crystals, and aromatherapy oils to a bottle and spraying it around a room in your home. I like to use orange, lavender, and rosemary, infused with clear quartz, citrine, moonstone, and amethyst crystals.
Remember those times you left a relationship that was going nowhere and your pals took you out to celebrate? Well, a full moon is kinda like that! When you drop dead weight, release what is no longer serving you, shed your old self, and grow into a new cycle of development, it's definitely an occasion worth celebrating.
Once the full moon hits, be sure to give yourself an energetic high-five for adopting a new frame of mind, be it with a massage or a warm bath. Whatever you want to do to acknowledge your transformative growth, make sure it's celebratory.
Celebration exercise: Make a full moon mantra to help you stay in a positive frame of mind as you release and reflect. I like to use, "I'm free from my past, and embracing my ever-evolving journey forward. I welcome in the new, and graciously release the old."