The Spiritual Secret Weapon That Will Enhance Your Sex Life
mbg Contributor
By Emma Mildon
mbg Contributor
Emma Mildon is a millennial activist, co-host of 11:11 podcast, and best-selling author of Evolution of Goddess and The Soul Searcher's Handbook.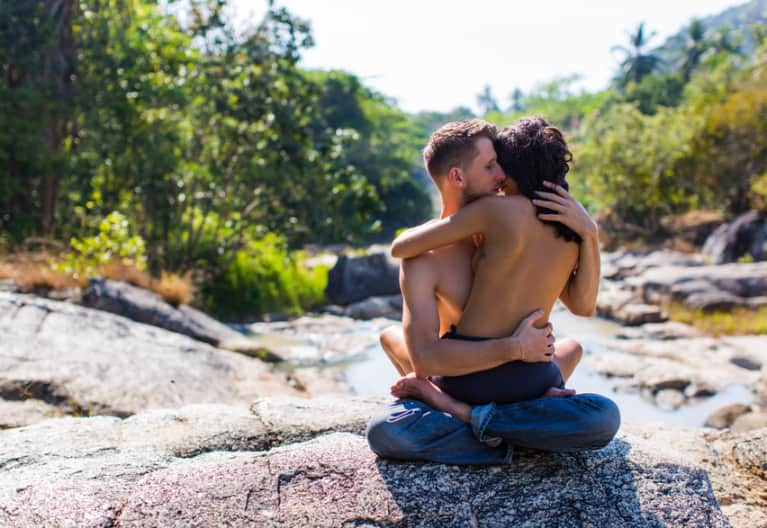 A leading voice on modern spirituality, Emma Mildon has traveled the world studying everything from auras to aromatherapy. This week, we're sharing her expertise in a series on harnessing healing crystals to attract a more vibrant life. To learn more, check out her new mindbodygreen course, Crystals 101: How to Use Crystals to Clear Negativity, Attract Love & Heal Yourself Naturally.
Fact: Feeling aroused is a sign that positive energy is flowing through you, so it only makes sense to explore your sexual and spiritual sides in unison.
Consider crystals your gateway to sexual, spiritual enlightenment. Yes, crystals can be used to boost your self-love and self-pleasure routine. (Think 50 shades of quartz.)
Ready to take your love for crystals to the next level? Here we go:
Rated PG: Crystals for sexual energy
When choosing crystals to help support your libido and sexual energy, it's best to keep an eye out for ones that connect with your sacral chakra—a center for joy, pleasure, and creativity. Carnelian and orange sapphire are great options, and rubies have also been known to inspire passion and promote social and sexual activity.
Go with whichever crystal resonates most with you and incorporate its healing energy into your day by holding it during meditation, keeping it on your bedside table, or even placing it in the pocket of your jeans so it's close to your pleasure center.
Rated M: Crystal Jade Eggs
Do yourself a favor and google "jade eggs." These crystal eggs, also found in rose quartz and onyx, are like mini gyms for your lady energy center. First used in ancient Chinese culture, legend has it that these stones were used in royal palaces to help monarchs lead long, healthy sex lives.
Today, jade eggs are more common than you think, and they can help prepare you for lovemaking. Carrying them inside your body helps tighten and stimulate the muscles, awakening sexual sensitivity.
Disclaimer: This is definitely a crystal exercise for the more adventurous soul-searchers. It's best to try jade eggs at home and not plan a big outing on your first try. It's a bit of an art, and you may find that you have to shuffle your feet and resist taking sudden movements to keep the egg in place.
Yes, they do exist! Crystal dildos, or chakrubs, are smooth crystal wands created with self-love in mind. They come in a range of sizes and crystals depending on what you desire, and they definitely give new meaning to the term "sexual energy." Each one holds its own unique vibration and healing capability, from mending the heart to heightening your spiritual senses. So think sexy affirmations, and get going!