How To Harness The Power Of Tonight's Sky With A New Moon Circle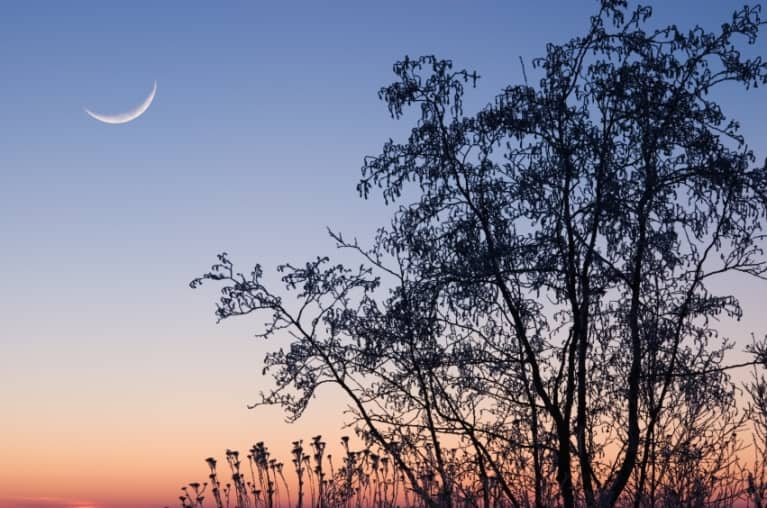 "What's a women's new moon circle?"
I get this question a lot.
Our culture isn't exactly ripe with opportunity for women to gather and connect intimately, so when I tell people that I co-facilitate a monthly gathering for women to correspond with the start of a new moon, their responses are often puzzled.
Of course, there are networking events and career-oriented meet-ups and book clubs, but this is something entirely different. New moon circles are about heartfelt yearning and emotional well-being, and they touch on the core of who we are.
My circles gather once a month, on the evening of the new moon from 8-11pm in a private residence. The age range and life experience of those who attend run the gamut and on any given night there are 35-50 women in attendance.
Why do we gather for the New Moon?
There are four distinct phases in every 28-days moon cycle: New Moon, Waxing Half Moon, Full Moon and Waning Half Moon. Each offers us an opportunity to connect with ourselves and our purpose — to align with our destiny.
Specifically, New Moons represent beginning. They are for planting seeds and setting intentions for our dreams, goals and wishes. They're an opportunity to take ownership for what we want to manifest and to commit to the actions, thoughts and behaviors necessary to get us there. They're a time to give and receive — to form community.
Paula Mallis and I have been holding monthly New Moon Circles in Venice, California for over two years. We have witnessed miracles over and over again. Dreams and wishes, once thought impossible, fulfilled. Leaps taken. Nets appearing out of thin air. So much of the beauty is found within the circle itself, in the sense of community and unconditional support it provides.
Of all of the gifts I've gleaned in my life, nothing compares to the support of like-hearted women. After all, women have a magnificent ability to heal one another simply by paying witness; by listening to each other with an open, accepting heart. It's nothing less than magic.
New Moons are for planting seeds and setting intentions for our dreams, goals and wishes.
What happens at a New Moon Circle?
It varies, but ours follows a very specific format that includes meditation, journaling, sharing and setting intentions. The key is the space that's created. Is i should be open, caring, non-judgmental and loving.
As each woman shares, the circle quietly holds space for her, allowing her the fullness of her experience. This breeds intimacy and trust as walls are dropped.
I wish we lived in a culture that always championed women — one in which we lifted one another up instead of tearing each other down. But what I have found is this: it's possible. And not only that, it's life-changing.
Competition arises from scarcity — the feeling that there isn't enough. But that's just a story we tell ourselves. The truth is that we benefit from our friends' accomplishments and wins.
The more we focus negatively on others, the more likely we are to lose ourselves. But the more we champion one another, the more we realize that the possibilities are endless; that success begets success; that we're in this together.
And who wouldn't want to operate from that place?
If you're looking to create a circle of your own to celebrate tonight's new moon, here are a few tips:
1. Start small. Invite a few women over. It's not about quantity, but quality. Often the smaller the circles, the more profound the experience.
2. Agree that what is shared in circle remains in circle. Trust is key here. It creates an atmosphere of acceptance.
3. Do not offer advice to one another unless asked. Each of us is on our own journey. Part of the beauty of these circles is that they allow the participants to listen to their own inner voice and to deepen their self-trust. When we give unsolicited advice, we are essentially robbing others of their own self-discovery.
And if you want to follow a specific format, here are some guidelines:
1. Choose someone to lead the group.
2. Go around the circle and announce your name and one word to describe your current emotional state.
3. Partake in a short 5-10 minute meditation to center and ground.
4. Take some time to journal separately about what is present.
5. Share in what was revealed in the writing process.
6. Take another 10 minutes to write out your intentions, as if they're already happening. For example: "I am finding myself feeling strong and flexible at my weekly yoga class." or "I am feeling relaxed, fully myself and at ease on my date with X."
7. Share at least one of your intentions aloud.
8. Close the circle with another short meditation.
And most of all, enjoy!
Related reads: