The 10 Fitness Studios Celebrities Love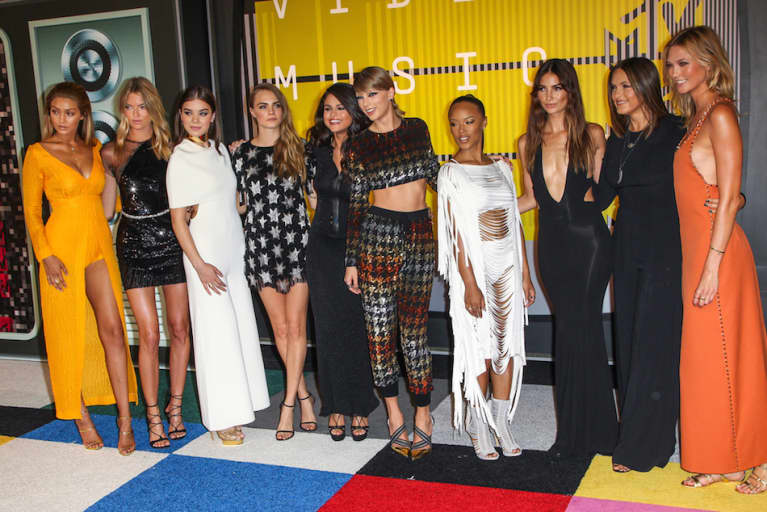 Celebrities: they're just like us, and they need to get their sweat on too. We've rounded up the studios stars l-o-v-e the most, and what's great about the list is its diversity. There are so many different ways to stay active these days, and celebrities are taking full advantage. Is your favorite boutique studio on the list?
Celebrities love to tap it back at the trendy cycling studio, just like the rest of us. Even first lady Michelle Obama frequents SoulCycle when she can (though she reportedly takes private classes) and Jake Gyllenhaal supposedly met his last girlfriend at a SoulCycle class in Manhattan (rumors point to the Union Square location).
Who does it: Lea Michele (pictured), Hilary Duff (pictured), Jake Gyllenhaal, Bradley Cooper, Katie Holmes, Kelly Ripa, Lady Gaga, Anderson Cooper, and more
We already told you about Taylor Swift and Selena Gomez hitting Simone De La Rue's LA studio (there's one in NYC, too) for a workout date, but they're not the only ones taking advantage of the studio's hard-core dance cardio and strengthening classes. What do they love about it? It's quick, fun, and you see results fast.
Who does it: Rosie Huntington-Whiteley (pictured), Jennifer Garner, Reese Witherspoon, Sandra Bullock, Emmy Rossum, Lori Loughlin, Molly Sims, Chrissy Teigen, and more
With a name like that, it's no surprise that the celebs who frequent this studio are also Victoria's Secret Angels. The signature modelFIT workout is a mix of Pilates, yoga, balance stability, and functional training — all for the steep price of $40 per class, for us non-Angels.
Who does it: Karlie Kloss (pictured), Martha Hunt, Chrissy Teigen, Irina Shayk, and more
This fitness studio has been around since 1998, but it's still a favorite of A-list celebs — Kim Kardashian West used Barry's Bootcamp to get back in shape after having her daughter, North. Their hour-long workouts include 25 to 30 minutes of interval cardio on a treadmill, and 25 to 30 minutes of strength training.
Who does it: Natalie Morales (pictured), Kim Kardashian West, Christina Applegate, Jessica Biel, and more
Yogaworks has 40 studios across the country, but its most star-studded location is probably located in Santa Monica or West Hollywood, Calif., where the "The Yoga King," Vinnie Marino, teaches. His class is always jam-packed — but that doesn't deter his celeb following.
Who does it: Colin Farrell, Charlize Theron, Heather Graham, Kate Hudson, Jeremy Piven, and more
Anderson has just five studios, but they're all equally as exclusive. Before August 2015, you needed a membership to visit her LA or Tribeca studios, but now they're open for pay-per-class options. If you want to stream her workouts at home (which target your accessory muscles with dance cardio and strength training), that would cost about $400 for six months.
Who does it: Gwyneth Paltrow, Madonna, Christy Turlington, Cameron Diaz, Nicole Richie, Jennifer Aniston, and more
Mary Helen Bowers is the founder of Ballet Beautiful and was Natalie Portman's trainer for her role in Black Swan. She danced with the New York City Ballet for 10 years and brings that wealth of knowledge to her classes, which you can take virtually (for $39.99 a month) or in NYC.
Who does it: Gigi Hadid (pictured), Dev Windsor (pictured), Miranda Kerr, Lily Aldridge, Natalie Portman, and more
Owner Rob Piela (pictured) is the creator and owner of Gotham — and he's developed a huge celebrity following over the past 20 years. His Instagram account is like a who's who of the hottest models. Piela's workouts aren't just about boxing — he ends classes with ballet-inspired floor exercises.
Who does it: Shanina Shaik (pictured), Gigi Hadid, Cara Delevingne, Bradley Cooper, Kendall Jenner, and more
Actress Bella Thorne hit FlyWheel before walking the red carpet at the Golden Globes. Celebs who prefer FlyWheel over SoulCycle likely have a competitive streak, as the studio assigns each bike a number and repeatedly checks in on how everyone's doing via a leaderboard at the front of the room.
Who does it: Bella Thorne (pictured), Jillian Michaels, Katrina Bowden, Sofia Vergara, Jimmy Fallon, and more
Here at mbg, we're big fans of Barre3 creator Sadie Lincoln. Her workouts are effective, quick, and totally doable — perfect for at-home workouts when you have no time. Try this workout from Sadie now!
Who does it: Christy Turlington, Madonna, Miranda Kerr, and more
Gunnar Peterson isn't technically a fitness studio, but any list of how celebrities stay fit would be remiss without him. You might already know the personal trainer if you're a Kardashian fan — Khloe Kardashian works out with him several days a week (and constantly 'grams their sessions). But he's also a trainer to Bruce Willis, Sylvester Stallone, and many professional athletes.
Related read: If You Only Do 5 Yoga Poses, Do These