I Was A Hoarder. Here's How I Cleaned Out My Home, Lost Over 100 Pounds & Changed My Life
Nine years ago, time stopped. Little by little, day by day, my world became less active, less social, and less fulfilling. Like a balloon with a slow air leak, I found myself deflating.
I was childless, husbandless, and miserable in my fixer-upper home that I had no means to fix up. I was the heaviest I'd ever been in my life, and food had become my addiction — a numbing, comforting distraction from my problems.
I'd allowed my story of brokenness and isolation to overshadow everything good in my life, and I found myself spiraling into a sort of high-functioning depression. Sometimes, I'd find myself crying in my driveway for an hour or more before I could work up the strength to go into my house — a place I dreaded entering.
My hoarding was my biggest secret and I guarded it with my life.
Inside, unpacked boxes from my last move lay on the floor, awaiting a new home. Items I'd collected from my late mother's estate were strewn all around. The remnants of a burglary a few years back, the mementos from old jobs and relationships — all of it made my home a time capsule of "stuff" that marked each period of loss in my life. My space was just as cluttered as my mind, and as tight and uncomfortable as the weight on my body. My hoarding was my biggest secret and I guarded it with my life.
I hadn't let anyone into my house in nine years.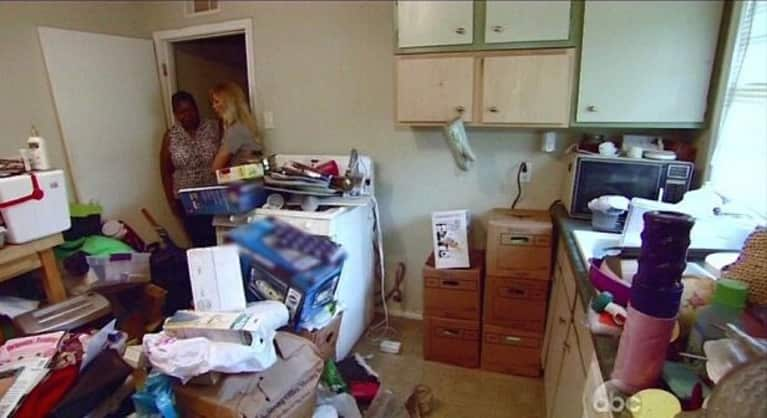 My weight and hoarding were proof of how I'd allowed my mind, my body, and my space to become personal prisons. Yet, late in 2013, the tide began to turn after I watched a video advertising an upcoming "Faith and Fitness" retreat. Intrigued by the notion of using my faith to reach my fitness and weight-loss goals, I attended the retreat and learned more about the importance of using food and exercise to fuel my body, my own personal temple.
Once 2014 came around, I had committed to eating healthier, exercising more, and spending time with new like-minded friends I'd met at the retreat. One of those friends soon asked me to join him while he stood in line to audition for ABC's Extreme Weight Loss — a program that documents participants who set out to lose massive amounts of body weight. over the course of a year. I was excited to support him, but I made it clear that I had no intention of auditioning myself. I didn't think I had an interesting enough story to tell, and I wasn't crazy about the idea of standing half-naked for the whole world to see.
My space was just as cluttered as my mind, and as tight and uncomfortable as the weight on my body.
But as time went on, my friend convinced me that the show could be an opportunity to move closer to the life I'd always dreamed of, and by the time I was selected as a cast member for Season 5, I was thrilled. But then reality sank in. I learned that participants on the show were required to allow a camera crew into their home for filming.
Needless to say, I was nearly paralyzed by the thought of letting the Extreme Weight Loss folks into my space. I hadn't let anyone into my house in nearly a decade — what was I thinking inviting more than 3 million viewers on national TV?
I still remember the moment I was standing in my backyard, waiting for my 90-day "weight-loss reveal" to my friends after a few months of intense diet and exercise. A show host asked me to tell my friends why they were in my backyard for the reveal and not in my home. I was mortified. I stood there weeping and praying, but that moment ultimately gave me the clarity I needed to move forward in my journey and release the things, weight, people, and regrets that stood in my way.
I had literally built a barrier around my house, my body, and my heart so I wouldn't feel any sort of pain again. But then I realized that I was hurting myself more than anyone else could. It was time to open up my home.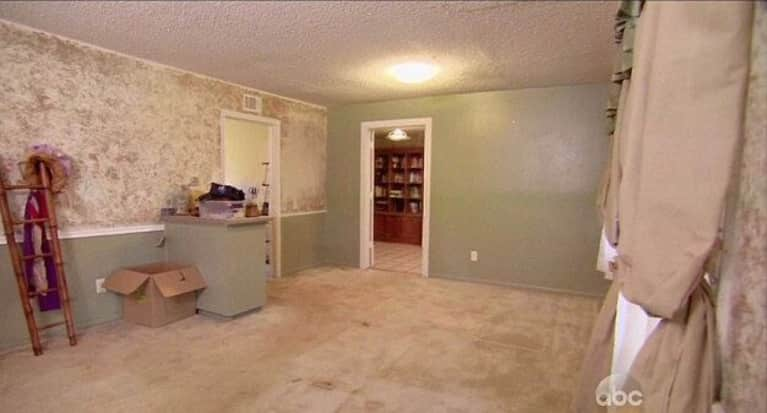 After sharing my hoarding secret at the 90-day reveal, the folks at Extreme Weight Loss told me that they'd arranged for the team from another reality show, Hoarders, to come into my home and help me clear the clutter. Show host and decluttering expert Matt Paxton and his team were extremely helpful and patient with me as I made decisions about what to keep, donate, or trash.
Doing so was easier than I'd imagined it would be — once I made the decision that getting my life back in order was more important than living in clutter, isolation, and fear, releasing items from my past was relatively painless.
Within 24 hours, my home was a comfortable, minimalist space. It felt like a ray of sunshine streaming in where darkness had lived for far too long. I loved finally being able to easily maneuver around my house and allow friends back into my life. Before they left, the clutter-clearing team presented me with a small box of items that my mom had specifically marked "Keep Beautiful Memories."
To me, this described not only the items in the box but the mentality I needed to take moving forward. I would only surround myself with the beautiful memories and allow the baggage to fall away.
I would only surround myself with the beautiful memories, and allow the baggage to fall away.
My televised weight-loss journey continued over the next year, and I found it easier to focus on my health without the emotional weight of all the "stuff" that surrounded me. Freed of the clutter, released from the harbored regret and unresolved hurt that manifested throughout my home, I lost 114 pounds and regained my health by the time the show wrapped up. I also regained a functional household, paid off my debt, and adopted my new, positive mindset through all other aspects of my life.
Each day, I continue to evaluate everything in my life and release anything that's holding me back instead of propelling me forward.
Related reads:
10 Tips To Declutter Your Entire Life