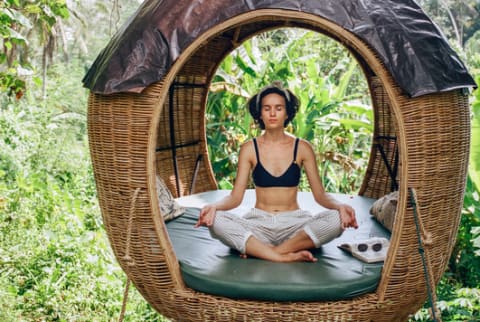 Photo by Duet Postscriptum
July 19, 2017
The secret is out: Self-care is not selfish. A quick internet search will give you millions of articles on tips and tricks to take better care of yourself, from staying hydrated to relaxing by listening to rain sounds and beach waves. While the short-term effects of taking care of yourself are clear—you'll be more relaxed, positive, and productive—what are the long-term benefits fueling this self-care movement?
The science surrounding the hype.
Scientific research has shown that what we do and eat can affect our gene expression and may have influence over our children and grandchildren. New understanding of the microbiome shows a connection between our gut and immune system—with the right personalized diet, some of us can manipulate our microbiome to possibly prevent immune-related conditions.
These scientific findings are beginning to support what many of us have already discovered: The importance of lifestyle changes. Self-care gives us tools to take charge of our own health.
But it doesn't stop there.
Taking baby steps today pays off down the line in a big way. As often as I promise myself that I'll never procrastinate again or choose healthier snack options, I'm the first to admit that I still find myself cramming to finish a project at the last minute or digging into a bag of chips instead of biting into a crisp apple.
Behavior change is complicated and tough, but there is a reason we need to challenge ourselves to form new and improved self-care habits: We can make self-care easier for the next generation. Knowing how hard behavior change can be, imparting healthy habits earlier creates a more optimistic destiny for future generations.
For example, I am sharing my yoga practice with my son and my meditation practice with my granddaughter. Simple acts like these have more widespread effects than we expect!
Creating a culture of self-care.
Creating a culture that values self-care starts with each of us. If we each take a small step to better care for ourselves, whether it be improving our posture or getting sufficient sleep, our combined efforts can inspire similar action in others. We can create a culture in which self-care is a tool for disease prevention, personal empowerment, and lifelong resilience.
The real reason for self-care is far from selfish.
Whether we realize it or not, self-care is about more than just ourselves, after all. Adults can model self-care habits to build a culture of sustainable health, while young people can establish good habits now that will pay off in the future with improved well-being and lower health care costs.
Self-care goes beyond just improving our own health—it can empower our entire community. Do your part.
Learn more about creating a legacy of self-care by watching DrBonnie360's TEDx talk here.
Dr. Bonnie Feldman
Bonnie Feldman's mission is to create a digitally connected world of personalized care for autoimmune patients. Through consulting, market research, writing, and speaking, she works with consumers as well as other teams using data and digital tools to reshape research, diagnosis, treatment, and prevention of autoimmune disease. Check out Bonnie's Ted Talk here.