By Linden Schaffer
mbg Contributor
Linden Schaffer is a wellness travel expert and consultant. She founded Pravassa, a wellness tourism company, in 2009.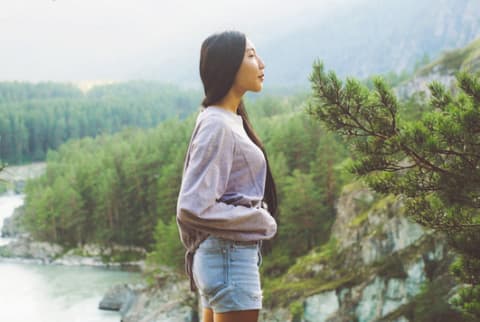 March 16, 2017
Close your eyes and imagine a great big forest. What do you see? How does it smell? Does this visualization affect how you feel in the present moment?
Thirty-five years ago, Tomohide Akiyama of Tokyo asked himself these same questions, then set out to find the answers. He reported back that Shinrin-yoku, or forest bathing, the act of spending hours in the forest using only your five senses, can improve overall well-being.
Putting trees to the test
Mr. Akiyama's claims inspired scientists at Nippon Medical School in Tokyo to study Shinrin-yoku in a laboratory setting. By comparing cerebral activity from a person in an urban setting to that same person in a forest environment, they found that forest bathing did indeed relax the body and slow brain activity. Those who committed to engaging in two to four hours of forest bathing on two consecutive days also inhaled antimicrobial compounds emitted by trees and plants. This resulted in an increase in white blood cell activity by 40 percent, and a follow-up revealed that the body retained a 15 percent increase1 in these cells over the course of a month.
As the health benefits of Shinrin-yoku started to spread, so did the research. Over in Korea, scientists began studying the effect of forest bathing on severe depression. Researchers engaged patients in psychotherapy sessions outdoors and found reduced cortisol (stress) levels, improved heart rate variability (interval between heartbeats), and reduced overall depressive symptoms. All of this led to a remission rate that was 61 percent higher in the forest-bathing group than the group that used medication alone.
Where we're falling behind
The average American now spends 93 percent2 of their life inside: 87 percent enclosed in buildings and 6 percent in a vehicle. Since the 1980s, there has been a 20 percent decline in visits to U.S. national parks and a cultural shift away from nature-based recreation in favor of things like the indoor screen time. In 2008, the world reached the tipping point where more people were living in urban areas than outside of them.
These sobering statistics have led author and nature advocate Richard Louv to coin the term Nature Deficit Disorder. The phrase speaks to how our alienation from nature has resulted in the diminished use of our senses, created attention difficulties, and ultimately coincided with higher rates of illness. All of this points to the fact that time in nature, and forest bathing in particular, is more important now than ever before.
Today, the Japanese government officially recognizes Shinrin-yoku as a healthful practice and has designated part of its forestland as forest therapy grounds. And you don't have to head to Japan to participate in the healing practice (although if you do, you can join me in Japan later this year!). Forest bathing clubs are now popping up around the United States, and there are plenty of ways to commune with nature on your own time. Here are a few techniques to keep in mind as you do it.
Set aside a certain amount of time to spend out walking so you don't get tired.
Commit to exploring with your five senses—sight, smell, sound, taste, and touch. This means putting your smartphone away!
Find a place along the way where you can sit and rest. Use this time to take deep breaths and soak in the complete environment.
Don't be discouraged if you live in a big city! Seek out a dense park like Central Park in New York or Escondido Canyon in Malibu.
If your goal is to boost your body's immunity or white blood cells, you might want to consider an overnight. Find a campsite or B&B surrounded by nature and head out for a weekend of exploration.

Linden Schaffer
Linden Schaffer is a wellness travel expert and consultant. She founded Pravassa, a wellness tourism company, in 2009.
Linden is a winner of the prestigious British Airways Face of Opportunity contest and the author of Living Well on the Road: Health and Wellness for Travelers. She has spoken at The New York Times and Los Angeles Times travel shows.
When Linden is not traveling the world, she is based in New York City.