Celebrating Father's Day Without My Father
mbg Associate Movement & Wellness Editor
By Ray Bass, NASM-CPT
mbg Associate Movement & Wellness Editor
Ray Bass is the associate movement and wellness editor at mindbodygreen and a NASM-Certified Personal Trainer. She holds a degree in creative writing from the University of Pennsylvania, with honors in nonfiction.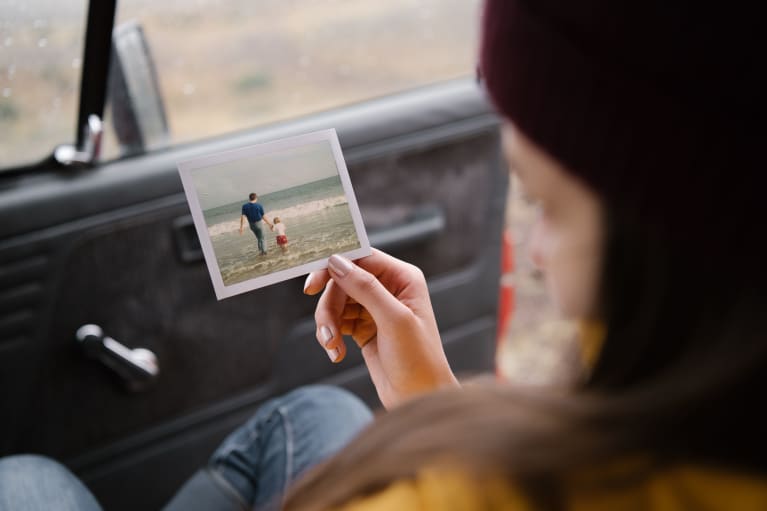 After nine years, you might assume that I don't think about my dad very much. But I do—every single day.
Most days the thoughts are harmless—I might think of him when I eat certain foods, or listen to "Edelweiss" (a song he used to sing me)—but I still have days when the thoughts are so strong and debilitating that I'm sent back to a place I spent years trying to get out of. A place where the lights are off and I'm alone. Father's Day is one of those days.
My dad was diagnosed with cancer when I was 10 years old. Charismatic and brilliant, with an unwavering energy, my dad was someone who everyone always wanted around. He idolized his family, inspired his students, and gave everyone he met his attention, support, and love.
I remember being called to the dinner table, not to eat dinner, but for a family meeting to tell my brother and me that our dad was dying. The doctors said he had three months to live, but he said he wasn't going anywhere.
He spent months receiving different treatments, all of which failed, until the seventh (a trial drug) started to work. He continued to fight, and the cancer began to dissipate. Each passing day and painful round of chemotherapy held the promise of a future together—a future none of us were prepared to give up on.
I don't remember exactly when it happened—maybe after they had shrunk his tumor down and removed it or when he was discharged from the hospital—but I remember thinking this was it. This must be remission.
My dad stayed cancer-free for five years. The photos we took on what we thought was our last vacation together became regular family photos. Dad continued to work, and, like a dream, our lives went back to normal. We celebrated birthdays, planned our futures, and in time it was like he'd never had cancer at all. There even came a point when we didn't talk about it anymore. The worst had happened, and we survived it. That chapter of our lives was over.
At least, it was until July 4, 2010, when I saw the first signs of his cancer returning.
The way I understood it, the cancer had come back and spread to his abdomen, but a part of me knows what he went through was much worse. At that point treatment wasn't an option, but Dad being Dad said he wasn't going anywhere. I clung to hope as I would a cliff over a canyon.
He died on the first of October, after months of his condition growing worse. I didn't know how to do anything that day; I must have said 10 words total. We held each other, waiting for the ride to stop, but it didn't. Nothing did.
We cried, had the service, and did what was necessary to keep going. I went back to school and lacrosse practice. I tried to appreciate every "sorry" and condolence from my teachers and classmates. Every day felt the same—like his death had just happened—and I couldn't accept that this was how my life would be forever.
Every adolescent milestone that would've otherwise seemed trivial—getting my driver's license, going to prom—felt so much more important because the person I wanted to share those moments with wasn't there.
But our emotions couldn't stop time, so I spent days and nights with my family trying to suppress our grief. We knew we were on a conveyor belt—if we didn't move forward, we would be left behind.
Despite my best efforts, there are times when I slip into episodes of memories and could-have-beens. My dad never saw me graduate high school, get accepted to Penn, or get my college diploma. He'll never be at my wedding or meet the family I hope to have. Those are the thoughts that still tear me apart—knowing that even if I need him, there's no way he could ever be there.
After many years, my life settled into a new normal, and I felt like myself again. I grew closer with my mother and brother. I let so many more people into my life. I learned how to lean on others and what it truly means to support someone. I learned that sometimes the best way to fight off demons is to talk about them, and that my heart always has room for what someone else is going through.
This is my ninth Father's Day without my dad, but I still miss making him a card. I miss waiting for him to come home from work each day and going to the bookstore together. I miss sitting with my mom watching him coach my brother's baseball games. I miss eating ice cream together.
All of this is to say that old wounds can still cause pain, and holidays can make that pain rise to the top like cream. I always wish the dads I know happy Father's Day, and I'm grateful for the people who remember I'm missing mine.