The Psychology Of Service Work: Giving Back Is So Personally Rewarding

mbg Sustainability + Health Director
By Emma Loewe
mbg Sustainability + Health Director
Emma Loewe is the Senior Sustainability Editor at mindbodygreen and the author of "Return to Nature: The New Science of How Natural Landscapes Restore Us."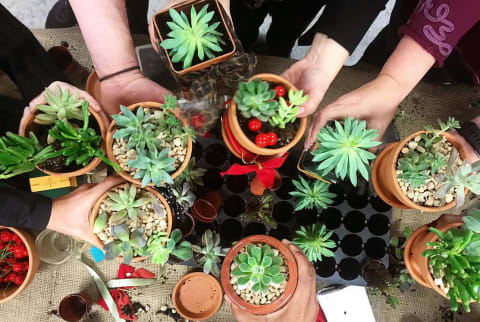 Photo by @homesteadbrooklyn
December 21, 2017
If you've ever given someone an extra-thoughtful present, volunteered to help the less fortunate, or donated money to a good cause, you're well aware that giving to others can make you feel somehow more whole.
Research supports this notion that putting others before yourself is in fact a profound show of self-care: Acting philanthropically has been shown to emit dopamine and oxytocin, the same happiness-promoting brain chemicals that flow when we give hugs, reach our goals, and fall in love. What's more, service work can have physical manifestations like lowering blood pressure, easing depression, and even lessening risk of mortality. Science has also found a feel-good feedback loop1: The more gratitude you have, the more likely you are to give back, and the more you give back, the more grateful you become. By prioritizing service, you're sharing your gifts with the world while filling a void you may not know you had.
Advertisement
This ad is displayed using third party content and we do not control its accessibility features.
"In the short term, we experience a 'helpers high.' We are wired to feel good by doing good. In the long run, service work provides us with a sense of purpose, a stronger level of gratitude, and an improved social network," explains Meik Wiking, CEO of the Copenhagen-based Happiness Research Institute and author of the upcoming book, The Little Book of Lykke. "In recent years, Danes have enjoyed volunteering in building community gardens and community kitchens."
At its core, mindbodygreen's new mission and mantra, You. We. All, gives name to this philanthropic phenomenon. It says that you can't truly be healthy if your greater community is sick. Personal and planetary health are not separate. They work in tandem, intimately shaping and molding one another. The mbg team experienced this relationship firsthand during a recent volunteer event at P.S. 333 Manhattan School for Children, where we led after-school wellness programs sharing our skills in yoga, basketball, dance, and more with kindergarten children. At the evening's end, smiles stretched across mouths large and small, and the good energy was palpable.
"It was a ton of fun getting to share my knowledge with them and helping them develop their enthusiasm for yoga, a sport near and dear to my heart," Liz Moody, mbg's senior food editor, recalls.
"It was awesome that at no cost, we were able to impact families in a positive way," adds mbg's office manager, Jenna Capizzi. "I loved seeing members from each of our teams and even our CEO and COO sharing their passion of moving and eating well."
Inspired by the night, and all the positivity that lingered afterward, we asked members the mindbodygreen community to describe their most enriching volunteering experiences. Their responses are poignant reminders of the myriad ways we can all use our unique talents to give back to the world at large and all we stand to gain from doing so.
The mbg community reflects on why they volunteer:
"As a 14-year cancer survivor, I feel incredibly lucky for the care and lifesaving treatment I received when I was going through therapy for Hodgkin's lymphoma. The Boston Marathon Jimmy Fund supports cancer research and the needs of those going through treatment. To survive, and now thrive, supporting others to have a similar second chance at life is the least I can offer. I always get emotional at the end of the walk, tearing up like a baby when I remember the preciousness and impermanence of this life I have."
—Sara Quiriconi, yogi behind Live Free Warrior
"I make a point of showing up every day for our shores. I am lucky enough to live by a beach, so I have a daily ritual of picking up any trace of litter or plastic I see on my journey. I also volunteer for a charity called Project Jonah, who respond to dolphin and whale standings. Volunteering, for me, is about showing up every day in little ways to help create big clean changes."
—Emma Mildon, author of Evolution of Goddess and The Soul Searcher's Handbook
"This year, I started volunteering at my local community garden almost every day because I see it as a place where all members of the community can come and gather and enjoy a piece of the outdoors. We've been able to raise some money for the garden, organize two volunteer days, clean up the garden, and even install a rain garden! Now that it's closed for the winter, I've been offering my time to maintaining the chicken coop and gardens at Los Sures, a community-based nonprofit organization that provides a multitude of much-needed services, including affordable housing developments to a food pantry for the elderly. I love how these efforts allow me to meet members of the community whom I may have never had contact with before. I know it's enriching for both sides, and this is ultimately what brings communities together."
—Summer Rayne Oakes, environmental activist behind Homestead Brooklyn
"An avenue I feel passionate about outside of work is making time to volunteer at my community church. It aims to be a place that is accepting, passionate, and generous—all things this world needs! Through volunteer programs, the church is able to help the homeless, abused, and orphaned. Even though volunteering impacts those you are helping, it truly impacts the helper's spirit as well. I find it such a joy to be able to see how those efforts change others' lives for the better."
—William Cole, D.C., functional medicine practitioner
"I love guiding meditations and sound healing for the children at Vista Del Mar in Los Angeles, a residential treatment center for children providing a safe, nurturing environment. Vista promotes the mental and emotional well-being of both vulnerable children and their families through programs in education, autism, adoption, residential care, prevention, and early intervention. I love bringing my crystal sound bowls to play music for the children and seeing their faces light up as they feel the vibrations of the instruments uplift them. We also chant with the children, and I love how they begin to feel safe and free to express themselves. Some laugh, some cry, and at the end of our sessions, some of the shyest ones run over to give me the biggest hugs. That is the biggest gift and the reason I love sharing time with these special souls!"
—Fern Olivia, founder of Thyroid Yoga
"I'm honored to be a small part of the Alliance for a Healthier Generation and BOKs Kids. Both are fabulous organizations helping hundreds of thousands of children have access to healthier meals, mindful movement, and a life filled with well-being."
—Tara Stiles, yogi behind Strala
"I volunteer by mentoring the founder of Knock Knock Give a Sock, a nonprofit working to end the stigma surrounding homelessness by collecting socks for the homeless and that runs dinners connecting those experiencing homelessness with others in their communities. By supporting her, I am able to utilize my expertise in building nonprofits toward a cause I am personally passionate about and support a woman who is incredibly driven and is making meaningful impact in many people's lives. It's fulfilling to see it all in action, and I have learned so much from her that helps me be a better member of my own community."
—Sara Weinreb, founder of capsule wardrobe brand IMBY
"My primary purpose in starting a business was to give back. My goal was to create a grass-roots system that was available to anyone with interest in alternative health care. Seeing people heal themselves through an ancient and wholesome system fulfilled my soul unlike anything else."
—Adriana Ayales, herbalist behind Anima Mundi Herbals
Learn more about how to effectively give back to your community here.
Advertisement
This ad is displayed using third party content and we do not control its accessibility features.