Ready To Let Go Of Anger & Resentment? Meditation Can Help

Founder of Ziva Meditation
By Emily Fletcher
Founder of Ziva Meditation
Emily Fletcher is an author, public speaker, and the founder of Ziva Meditation, the world's first online meditation training platform.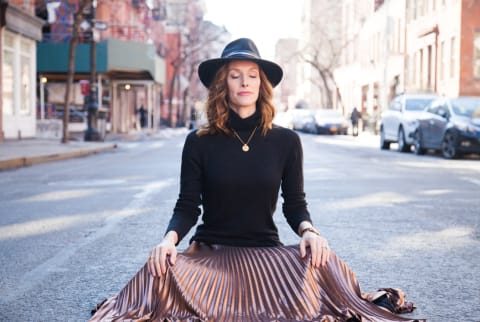 Photo by Kathryn Page, Fashion Photographer
December 28, 2017
We humans have a tendency to relish in the pleasure that comes with blaming others. It's an old habit for most of us, so please be gentle with yourself if that's where you are right now. But let's be careful about getting trapped in a cycle victimhood. While there is a place for anger and rage, those emotions are only useful if they inspire you to take positive action. Otherwise, we are simply drinking poison and expecting someone else to fall ill.
Holding on to blame, hate, and anger only hurts the person feeling those emotions, not the person they are directed toward. Luckily, the fastest ways to let go of those old negative emotions is forgiveness. It's important to understand how resentment may be negatively affecting your mental and physical health and learn about powerful tools that can help change your brain chemistry and allow you to forgive and move on—once and for all.
Advertisement
This ad is displayed using third party content and we do not control its accessibility features.
The science of resentment and how it affects your health.
In a recent study, psychologists observed 71 people. For the first 15 seconds everyone in the study was shown triggering images meant to evoke feelings of resentment, followed by five seconds of images meant to soothe the mind. Those focusing on resentment had a collective increase in heart rate and blood pressure up to 250 percent after just four seconds. Four seconds later, as they redirected their thoughts toward empathy and forgiveness their heart rate and blood pressure dropped by 200 percent. Those who consistently focused on empathy and forgiveness had heart rate and blood pressure levels 150 percent lower than those focusing on resentment and hate.
According to a study1 conducted at the National Center for Biotechnology Information, holding on to resentment and hate can mean heightened blood pressure and heart rate, which can lead to:
Chronic emotional distress
Eroded health
Cardiovascular reactivity
Impoverished sleep quality
Depression
Production of stress hormones such as cortisol, which can lead to any number of serious health issues.
Advertisement
This ad is displayed using third party content and we do not control its accessibility features.
Conversely, forgiveness promotes immediate feelings of peace and well-being and supports cardiovascular health.
Forgiveness, meditation, and your brain.
OK, so what does forgiveness have to do with meditation? Two words: gray matter. Two years ago, researchers examined2 a particular part of the brain and discovered that the more gray matter the person had, the more likely they were to forgive those who have made a serious mistake. Scientists detected significantly larger gray matter volumes in meditators in the right hippocampus. Both orbitofrontal and hippocampal regions have been implicated in emotional regulation and response control. More gray matter in the brain accounts for meditators' ability to cultivate positive emotions, emotional stability, and engage in mindful behavior.
I love giving people tools to optimize their emotional intelligence and made it my life goal to bring powerful healing practices to as many humans as possible and eradicate unnecessary suffering. Holding grudges (even small, secret grudges) is not an effective strategy for that. To start, download this incredibly powerful 15-minute visualization on the power of forgiveness. It will give you a clear idea about who you want to forgive, what you want to forgive them for, and how to "cut the cord" so you can take your energy back from the event or person and use it to fuel your own happiness and personal goals.
Psst: Emily teamed up with mbg to create a class on guided visualizations. Check it out here!
Advertisement
This ad is displayed using third party content and we do not control its accessibility features.

Emily Fletcher
Emily Fletcher is the founder of Ziva Meditation, the world's first online meditation training program, and the author of Stress Less, Accomplish More. Ziva's mission is to make meditation attractive and accessible to modern people who are ready to up-level their performance and their life. Recently featured in the New York Times and regarded as one of the leading experts in Vedic meditation, Fletcher has been invited by companies like Google, Barclays Bank, Viacom, Chanel, Coca-Cola, and sweetgreen to help up-level company performance through meditation.
Fletcher has had the honor of speaking at Summit Series, Awesomeness Fest, and the Omega Center. She began her nine years of training in Rishikesh, India, and was inspired to teach after experiencing the profound physical and mental benefits meditation provided her during her 10-year career on Broadway, which included roles in Chicago, The Producers, and A Chorus Line.
With her high-performance background and intensive meditation training, Fletcher is perfectly suited to teach busy people how to incorporate meditation and visualization into their life, and she's an mbg course instructor! You can learn with her by joining her course, Guided Visualizations: How to Overcome Your Fears, Excel at Work, and Have Mind-Blowing Sex. She has also created a powerful guided visualization called zivaDETOX. It's a simple, downloadable audio that is designed to help you release thoughts and stress that are not serving you and to get you on the right path to leaving the stress behind.
Read More